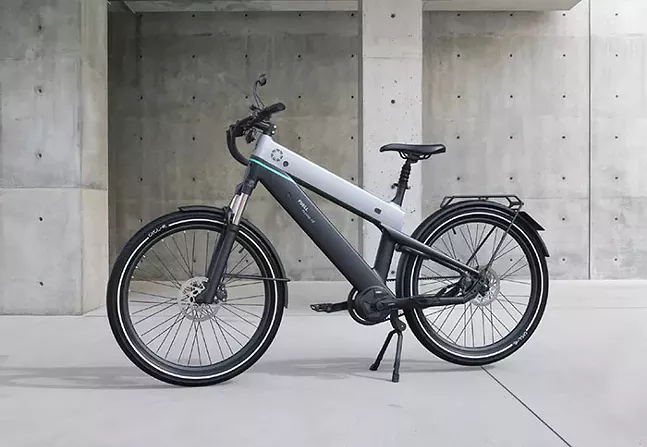 Pitt Cycles
, born in 2018 to offer Pittsburghers the best selection of gasoline powered and electric/human-driven mobility solutions, is now adding an exciting and exclusive product to their array.
Flluid is the first product from the innovative Fuell urban mobility brand, and Pitt Cycles is the first authorized US Outlet for the product.
Flluid
completely changes how you can get around in Pittsburgh and will be a huge boon to those looking to get out without adding another car to the city's traffic.
Started in Spring 2019 by Pittsburgh native Erik Buell and Francois-Xavier Terny, Fuell's mission was to develop vehicles for the new urban adventurers and open up a whole new world of electric riding. "Cities are getting bigger, and more packed," says Buell. "Yet people want freedom to move. We don't want to be trapped and limited. When I look to the future, there is one compelling solution for urban/suburban transportation. Well, actually two wheels. Two wheels in a single track with green power." With Flluid, they have accomplished that, in a new and exciting way.
Immediately, Flluid belongs near the top of the class among electric bicycles. It has best in class components, a range of 125 miles, and pedal assistance up to 28 MPH. This is important, as it allows riders to fully trust that they can get where they need to go, with no interruptions. Available in four colors (silver, dark gray, dark red and blue), Flluid is beautifully designed, and a reliable and fast means of transport.
It's also a great way for Pittsburghers to better engage with their city, in a more environmentally conscious way. Pitt Cycles is looking to get Pittsburghers more active in exploring their city, but also in making the city a better and healthier place for all. Electric bikes, and Flluid in particular, are greener and less polluting options than car congestion, while still getting you where you need to go, in a quick and enjoyable manner.
Pitt Cycles
is proud to bring Flluid to Western PA, and usher in another excellent product that will help the area rediscover the outdoors and all the ways to see it. Yet, it's not the only thing that they provide. Located 1 mile east of Interstate 79's Exit 75, Pitt Cycles is also the authorized purveyor of Indian Motorcycle, KTM Sportcycles, and the Royal Enfield line of motorcycles.
So stop in and check out Flluid, or any of Pitt Cycles' offerings, and experience a different way to ride.