The
Pittsburgh International Airport
(PIT) is primed to become the first major U.S. airport to be completely powered by its own microgrid with a new project.
PIT recently announced plans to build a first-of-its-kind microgrid that would use on-site natural gas wells and solar panels to generate power for the entire airport, including the airfield, and the adjoining Hyatt hotel and Sunoco gas station. It is expected to be online by the summer 2021.
The system would serve as the primary power supplier for PIT, with the traditional electrical grid serving only as an option for emergency or backup power. According to a press release, this will lower energy costs for PIT and help avoid power outages that could result in canceled flights and stranded passengers.
"Part of our mission is to be a world leader in aviation innovation and this project is about powering airports into the future," said PIT CEO, Christina Cassotis, in a press release. "This project will bring power resiliency and redundancy to enhance safety and ensure continued operations for the traveling public."
For months, PIT has hinted at the project as power outages hit major airports throughout the country. In June, the PIT officials touted the benefits of switching to a microgrid after a power outage crippled operations at the Los Angeles International Airport.
A press release says the microgrid will utilize five natural gas-fueled generators and approximately 7,800 solar panels. It is expected to produce more than 20 megawatts of electricity or the equivalent of powering more than 13,000 residential homes. (The airport's current peak demand is approximately 14 megawatts.)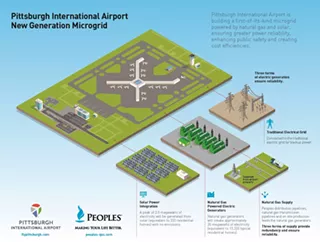 The Pittsburgh-based energy company Peoples Natural Gas was awarded a 20-year contract by the Allegheny County Airport Authority Board of Directors to build, operate, and maintain the system at no cost to PIT.
"The airport is a critical asset for our region that is recreating itself with innovative solutions using the latest in technology and equipment to better serve all of us," says Peoples CEO Morgan O'Brien, in a press release. "We're proud that Peoples is the airport's chosen partner to provide a [forward-thinking] energy solution for significantly cleaner, more sustainable and less expensive energy."
But for all the apparent benefits, concerns still remain over the environmental and public health impact of natural-gas drilling, more commonly known as
fracking
. The wells powering PIT's microgrid are a result of Allegheny County voting to allow drilling on public land after it was found that the area surrounding the runways were sitting on a wealth of natural-gas deposits.
In 2013, the Airport Authority leased over 9,000 acres at PIT and Allegheny County Airport to CONSOL for oil and gas development. After the wells were built, natural gas production commenced in July 2016 with the Airport Authority agreeing to receive a $46 million up-front payment and future royalties.
Allegheny County Executive Rich Fitzgerald believes the natural-gas revenue saved the airport when it was struggling financially, and went on to help reduce costs for travelers. He and others also see it an economic driver for parts of the region that have struggled with unemployment and lagging industry.
The natural-gas industry and pro-natural gas advocates insist that using the resource produces far less climate change-causing carbon emissions compared to alternatives like coal. But experts believe that any carbon reduction by the burning of natural-gas is rendered insignificant by the emissions and toxic wastewater produced by the process of extracting, processing, and transporting natural gas, which includes the building of natural-gas pipelines the
Shell cracker plant being constructed in Beaver County
. Not to mention that fracking is known to produce a large amount of methane emissions, which are much more potent a greenhouse gas than carbon dioxide.
There are also concerns over
possible earthquakes
, as studies show that tremors could, and likely have been caused by waste-water injection, a by-product of fracking.
However,
microgrids
have also been cited as one of many ways to help curb greenhouse gas emissions and stave off what many climate science reports view as an impending environmental collapse, as microgrids are localized, self-sustaining, and allow users to implement a combination of renewable sources. They also tend to lessen dependence on the fossil fuels favored by most major energy supplies. PIT's migrogrid, however, is partially relying on natural gas, a fossil fuel.
Regardless, O'Brien believes embracing new approaches to energy production may also attract more industry to the region.
"It sends a strong message that if you are an innovative company, Pittsburgh is a great place to do business," says O'Brien.