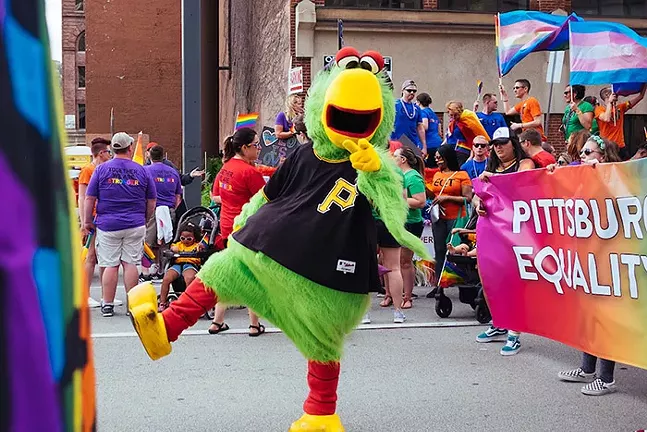 The Pittsburgh Pirates have been longtime allies of the LGBTQ community, but a recent editorial reportedly shows Pirates owner in a less-than supportive position.

Earlier this month, a small Virginia newspaper published an editorial criticizing Virginia Democratic Gov. Ralph Northham for not wanting to share a stage with President Donald Trump. The Winchester Star, owned by Pittsburgh Pirates owner Bob Nutting, published an editorial that included an anti-LGBTQ message calling same-sex marriage and transgender rights "dubious" achievements.
The editorial read in part: "Gov. Northam? He made a speech earlier in the day, a few hours before Mr. Trump, speaking not of the tradition's majesty but of Virginia's dubious 21st century achievements—i.e. homosexual marriage, elevation of the transgender lifestyle, etc."

The Winchester Star is owned by Ogden Newspapers, the media company owned and operated by Nutting who was reportedly in agreement with Winchester Star publisher Mike Gochenour in saying that the editorial "went south, unintentionally" and that is was "an honest mistake."


After the editorial was criticized by liberal media site ThinkProgress, Gochenour spoke with LGBTQ site Outsports and said the editorial "wasn't presented well at all but it certainly wasn't the intent. We learned from the editorial that we need to proof better and just make sure that never happens again. It was an honest mistake that just shouldn't have happened. But unfortunately, it did."


Outsports reported that Nutting spoke with Gochenour before he spoke with the LGBTQ media site and Gochenour said both he and Nutting came to this conclusion.


The Pirates didn't return a request for comment for this article.


ThinkProgress reported on Aug. 15 that the editorial was deleted from Winchester Star's website, but no explanation was given why the editorial was taken down.


According to Pittsburgh Lesbian Correspondents, the Pirates have hosted several pro-LGBTQ events since 2004, including many Pride Nights during baseball games at PNC Park. The Pirates' team mascot, The Pirate Parrot, also makes yearly appearances in Pittsburgh's annual Pride parades.


But the Pirates also got in hot water last year when Pirates president Frank Coonelly reportedly spoke in support of then-congressional candidate Rick Saccone, who has a long history of anti-LGBTQ rhetoric and policy support.