Pittsburgh has built a reputation as a pinball town, hosting the annual ReplayFX gaming convention and being home to popular flipper hangouts Kickback Pinball Café, Games N' At, and the Professional and Amateur Pinball Association Headquarters. Now, Pinball Famous, a new exhibit at the Artsmiths of Pittsburgh Arts and Cultural Center in Mt. Lebanon, transforms the game into flashy pop art.
On view from April 26-June 16, Pinball Famous features 14 original works by local artist Dan Burfield of Tiltcycle. Each piece combines recycled or reused playfields, cabinets, and other parts from salvaged pinball machines with images of iconic musicians, actors, movies, and fashion brands.
Pinball Famous opens with a reception that includes a chance to meet Burfield and a free-to-play Game of Thrones pinball machine that will remain for the entirety of the show's run. All the pieces in the show will be for sale.
An avid pinball fan, Burfield started integrating elements of the game into his work around 2011 when he was approached to do a group show at Wildcard. It didn't take long for him to see that he had something special.
"It was wild," says Burfield. "I sold the first piece in the parking lot, and then someone offered him more money, and he sold it to that guy, and I thought, 'this is really going off well.'"
Before then, Burfield had been buying and restoring old machines, only to realize that the hobby was far too time-consuming and expensive. He saw his art as a more creative way to save discarded pinball machines from ending up in landfills.
"It's a way to give them a second chance and show some appreciation, because otherwise they get stuck in warehouses and forgotten about for a long time until the roaches find them," says Burfield. "I've gotten some with beetles or termites or mold, and so they just become unusable."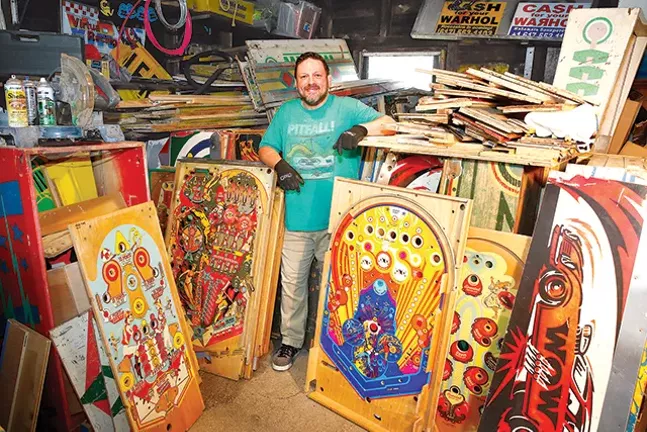 Still, he's aware that turning pinball machine parts into art, as opposed to restoring them, is a touchy subject among die-hard fans of the game. "Everything is restorable to a certain point but it's a question of how much money do I need to spend? I'm not ruining anything that has the potential to go back on the floor," he says, recalling how he rescued the top of a playfield that otherwise looked like it had been smashed with a hammer.
Artsmiths executive director, Kate McGrady, sees Burfield's work as paying tribute to the art of the peak pinball era from the 1950s through the 1970s.
"The amount of art [that went] into making these machines was really astronomical and really cool, and then the machines just kind of died out when the electronic age took over," says McGrady. "A lot of amazing artists were involved in creating the original works, and then Dan is completely re-envisioning and reinterpreting it. I think that reinterpretation is new but it's also an homage to the past and that pinball generation."
Burfield wanted to marry the style of officially licensed pinball machines with elements that would thematically fit his subjects. The piece with David Bowie reclined across the side of a cabinet has more than enough glitter to make the late glam-rocker proud. Another piece has Dolly Parton wearing a dress that includes parts made in the country music giant's home state of Tennessee, where her theme park Dollywood is also located.
Still, Burfield had an easier time with some pieces than others. For Blaxploitation film star Pam Grier, he wanted a depiction that would honor her without exploiting her work. For another, he spent a long time on the piece for the camp classic Valley of the Dolls, ultimately cutting out and placing hundreds of little pinball circles in the portrait's background to mimic the pills familiar to the film and its literary source.
Also included are images of The Rolling Stones, Audrey Hepburn, Isabella Rossellini, Cher, and the movie The Lost Boys, as well as ads for Bulgari and Tiffany & Co.
Burfield hopes the show will expose his pinball art to a wider audience, as he takes a lot of commission-based work. As of now, he says he's working on two requests for pinball art portraits of Tom Waits and Winona Ryder.
Ultimately, though, he'd like his work to grace the walls of the North Side museum built for his idol, Andy Warhol.
"That would be the pinnacle of my career," he says.