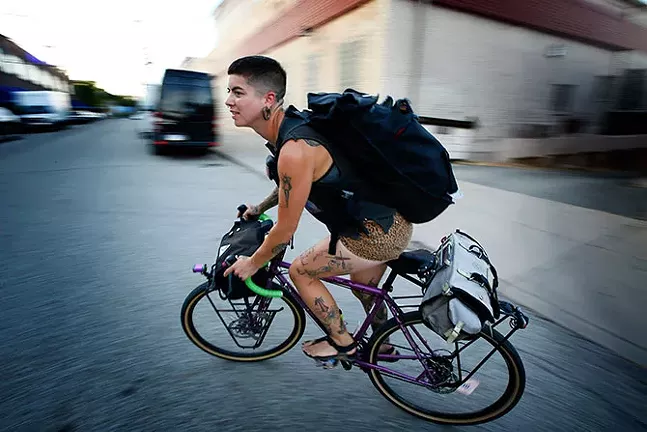 Name: Dani Kramer, Millvale
Work: Pin-Up Posters Courier Collective, owner/operator/courier
What do you do?

Distribute posters and handbills for nonprofit organizations in Pittsburgh and some surrounding suburbs. We occasionally use the T or bus but primarily bicycle.
Does everyone do the same thing?

We all pitch in to the best of our abilities, play to each other's skills. We all do the physical work.
Do you have any restrictions as far as content?

We do. We won't do anything racist, homophobic, [or] transphobic. We avoid any imagery with fur. If there's ever anything in a poster that one of us disagrees with, we'll discuss it. Every individual has free will to say no to things.
What are the other responsibilities?

Contacting clients, taking job requests, planning, invoicing, banking, office stuff. One time-consuming thing is counting posters and handbills — it's one of my favorite things to do. I turn on the radio and count for hours.
Do you always get to do that?

I volunteer every week. People are welcome to join me, but they know that it's my favorite thing.
How much time is spent in the office as opposed to on the road?

We're only in the office together for one hour each week, then release ourselves out into the wild. It's 90 percent on bikes.
Do you love that?

YES. It's great. It's tough in the winter, but it's worthwhile. It's keeping me healthy, I get to be outdoors, and get to spend so much time having really brief, pleasant interactions with tons of people all over town. And I don't feel stuck. I'm not a social person, but I get to satisfy this need for human contact. I make a lot of good acquaintances.
How do you carry everything?

We all have waterproof panniers on our bikes. I carry most of my stuff in a bookbag; probably not great for my spine. We try to limit each week to seven or eight full-size jobs; there's only so much space on a bulletin board. We're also taking down old posters and carrying them until we get to a place to recycle them.
What's your favorite part?

Pin-Up is a collective. It's why I've stuck with this job longer than any other. We all have equal voices in the company and are working for each other/ourselves rather than for a boss' profits.
How has riding a bike in Pittsburgh changed in the decade you've done this?

It's hard to tell because I know my attitude has changed. The more aware I am of danger, the more surly I've gotten — it was "ignorance is bliss" when I started. There are so many more people biking — safety in numbers, you're definitely more visible. But I have less patience now when people are jerks on the road.
Why are people in cars so mad at people not in cars?

We're having more fun.
Ever get hurt?

I've been hit a couple times. I think we've all had negative interactions with drivers and some close calls, but that's part of the job.
You try to operate as safely as possible, but when I've trained new people here, I've told them that when we're in businesses hanging up posters, we're representing Pin-Up. But when we're on the road, we're looking out for ourselves.
Do you still bike for fun?

Yeah. I go camping a lot; on the Gap whenever I can. I love it. I love riding my bike. I think that so often, especially when the weather is pleasant, and I'm like, "Ah! I could be in an office right now, but I'm not!" It's the best.