It wouldn't be a Pittsburgh wedding without a cookie table. But why keep the tradition exclusive to happy couples? In the spirit of the season,
Pittsburgh City Paper
is celebrating the holiday cookie table. We're reviewing bakery favorites, family recipes, and grocery store staples until the table is full.
---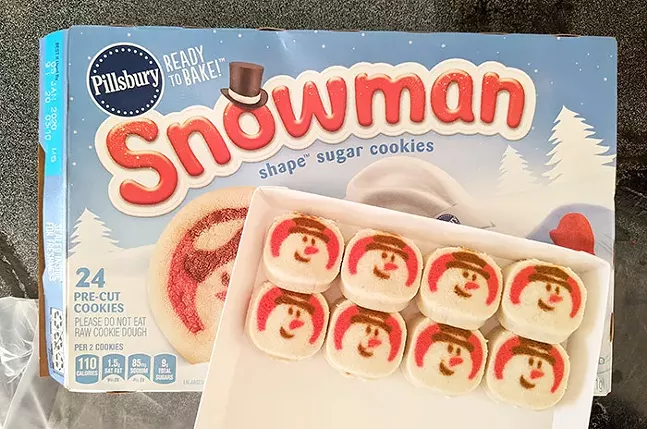 Pillsbury ready-to-bake sugar cookies are ridiculously good. I'd pick one of the seasonally monogrammed cookies off a table before many other holiday treats and — something I'm very proud of — have also been known to polish off half a box in one sitting.
I've been baking these cookies for years. (Though, I'm not sure if it counts as baking; it's almost laughable how simple these already pre-cut and pre-designed cookies are to make. All you have to do is handle a 10 minute wait while they sit in an oven.) But, I've never tried to bake them without a kitchen-sized oven.
If baking is out of the question, I just eat the dough. (Seriously, it's almost better than the baked cookies!) But, according to Pillsbury, that might not be the best idea for your health. So this year, I tried my hand at two unconventional baking methods: the microwave and a toaster oven.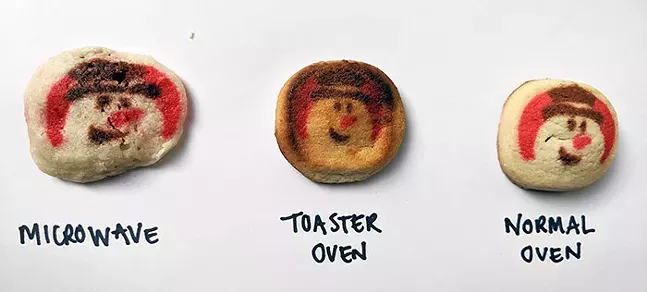 To keep my evaluation fair, I started out by testing a normal, oven-baked cookie. True to form, it was fantastic: crispy on the edges and chewy on the inside, though the dough didn't spread out very far. I chalked this up to my very cold freezer and proceeded to eat five of them for breakfast.
Next, I moved to the
City Paper
office toaster oven. The first attempt failed almost immediately. My second attempt, now protected with tin foil, was successful though very burnt. In a toaster oven, the cookie baked fast, at least double-time of a normal oven. I walked away for one second, and it was toast.
Microwaving the cookie was a bad choice. As a victim of one too many exploding Peeps myself, I was very aware of the combustion risk. I was also afraid that the
City Paper
microwave, already put through the wringer earlier this year by a microwaved bagel situation gone wrong, was going to catch fire trying to bake a cookie.
This caution resulted in a very elaborate, manual baking process that involved tearing open the microwave door every five seconds to monitor the cookie's explosion risk. And the end product wasn't even worth it, rock hard and congealed in a way similar to bad toffee when eaten. The microwave's high frequency caramelized the dough's sugar into a chewy, candy-cane texture.
My final takeaway? Don't try and bake cookies in a microwave.