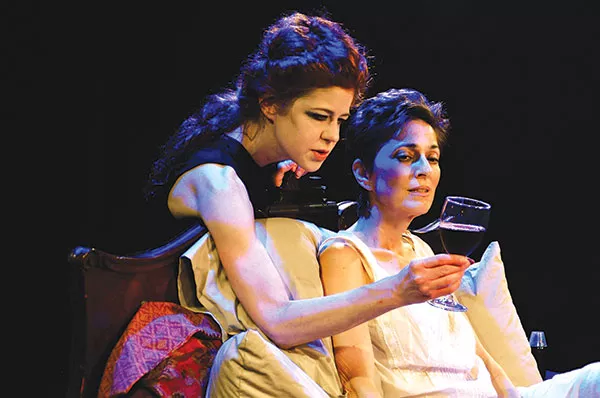 There's no question that Irish playwright Marina Carr can string together some amazing dialogue. Her 2006 play Woman and Scarecrow, its Pittsburgh premiere brought to us by PICT Classic Theatre, is a two-hour buffet of conversation that tells the story of an unnamed woman on her deathbed, rummaging through her memories. Sitting beside her is Scarecrow, an imaginary figure representing the woman's life force, or her youth, or death itself. The woman's husband and aunt occasionally stop in to see whether she's still alive — but mostly it's Woman and Scarecrow taking inventory of the past via lots (and lots and lots) of talking.
And there's no question that the cast is up to the challenge. Nike Doukas (on whom I have a bit of a talent-crush) is near-operatic as Woman; tremendous highs and bone-shaking lows informed by a passionate ferocity mow down everything in front of her. Well, not everything: Karen Baum plays Scarecrow with a mixture of petulance, sorrow and not a little rage — providing great counterpoint to Doukas' aria. James FitzGerald and Sharon Brady, as husband and aunt, also make the most out of their comic, but poignant, roles. Director Alan Stanford, perhaps fearing the dangers of a script where the lead character never gets out of bed, highlights as much of the conflict and hostility as possible. It's a smart, defensible — but wearying — choice.
So we have a group of actors who know how to act, and a writer who knows how to write. How come I couldn't wait for it to be over?
It's Carr's play, and she can write whatever she wants — even if it's a play in which nothing new happens after the first five minutes. I would respectfully request, however, that she not drag it out for two unsupportable acts. Two hours of relentless regret and remorse with no variation is a lot to ask an audience to handle.
As a longish one-act, this play would be considerably more interesting; as it stands, you can't help but hope the woman dies quickly. That can't be what Carr intended.