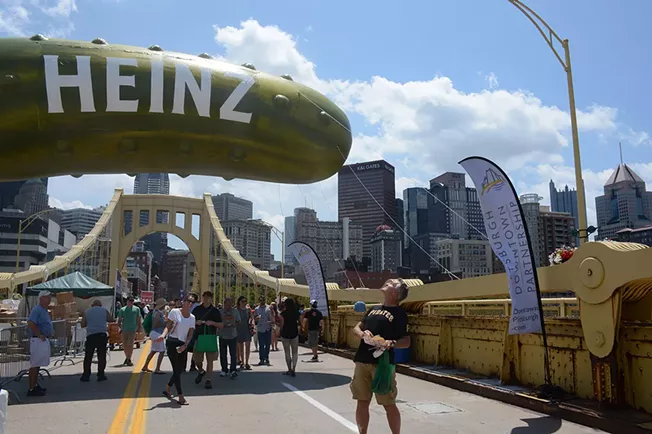 Now in its second year, Picklesburgh is organized by the Pittsburgh Downtown Partnership and held on the Rachel Carson Bridge.
When asked for the price of a jar of Randy's Pickles, Pat Routa, co-owner and Cleveland resident, asked for the customer's hometown. When she replied "Pittsburgh," Routa asked for $35.
As far as Routa knows, Randy's Pickles is the only company to grill cucumbers before pickling.
Hersh Petrocelly tables for The Olive Tap, a franchise started by his younger brother. From Pittsburgh, Petrocelly's family used to own a pizzeria near West View Amusement Park.
Petrocelly used to live and work in Texas, but moved home because he "loves Pittsburgh."
"We get [our olive oils] right after pressing — in the fall in the northern hemisphere and spring in the southern hemisphere." They are then bottled in the United States for sales.
Hungry attendees could find plenty of options for more than a snack, including pulled pork, burgers and Italian hoagies.
Pittsburgh Ice Cream Company sold many savory flavors of ice cream, including lemon-jalapeno and, of course, dill pickle.
More than just food, Picklesburgh also featured live music, such as the Beagle Brothers.
Three-and-a-half-year-old Kae-Lynn Burks, of Pittsburgh, holds on tight to her pickle balloon.
Attendees were also encouraged to sample, and then vote on, two new Heinz pickle flavors — Sweet and Spicy or Spicy Garlic.
Lydia Andeskie noshes on her brie-filled fried pickle.
She was not the only one taking big bites.
Despite Sarah Greenbaum's face, she liked the taste of the pickle she tried. "It was really good," she said. "It was tart, but it was sweet."
It wasn't just the people getting a chance to try the brined bites at Picklesburgh.
Betty Matheis liked Pittsburgh Ice Cream Company's flavors so much that she came back for a second cup. "It's hot," she said of the lemon-jalapeno ice cream. "It'll knock you on your butt."