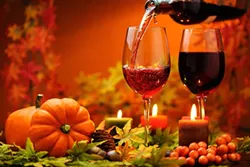 Holiday dinners seem like a wine-pairing nightmare. There are too many dishes, too many clashing flavors and too many people to please. I wondered if there might be a stress-free solution, one crowd-pleasing bottle that would go with everything from glazed ham to oyster dressing. With the criteria that it had to be inexpensive (less than $20) and readily available (on shelves at well-stocked state stores), I asked local wine experts for their ultimate holiday picks.
"Riesling is always a safe match for the different tastes you'll encounter in a big dinner," says Thom Harding, who chairs the Pittsburgh Chapter of the American Wine Society. With bright acidity and notes of orchard fruits, dry Rieslings are an excellent foil to rich holiday dishes. Harding suggests Dr. Konstantin Frank Dry Riesling ($16), a crisp wine from the Finger Lakes.
For red-wine drinkers, Randy Wright, general manager at the Sonoma Grille, has another American pick for a uniquely American celebration. For his Thanksgiving table, Wright reaches for a Petite Sirah from California's family-owned Bogle Vineyards ($13). It's a jammy wine with soft tannins, which Wright says is "perfect to fit all of the lush flavors of Thanksgiving without overpowering the delicate flavors of turkey."
Finally, what holiday gathering would be complete without some bubbly? For her desert-island holiday wine, the Allegheny Wine Mixer's Jamie Patten selects an effervescent Italian Lambrusco. Though it's a mouthful, she recommends seeking out the Fattoria Moretto Lambrusco Grasparossa de Castelvetro Rosato ($17). "Tons of concentrated berry fruit and balsamic, finishes dry, with just enough fizz for the season," explains Patten. "Covers every holiday scenario."
Though there are plenty of great ways to wash down roasted meats and pumpkin pie, any good sommelier will tell you that the right pairing is the one that you like. So whether that's a bottle of Riesling or a jug of Carlo Rossi, remember that the holidays are about joy, goodwill and falling asleep on the couch at 4 p.m.