"I knew I could run a half marathon. I knew I could run a marathon. I didn't know if I could run 100 miles," Greg Brunner said to me when we sat down to reflect on his first ultramarathon, a 50.3-mile race on the Baker Trail.
In fact, the Baker Trail Ultra Challenge — a footrace on the north section of the 134-mile trail that traverses six Western Pennsylvania counties — was not just the Millvale resident's first ultramarathon, but his first official long-distance race ever.
Before stepping up to the start line of The Baker Trail at 6:30 a.m. on Sat., Aug. 28, Greg's legs had only ever endured 20 miles in a single run. About nine hours of running later, Greg made it over 46.7 miles to the ninth and final aid station before the finish. After walking that final, stormy five-mile stretch with his dad, Greg came to the car shivering uncontrollably, saying, "I feel like I'm going to pass out."
continues on page two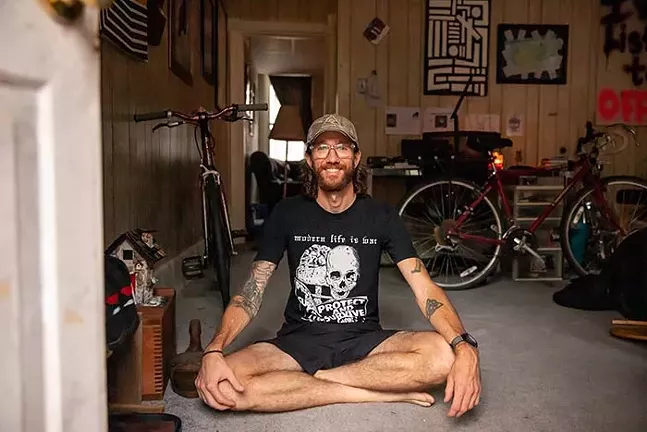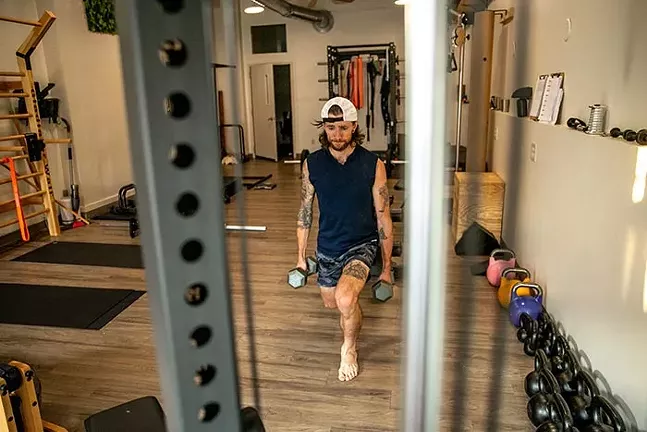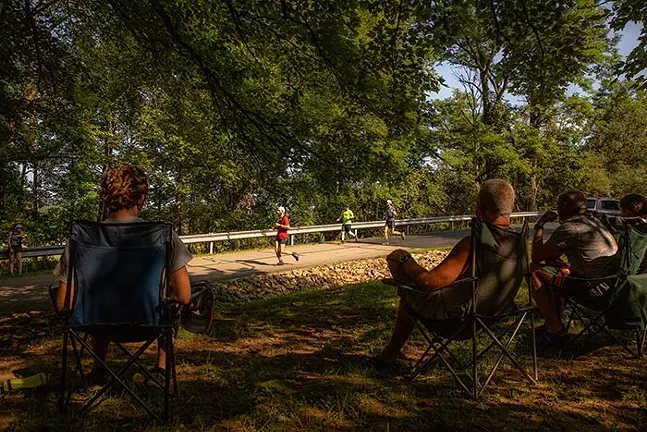 Greg's dad, Kevin Brunner, and his strength coach, Donny Donovan, helped him into dry clothes, got him more water, and allowed him to lie down in the trunk of the car, but Greg wasn't able to recover and finish the race. The head volunteer at that final aid station had experienced Greg's symptoms before and urged him to drop out and go to the hospital. And it's a good thing he did. At the hospital, he discovered that he was suffering from hyponatremia, or a salt deficiency. His sodium levels were at 110, the lowest they could get before things got much worse.
When I saw Greg next, two days later, he was fully recovered and already thinking about his next race. For Greg, this story is far from over. Running had given him a purpose, and he had the right people to support him along the way.
Greg's running journey began in February 2020 when he and his dad set out to run three half marathons, three days in a row around the Grand Canyon. Although the COVID-19 pandemic canceled those plans, Greg's passion for running had already been sparked, and two of his best friends were already equipped to help him continue his journey. Matt Mauclair, Greg's current running coach, started to train Greg. Donny, his former bandmate in the local band Hearken, became his strength coach soon after. It seemed to me like a beautiful coincidence, but Greg corrected me: "I don't think it's a coincidence … these people were in my life for a reason and that reason happened later on." Those people found him, Greg says, just like running found him.

Before running, Greg had suffered through years of chronic pain, which kept him from hanging out with people and experiencing life. "It wasn't until I started running," Greg says, "that I really started to feel like I was getting out and actually getting back to that pure version of who I am and who I was made to be." For Greg, it became clear that he was made to run, so his journey didn't stop at that ninth aid station or at the Punxsutawney Area Hospital. He says he feels that his technical "failure" to reach 50.3 miles was, in fact, not a failure at all. He is grateful for the experience he gained from those miles on the Baker Trail and is now taking what he has learned into future races.

"100 miles is the goal," says Greg, "and that was the goal from the start."