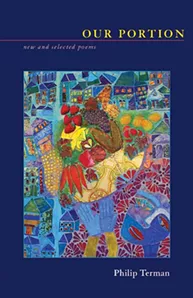 Obsession needn't always be a bad thing. In a stimulating essay, noted poet Tony Hoagland argues that poetic obsession can be "nothing less than a blessing," and that "a poet without a compelling, half-conscious story of the world may not have a heat source catalytic enough to channel into the work of a lifetime."
Readers will find these thoughts well represented in Phillip Terman's newest Autumn House Press publication, Our Portion (New and Selected Poems).
Using two decades' worth of narrative verse that warmly coalesces around influential life moments, Terman's found a sweet spot from which he rarely strays. In 233 pages, Our Portion nicely encapsulates Terman's oeuvre with well-crafted writing that often incorporates aspects of Jewish faith into poems centering on family and nature. It's a very readable, nonformulaic overview of the Barkeyville, Pa., resident and Clarion University professor's work.
"What We Pass On" utilizes a parent's perspective on heritage: "I was a Bilfield, my mother begins, / starting with the name her father / gave her, before I was a Terman. / She is sitting at the kitchen table, / facing the clock with the Hebrew letters, / its poorly tuned motor a perpetual moan / in the background when the house / is full, louder when she's alone / among furniture and portraits. / The names of Jews, she says, were for / their occupation, what they did." It's one poem of many filled with emotional resonance, a history lesson on the suffering of distant family members the speaker never had a chance to meet.
While moments of Terman's work can feel like a visit to a foreign country, with Yiddish phrases interspersed and no glossary supplied, it remains accessible. One favorite is Terman's depiction of a first restaurant job in "Lobsters," describing a hellish kitchen where a black cook shouts about the heat while, "chugging a dripping bottle of Stroh's / as I lined dirty dish after dirty dish / onto the rack to be conveyed into / the machine, underage and overtime / paid off the clock …" It's a coming-of-age poem stunningly full of accurate imagery some readers will know too well.
While "Oil City Serenade" illuminates a Pennsylvania town down on its luck, it's the stunning series of poems concerning the sudden loss of a beloved brother in "To a Scientist Dying Young" that highlights Terman's writerly collection, a wise and sympathetic Our Portion.