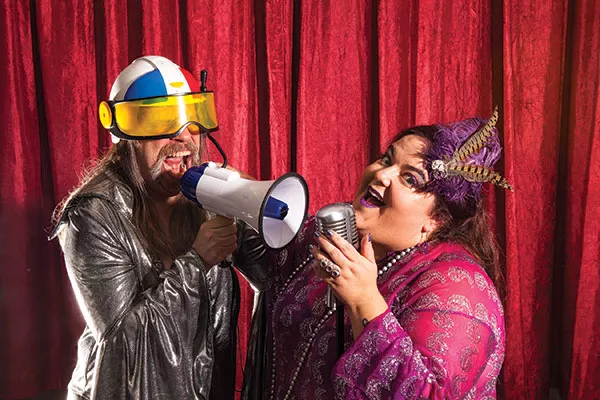 It was a classic tale of boy-who-dresses-up-as-a-caterpillar-and-yells meets girl-who-swallows-glass, that day back in 2000 when Phat Man Dee first encountered Tommy Amoeba.
"It was a Thanksgiving Infectious Variety Show, at the Oakland Beehive," Man Dee recalls. "Tommy was actually dressed in a pilgrim costume, and his friend was dressed in a turkey costume. The pilgrim costume covered the front half of him, and only to mid-thigh. He was marching back and forth like a Greek-chorus kind of thing in between acts for no apparent reason. He had a fake rifle and he and the turkey guy walked back and forth.
"Later, he came back out and he had divested himself of most of the pilgrim outfit, but he still had the American-flag Speedo on, and he had the guy with the turkey costume with him, and he was engaged in the act of faux-copulation. And I was like, 'Who's that guy? Wow!'"
Now, 14 years later, Man Dee (born Mandy Kivowitz) and Tommy (Thomas Delfaver) have been married over a decade and are basically local music-and-performance legends: She's well-known as a jazz singer and general personality, and he's known equally for his band, Amoeba Knievel, and for being that guy who goes to rock shows and yells "Aaaaahhhhhh!" instead of applauding. Man Dee has two albums under her belt and is preparing for the release, on Wed., Sept. 24, of her latest, Hey Phat Chick, with her band, The Cultural District. Tommy has a new album, too — his first, after over a decade with Amoeba Knievel.
Amoeba Knievel had recorded a handful of songs over a period of a few years, but none of those have yet seen the light of day. The batch of tunes on This Is Only A Test, though, came out of a session at Mr. Small's studios, which Tommy booked as part of a deal with Small's in which Man Dee had helped put together a New Year's show and was compensated with studio time. (Both artists' new albums were recorded there, with engineer Larry Luther.)
"This [recording session] kind of leapfrogged over [the older one] because this one was ready and mastered more quickly," Tommy notes. That explains some of the surprises inherent — like the absence of "The Ballad of Tommy Amoeba," an Amoeba Knievel classic that serves as Tommy's de facto theme song, and explains the story of "the lowest form of life," as he refers to himself. (After he developed the nickname, which came before his music career started, he says he told his mother, who responded, "Great — my son, the lowest form of life!")
Amoeba Knievel's music is generally relatively simple punk and New Wave-style rock, infused with a barrage of pop-culture and sci-fi references and a healthy dose of absurd humor. Tommy put together a page on the Amoeba Knievel website on which references are hyperlinked to their antecedents — everything from the Wikipedia page for James T. Kirk to a YouTube video of an Indigo Girls song, and information on plenty of science-fiction stories. It's a sort of annotated Amoeba.
While Man Dee has been a musician since her early days growing up around the area (spending time in Meadville, Altoona and Squirrel Hill, among other locales), Tommy came to music late — he never studied an instrument as a kid, and simply writes words and melodies off the top of his head. He doesn't play an instrument in Amoeba Knievel, but then, if he did, how would he cram himself into his signature caterpillar suit, or wear puppets on both hands, or wrap the audience in caution tape, as he's wont to do?
Man Dee, for her part, grew up playing cello (she still plays) and always sang, though it wasn't always her primary art. She dropped out of Allegheny College after a couple of years. ("I was partying too much in college. I knew enough French to get by. I knew enough art to make some art. I knew enough music to make some music. Why I am I paying $25,000 a year to just party?" she says.) She toured the country in the late '90s with two alternative-circus acts, the Bindlestiff Family Roadshow and Circus Redickuless.
"I was so enthralled by this idea of variety entertainment," she says. "It wasn't just music, it wasn't just spoken-word, and it wasn't pretentious performance art. It was just some real whacked-out stuff.
"I had Zoe Collins from Threadneedle Street make me a half-man, half-woman costume, and I learned little songs to sing to myself, and I had to have a skill, so [Dave Apocalypse] taught me how to eat glass. And he also made me change my name, because apparently The Sister-Master of the Fist-Masticating Arts, which used to be my performance name, has no stick-to-it-iveness. You can't remember Sister-Mister of the Fist-Masticating Arts as easily as Mista Sista Phat Man Dee, so that became my name."
Man Dee became a jazz singer in the early 2000s, at the same time her relationship with Tommy was developing. (They married in the summer of 2002 atop a huge pink-elephant float on Carson Street and, six months or so later, ended up on Judge Joe Brown, suing some friends who were supposed to deliver the elephant to them later, at Burning Man, but couldn't find them and burned it instead.)
In 2002, she also released her first album, Life Just Goes On, with a number of songs written by collaborators (including Tommy Amoeba), and a few standards. In 2007 came her second full-length, Torch of Blue, with a few she wrote herself, and a few written by locals like Christiane D., Colter Harper and John Purse.
The new album, Hey Phat Chick, features tunes like the title track, which has become her theme song, and "Why Wait?" — which she says she wrote because she found herself writing too many songs for friends after they passed away. There are also some interpretations: "You Are Special," the Mr. Rogers song, for example, and a couple of French-language songs, taking advantage of her major at Allegheny.
The choice to release the two albums with a joint show came partly out of convenience: Both albums were coming out around the same time anyway, and Man Dee was reserving Mr. Small's through the Creative Life Support program, which, among other things, runs regular "Revival Series" shows in which local bands play the Small's stage without charging admission. But it's also somewhat sentimental: The two have rarely shared the stage for full sets by both of their bands on one night.
"We are married, people keep calling us some kind of weirdo iconic couple," says Man Dee, "because we got married on the pink elephant. Yeah, it's true: We want to be Pittsburgh's freaky-deaky Sonny and Cher!"