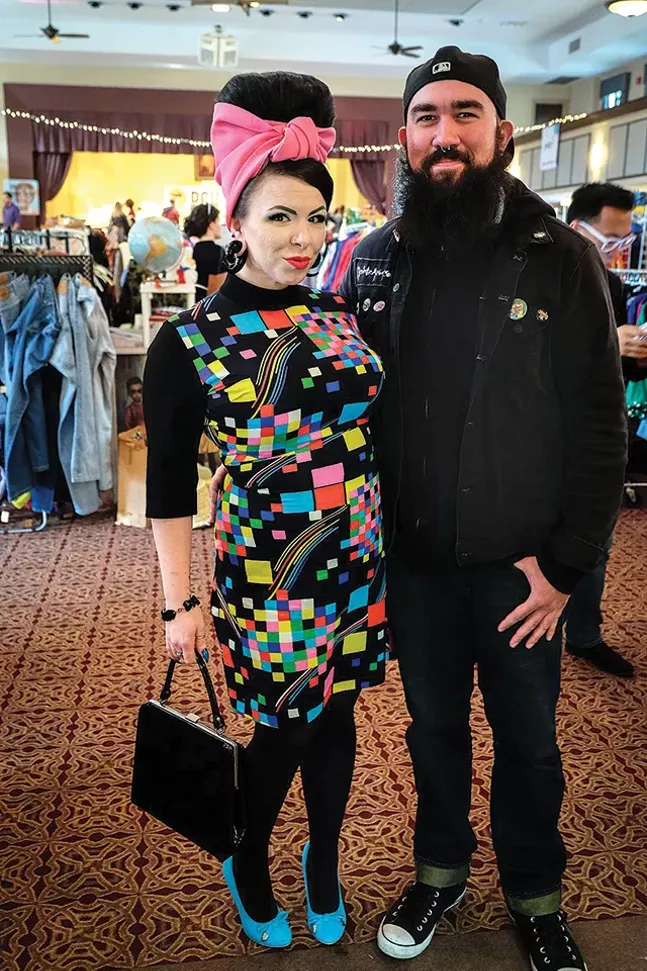 It's out with the new and in with the old at the Pittsburgh Vintage Mixer, a biannual market founded in 2012 by friends Michael Lutz, Jason Sumney, and Bess Dunlevy. The event celebrates a passion for kitsch, love for vintage, and nostalgia.
The mixer is an elaborate side hustle for Lutz, Sumney, and Dunlevy, who all have full-time jobs. For them, it's a "labor of love" born from their shared passion for mid-century modern housewares. For years, the trio curated personal vintage collections (Sumney's favorite piece is a 3-and-one-1/2-foot, Icee-style red ice cone lamp, while Lutz loves a Gidget board game).
In 2008, the mixer's founders opened an online shop, Red Pop Shop, to sell their groovy goods. Once Red Pop Shop was in full swing, the trio realized there was no vendor fair for local sellers and vintage-lovers. In the summer of 2012, the Pittsburgh Vintage Mixer held its inaugural market, the city's first vintage-only event.
The 2012 mixer was a hit. Lutz, Sumney, and Dunlevy's continued growth of the event met a devoted community of Pittsburghers. For three years, they paired with Heinz History Center in celebration of Vintage Pittsburgh. In June, the trio landed a spot on Rick Sebak's Nebby docuseries. Alongside the biannual markets, they've also hosted specialized pop-ups, such as last year's Naughty Valentine's Day Market.
From the beginning, Lutz, Sumney, and Dunlevy had a clear vision of the fair. No handmade or upcycled items, all vendors were strictly vintage. This clear line kept the mixer from overlapping with other events such as the Handmade Arcade. They wanted to bridge between a flea market and antique sale, showing affordable but high-quality vintage items.
Every vendor is hand-picked. Local sellers fill out an application and the three sit down to curate the show. Spaces are kept as local as possible, but always open to unique vendors from outside Pittsburgh.
The mixer is cooking with gas in its 12th season. More than 1,500 shoppers are expected to fill the Teamsters Hall Local 249 in Lawrenceville at the 2018 fall market. The upcoming mixer extended to two days with the addition of a "Night-Owl" pre-shopping, pre-party ticket.
More than 30 vendors will be selling vintage fashion, furniture, houseware, vinyl, and who knows what else. Move your feet with live music by DJ Alternate Histories and others. Guests can mingle with a glass of wine from Allegheny Wine Mixer, an antique soda from Natrona Bottling, pizza from A'Pizza Badamo, or a slice of pie from Pie Bird Bakery and Cafe.
As Lutz says, "It's like you're at a party with your friends, but everything's for sale."