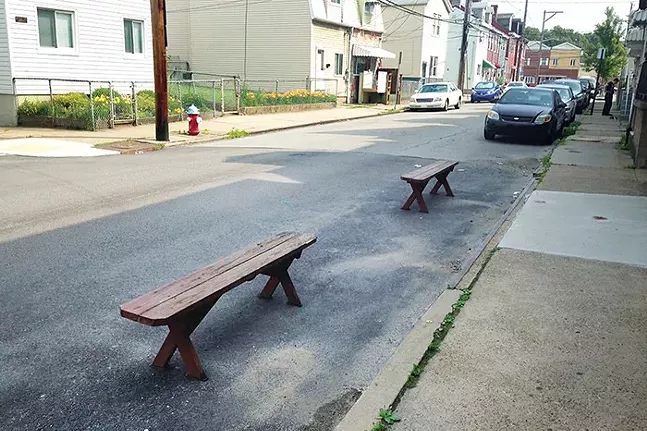 How do I report a crime?

For emergencies, you can call 9-1-1 within Allegheny County, and if you have a hearing/speech impairment, or feel unsafe to speak on the phone, you can send a text message to a 911 operator from a mobile phone. (Send text only, no photos or videos.)
How do I report things like potholes and overgrown weeds?

Residents and homeowners can report non-emergency situations like graffiti, litter, and illegal parking to 3-1-1. You can also fill out a request online at
pittsburghpa.gov/311/form
, or tweet to
@311PGH
.
How do I know when to take my trash out?

Enter your address at
pgh.st
and find your street's schedule for trash, recycling, and yard pickup. You can also sign up for free text or email reminders the evening before scheduled pickups.
Where can I find LGBTQ-friendly resources?

SisTersPGH (
sisterspgh.org
) is a transgender/non-binary centered shelter transitioning program. Persad Center (
persadcenter.org
) serves LGBTQ+ communities and those impacted by HIV/AIDS. You can also check out the Gay and Lesbian Community Center (
glccpgh.org
) and Delta Foundation (
pittsburghpride.org
).
What's up with the weird furniture blocking my parking spot?

"Parking chairs," which generically refers to any item used to reserve a parking space when a resident is away, attempt to claim private ownership of a public space. Under the official law of the land, parking chairs can be ignored. The law of the jungle, though, says something else, especially in winter. If your neighbor shovels their car out from snow, their chair indicates they claim that spot when they return. There are horror stories about what happens to people who violate local parking customs.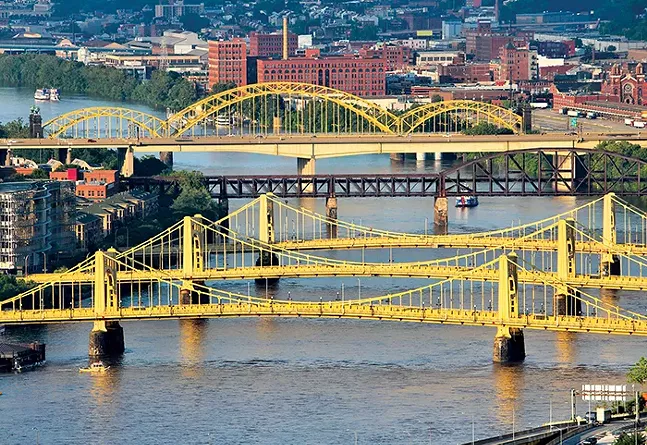 Just how many bridges are in this town?!

A lot! Pittsburgh is sometimes called "The City of Bridges," and there are 446 of them.
What about the "Sister Bridges"?

The three bridges over the Allegheny River between Downtown and the North Side are called the Sister Bridges because of their identical yellow appearance. Officially, they are Rachel Carson (Ninth Street), Andy Warhol (Seventh Street), and Roberto Clemente (Sixth Street) bridges.
Where can I get tested for an STD?

We recommend visiting one of the city's Planned Parenthood centers. Find your nearest location at
plannedparenthood.org
. You can also get free and confidential STD/HIV testing at Public Health Clinic. No insurance is needed, but it's walk-in only at 1908 Wylie Ave. in the Hill District.
Why are there lights flashing at the top of that one building Downtown?

The lights on top of the 40-story Grant Building at 310 Grant St. actually flash out a symbol in Morse code: "P I T T S B U R G H." Cool, huh?
What about the top of that Downtown building that's always changing colors?

Fun fact: That's a weather beacon at the top of the 44-story Gulf Tower on Grant Street. The temperature is displayed on the top three floors; precipitation, humidity, and wind speed are shown on the others.
What does the symbol on the Steelers helmets mean?
The design dates back to the 1930s. The inspiration for the logo was the "Steelmark," a promotional idea dreamed up by U.S. Steel that featured the familiar triad of red, blue, and yellow stars. Those stars, incidentally, are technically referred to as "hypocycloids."
Is there really an underground river?

Pittsburgh's legendary "Fourth River" is not even a river at all. It's what geologists call an "aquifer." It's basically a 30-foot-thick layer of highly porous stone and coarse sand, a layer of earth that traps massive amounts of water inside it. It's buried 30 feet below the surface, and it's actually useful. Numerous Downtown buildings, PPG Place foremost among them, pump water from the aquifer and use it for air-conditioning and other purposes. But the river's best-known function is to provide the water for the fountain at the Point.