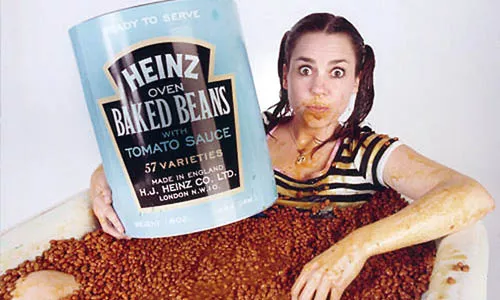 The familiar lyrics of "I Can See for Miles" arch over the sonorous bass and chiming chord changes, all accusation and grim knowledge: "I know you've deceived me, now here's a surprise." This time the surprise is knowing that everything -- every signature guitar warble and harmony -- emanates from the vocal cords of Petra Haden. Armed with only a whim and a cassette eight-track, she's recast the 1967 classic The Who Sell Out as an ornate a cappella pop confection.
"I know I've gotten a lot of criticism, well, not a lot," Haden says. "Like, 'How could Petra do this to The Who, it's a disgrace!' Or 'Petra Haden sucks.'" Over the phone from L.A., her conversation's a bit surreal: a nasal drawl punctuated by giggles and the oft-repeated word fun -- her explanation for nearly everything. And you never know when she'll break into her imitation of a Pink Floyd guitar solo.
"I just felt like this curious girl, who didn't know much about The Who, who liked singing, and was doing it for a friend," she explains. "I wasn't expecting Pete Townshend to hear it, or Roger Daltrey to hear it."
The project's origins were simple. Musician friend Mike Watt handed her an eight-track recorder with The Who Sell Out on one track, and challenged her to fill the remaining seven channels with her voice. "I thought, 'Who would want to hear this?', 'cause it sounds so muddy. I didn't know how to use the machine. I didn't get the words right," Haden says. "But I think people liked how it sounded kinda ... off."
Pete Townshend, for one, digs it. "It is exquisite," he's remarked. "It feels like my Smile." But some of the credit goes to Haden, who's juiced up the songs' harmonic complexity.
"I ended up adding some of my own kind of thing to it ... If I hear something that's not on the song, I'll add it just for fun," she says. "I would change the style of how Roger Daltrey was singing. On 'Mary Anne With The Shaky Hand,' I purposely wanted to sound like Snow White." She pauses. "Or like an opera singer."
To recreate everything on The Who's record, from windmill guitars to drums, and even the fake commercials for "Odorono" and "Heinz Baked Beans," you need prodigious vocal flexibility. But to just be Petra Haden, you need a certain elasticity of purpose. "I don't know what my job is really. Even now, people say I have a career, and I wonder, 'What is my career?' I don't even know!"
It's sure a jumble. As a rock violinist for hire, she's just returned from a string of Australian dates with old friends The Foo Fighters -- whom she met while opening for them in the late '90s with her band, that dog. As a collaborator, she's worked with everyone from Sean Lennon and Greg Dulli to guitarist Bill Frisell and Yuka Honda of Cibo Matto. She's also contributed to soundtracks for films like I, Robot and Flight of the Phoenix.
At her musical core, though, is the a cappella impulse that got her started -- with a nudge from her dad, famed jazz bassist Charlie Haden. "My dad got me my first four-track," she recalls. "He said, 'Oh good, now you can write songs!' And I thought, 'How the hell am I going to write songs? I don't play guitar or piano!'" So she had to pretend. "'I'll sing a bass, I'll pretend this is a bass.' And then a few tracks for the guitar."
And it's here you encounter the tension in Haden's music -- a tension between the session musician and humble interpreter of others' music, and the quirky creator of her own unorthodox sound. "I have this idea to sing movie themes from my favorite movies," she says of her current project, which includes a cappella versions of the Psycho and Superman themes. "When things like that stick in my head, I just want to recreate it!" she giggles. You know: for fun.
It's easy to mistake the transparent simplicity of Haden's projects with frivolity. "The Who Sell Out, there's some really playful songs," she explains, "so when I come across a playful song, I want it to sound playful. But overall, it's serious." And perhaps ultimately, a recreation of that classic album is so unnecessary, its very uselessness becomes a sort of a grand, innocent gesture. "I love singing, and I feel passionate about it," she says. "Even if it's a silly record, I want it to sound good."