Last performed by Pittsburgh Ballet Theatre in 2011, choreographer Jorden Morris' box-office hit Peter Pan returned to the Benedum Center for another triumph. The family-friendly production was engaging, and entertaining with the kind of G-rated charm reminiscent of classic Disney storybook movies.
Based on J.M. Barrie's classic Peter Pan, or The Boy Who Wouldn't Grow Up, the ballet couldn't have been more perfectly cast Feb. 12, opening a rare two-week run for PBT. Principal dancer Christopher Budzynski was boyish and brave as Pan; soloist Gabrielle Thurlow was thoroughly darling as Wendy Darling; principal dancer Julia Erickson was caring as Mrs. Darling and forthright as Tiger Lily; and soloist Alejandro Diaz was dashing as Mr. Darling and cartoon-villainous as Captain Hook. While the entire cast's acting and dancing was divine, the evening belonged to Caitlin Peabody as the lovable spitfire Tinker Bell. From foot-stomping fits and pouts to unbridled girlish joy, Peabody embodied the child-like fairy. Her wonderfully animated facial expressions and body language reached clear to the back of the theater to the delight of everyone who sat in it. (Note: The show's cast varies nightly.)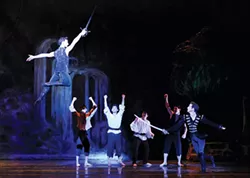 Peter Pan is set to a soundtrack by British composers from Barrie's era, and the music — from Benjamin Britten, Edward Elgar and others — felt as if it were created specifically for this production. Spot-on period sets and costumes, both courtesy of the Royal Winnipeg Ballet, added authenticity to the ballet's look and Morris' choreography nicely blended storytelling, accessibility, humor and heartstring-pulling moments. Though the show was perhaps a bit light on "grown-up" technical dancing, the pointe shoe fit perfectly with regard to the intended audience of the young, and the young at heart.
The Darling kids' adventure to Neverland and back played out faithful to Barrie's tale, but with a comic tone recalling Abbott and Costello (ask your parents), bouncing from one zany scene to the next. Standout moments included Thurlow as Wendy feeding her brothers and the Lost Boys medicine, which made for some comic wincing; several sweet moments between Peter and Wendy fostering their budding romance; and a heartfelt, flowing and graceful pas de deux set to Elgar's "Enigma Variations," danced adroitly by Erickson as an anguished Mrs. Darling and Diaz as a supportive Mr. Darling, both pining for their missing children.