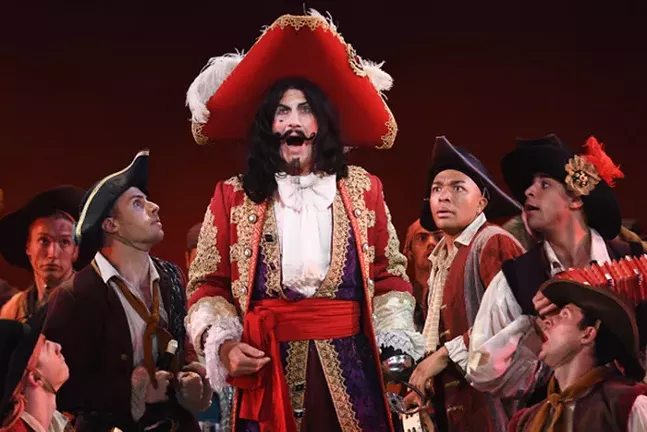 It only makes sense that Pittsburgh CLO is offering half-price tickets to children aged 3-14 during select performances of
Peter Pan
. J.M. Barrie's tale of the boy who wouldn't grow up has become one of the most famous stories ever told about the magic of imagination and childhood — an exhilarating adventure story for children and a bittersweet one for their parents. Though the stage musical adaptation is a more straightforward piece of children's theater with less to offer the adults in the audience, there are one or two moments where it, too, finds that magic.
Jenn Colella, the Tony-nominated star of
Come From Away
, leads the production as the cocky, elfin boy who flies through the window of the Darling family nursery and lands on the floor, his blinking fairy Tinker Bell in tow. (Colella, in her CLO debut, takes on Peter Pan at age 44 in the eternally-puzzling casting tradition that began with Mary Martin who originated the role on Broadway at 40 in 1954.) Wendy (Lori Eve Marinacci), John (Mario Williams), and Michael Darling (Daniel Frontz), left alone in the nursery by their parents, are soon persuaded to join Peter on the island of Neverland.
The island is home to three ensembles, and the best is easily the pirate gang led by Charles Shaughnessy's hammy Captain Hook. Shaughnessy is a child's conception of a villain — overdramatic, conniving, and incompetent, surrounded by a bumbling crew always chasing down Peter's faction of Lost Boys. But that charming "child's conception of …" formula is less successful when it comes to Neverland's fantastical "Indians," led by the princess Tiger Lily (Desirée Davar). At least the most overtly racist material has been cut from this version of the musical, leaving the "Native Neverlanders," as the program rebrands them, with little to do besides slay a few pirates and drum a few tom-toms in the musical number "Ugg-a-Wugg" — almost lyricless now that the lines referring to offensive racial stereotypes have been cut out.
Peter Pan
, in general, would probably be better off not being a musical at all. The score, written by Morris "Moose" Charlap and Carolyn Leigh (with additional music and lyrics later written by Jule Styne, Betty Comden, and Adolph Green), is remarkably unmemorable, and few songs reveal anything new about the story, setting, or characters. When Colella does get the chance to show off her belt, though, you're glad she's singing. And when she climbs back onto the windowsill at the show's end for a reprise of Peter's ode to "Neverland," the magic is all there. This is where Peter Pan works best: The wires might be showing, but it's hard not to crow alongside Colella as she flies triumphantly back to childhood.