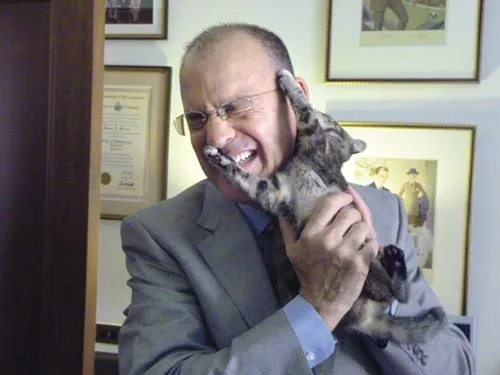 Yvonne F. Brown is chewing Bruce Kraus's ear.
Gnawing on it actually. Part of it is in her mouth.
"Ahh! You're a crazy kitty," he says, swatting her away with a grin. "She's going through the terrible twos."
Kraus is no stranger to being chewed out by Yvonne F. Brown. But usually it's the other one -- the Hill District resident and fixture at Pittsburgh City Council meetings, who gifted the District 3 councilor with the feline at a May 4 meeting.
It was a rare gesture for Brown, who has been agitating and thundering at council for more than a decade. When Kraus took office in 2008, Brown wasted no time in confronting him -- and now-council President Darlene Harris -- on a practice in which rescued cats and dogs were brought into council prior to meetings, where they were presented for adoption to those watching the city's cable-access channel. Brown objected that the animals were displayed prior to the public-comment period, when she typically holds forth.
"I was complaining about how can they put animals before us? Before city business?" Brown tells City Paper. Kraus, she recalls, "asked me why I hate cats and dogs."
This spring, though, it was Brown who presented a cat at council. The cat's mother abandoned her, Brown says, and while a neighbor took it in, she couldn't keep it. "She said she was just going to throw it outside," Brown says. So Brown turned to city council.
"This is to build a bridge between [Kraus] and me," Brown told councilors as she stood at the podium, plopping down a black bag with the brown-and-black kitten's head peering out. "Because he thinks I hate cats and dogs. … I don't know how good of a council person he is, but he has a heart."
"As much as they love animals," Brown says today, "I know they wouldn't turn her down."
In fact, when Brown first approached Kraus about taking the cat, he initially declined -- until she mentioned it would be abandoned. "Within the first five seconds, I was head over heels for that cat," he says.
Which may not be surprising: Kraus keeps framed photographs of his other two cats, Gabriel and Chloe, on his desk.
Kraus himself named the kitten, now approximately 10 weeks old. And he says the name fits: Yvonne Brown often bites him when he picks her up.
"She's definitely a little wild and definitely a free spirit that speaks her mind," he says.
But many on City-County Building's fifth floor -- which houses both council and the mayor's office -- say the feline helps unite factions that are often divided.
"It's the one thing everyone on council can agree on," says Misi Bielich, Kraus' executive assistant.
Among those who come to see Yvonne Brown (the cat) are Paul McKrell, Mayor Luke Ravenstahl's government affairs manager, and Cathy Qureshi, Ravenstahl's assistant finance director. Most of her fan club, though, is composed of staff in city council and the clerk's office.
"She does add to the camaraderie in the office," says Audrey Glickman, of Harris' office. "As she gains her older-cat mature repose, I am certain she will serve well to keep the critter population at zero -- and the friendship quotient high."
Many on the floor have contributed to a "kitty fund" for food, litter, shots and toys, which are strewn about Kraus' office. The litter box is stuffed under the printer; there's a blue scratching post by the window and a stuffed mouse under the desk.
Dan Wood, administrative assistant in Councilor Daniel Lavelle's office, takes Yvonne Brown home on weekends; Kate Weiland, of the city clerk's office, lets her out in the morning when she arrives around 7:15 a.m.
"We haven't had any complaints about her," says Harris -- despite the fact that Harris and Councilor Patrick Dowd have cat allergies. "A lot of businesses have cats or dogs in them."
And it didn't take long for Brown to fit in, says Kraus. "I brought her back to my office, and it took another 10 minutes for the rest of the floor to fall in love."
Brown (the woman) says she's happy the feline has taken her name. Her grandchildren once called it "Nebby," because it snooped around their bedroom. "Now that's a nickname for Yvonne F. Brown," she says.
Still, she makes no apologies for constantly criticizing council, or for making impassioned speeches at every public meeting she can get to. The 65-year-old started attending meetings 11 years ago, after her son's murder. Since then, she's taken council -- which she has called a "group of thugs" -- to task on just about everything, including the amount of time given to speakers during public comment. She once even sued to impeach Harris as president, an effort rejected by a Common Pleas Court judge.
"I still go [to meetings] even though I'm starting to hate it," Brown says. "One day my son called me and said, 'Mom, I miss you. But I'll see you on Saturday [during city council re-runs on television]. I started crying and saying, 'I'm so tired.' But he said, 'Someone has to do it.'"
While city officials and citizens come and go in council's offices, city business continues around Yvonne the cat. But like the woman for whom she is named, she still manages to disrupt the everyday routine. She sleeps on keyboards, swats at the cursors on computer screens. Once in a while, she escapes.
One July morning, for example, Yvonne slips around the cardboard planning map Kraus uses as a cat-barrier in the doorway of his office, and darts down the hall and into the copy room.
"Did we get the Pittsburgh Historical & Landmarks Foundation info?" Kraus asks Glickman, as Kraus follows after the cat. He bends down and reaches for her. "Come here, you!" he says. Instead, Yvonne F. Brown barricades herself behind a stack of empty boxes, openly defying the elected official.
Her namesake would be proud.