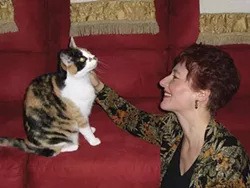 When Renee Takacs discovered that she could communicate with animals, she had already been lending her telepathic skills to humans, in the form of intuitive consultations, since the early 1990s.
One day, while finishing some readings for a family, one client joked, "Next time you'll have to talk to our dog, he has issues."
"My little intuitive voice said, 'Do it,'" Takacs recalls. "I plopped down on the floor and I looked at the dog and closed my eyes, as I would prepare to connect with a person. I asked the dog, 'Is there anything you want to tell me?' And I went into a loving, receptive listening mode. And boom, I started to receive impressions, which is what telepathy is."
Among other things, the dog expressed missing the taste of bacon, which amazed the family: The dog's bacon treats had been on the grocery list for weeks, they said, but everyone kept forgetting to pick them up.
"I remember driving home and thinking, 'Oh my gosh, I just talked to a dog,'" Takacs says, laughing.
Now, Takacs offers pet-owners insight into the lives of their animals. "I believe in giving the animal a voice," she says. After asking the pet for permission to talk, and after gathering a bit of information, "I invite the person to step in and ask any questions they have to ask, or tell their animal friend anything they want to tell them," she says. Clients come to her seeking insight into everything from the animal's history to behavior and health problems. Some want communication with a deceased pet, which is a service that Takacs — who has honed her skill though meditation and a 20-year yoga practice — does provide. And, surprisingly, she finds it easier than communicating with a living pet.
"There's less to be concerned about when our spirits go into the higher realm. We don't have a physical body anymore, so we only have [the] part of us, or the pet, that is its loving spirit," she explains. "People will say, 'Well, does my cat or dog miss me?" And the truth is, no. They feel they've fulfilled their purpose of being a companion in our life — their job is done."
Naturally, Takacs is sometimes met with skepticism, but she doesn't mind: The evidence, she says, speaks for itself. "I invite skepticism, because I think it's important that we're discerning."
In addition to basic pet communication, Takacs also offers "energy baths," which take into account the energies of both the pet and the owner.
"What I've found is that if an animal is having a behavior problem, 90 percent of the time, it's connected to their person. Their person [may be] going through some stress or illness, and — through natural, unconditional empathy — our pets are like sponges," she says. "We can do some energy work together to read your emotional energies so your cat isn't always taking on your stuff."
Takacs has clients across the country, all of whom she works with over the phone. This may seem counterintuitive, but Takacs finds it easier and less distracting than in-person meetings. "Telepathy works at a distance, that's the definition of it. It's like tuning into a particular radio station and getting the clarity for that particular animal. I set the intention for that particular dog, and boom, it just happens," she says.