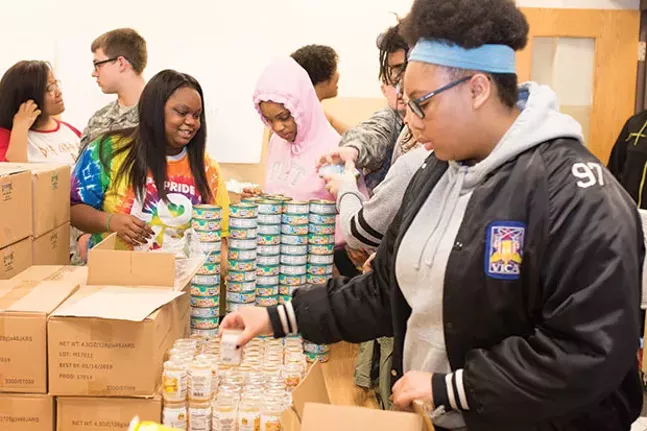 Perry High School librarian Sheila May-Stein and her students in the Gender Sexuality Alliance are taking on hunger as a way to reduce violence and foster better learning. A self-proclaimed "outlaw educator," May-Stein helped found the group three years ago when she came to Perry, and she serves as its faculty adviser.
When City Paper spoke with her by phone she had just received 2,100 pounds of food from the Greater Pittsburgh Community Food Bank. That's more than triple the normal delivery amount for a week, and she hopes to be able to prepare Perry students for their coming spring break. "We are the only comprehensive high school on the North Side," May-Stein says. "When the Buhl Foundation worked with neighborhood groups [through One North Side] to have North Siders determine what their main concerns are, the two main things that they found were that people were concerned about health care and food security. We find that those two things play out in our school."
So, May-Stein and GSA started Project Rush Hour, an in-house food pantry for students. Last year, while preparing for the National Day of Silence, she and her students were feeling defeated by the amount of bullying in the school. "We asked ourselves, 'Why are kids so mean?'," says May-Stein. "Someone said, 'Well, it's probably because they aren't getting what they need. They're probably hungry. There's no running water at home.' And so we thought maybe the way we try to stop bullying is try to do something with food."
The group reached out to partner with Greater Pittsburgh Community Food Bank. The students received training in food-handling, and with help from Junior ROTC, they bring in 1,000 pounds of food a week and get it ready for needy students. Those students fill out a form of what they'd like from the list provided by the food bank. Then, volunteer students pack the bags, mark them with the recipient's name, and put them out for pickup in the library where Project Rush Hour is based.
Now, the group is hoping to expand the program to provide fresh foods, but it needs to purchase a refrigerator before the food bank. To raise the money, they've started a GoFundMe to cover the expense of $3,500. May-Stein and her students are also starting a garden to help supplement the donated foods with fresh produce.
"Libraries can't be a resource for just one thing," says May-Stein. "Libraries have to be a resource for all kinds of things. Food, at Perry, is what this library is also a resource for."
To donate to Perry High School's Project Rush Hour, visit www.gofundme.com/PerryFoodBankRefrigerator.