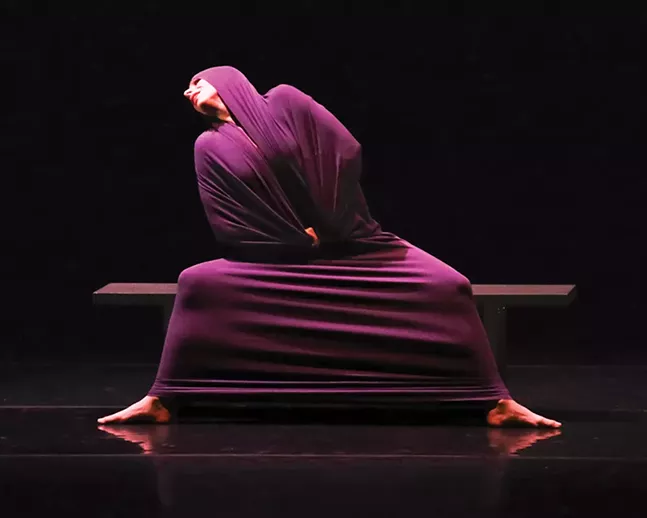 CorningWorks opened its dance season with the premiere of Beth Corning's the waiting room. An hour-long dance-theater piece at North Side's New Hazlett Theater, it has the feel of a one-act play. Jacob Goodman portrays Samuel, a shomer (part of the Jewish religious ritual of Shemira) tasked with watching over a coffined body.
Circumstances leave Samuel not knowing the identity of the person with whom he is sitting, and without a prayer book. With little to occupy his time, Samuel engages in a one-sided conversation between himself and the deceased, who he named Phil; he imagines Phil asking Samuel to recount memories from his life. Through those poignant recollections, we discover how Samuel became the man that he is.
An introspective work bordering on the surreal, and laced with humor, the waiting room brings to the surface those fearful and uncomfortable things many of us seek to suppress: that which haunts us, the sense of our own mortality, and the specter of death that surrounds us and those we love. The cast, especially Goodman and dancer Catherine Meredith as "the naked lady," performed solidly. And while the waiting room lacks the emotional punch of past Corning works such as Beckett & Beyond and Remains, like a mental shomer, it sits with you.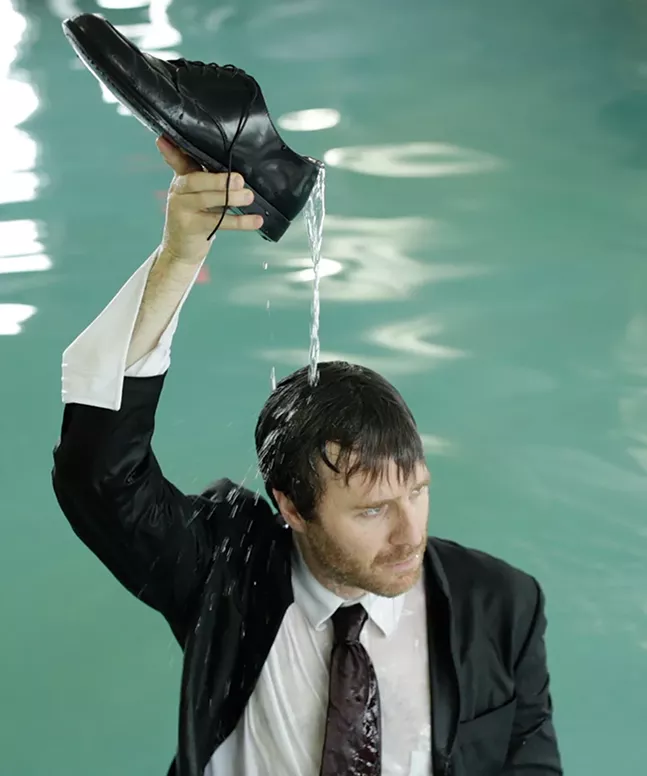 Coming attractions
STAYCEE PEARL dance project & Soy Sos perform for the opening of sculptor Atticus Adams' installation "There's a Pink Poodle in My Arcadia," on Fri., Sept. 28, at 7 p.m. This exhibit about not fitting in, coming out, and being yourself, runs until November 4, and was inspired by an early memory of Adams in which his dad won a pink poodle at a carnival but wouldn't let him keep it because of its color. Through November 4. $5. Pittsburgh Center for the Arts, 6300 Fifth Ave., Downtown. center.pfpca.org/exhibitions/upcoming


Artistic director Maria Caruso will reprise Martha Graham's iconic "Lamentation" solo for a final time on Sat., Sept. 29. Also on the program is the Caruso-choreographed "Doors and Windows" and "Break the Verse," which will be featured on Bodiography's European Tour in March. Sat., Sept. 29. 8 p.m. $20. Succop Theater, 250 College St., Butler. bc3.edu


Fans of Pittsburgh's Kyle Abraham will want to make a trip to nearby Akron, Ohio, on Sat., Oct. 6, to see this MacArthur Genius Award-winning choreographer perform with his company A.I.M. This troupe will present four works that have not been shown in Pittsburgh: Abraham 's new solo "Indy"; "Meditation: A Silent Prayer," featuring text, voiceover and images by award-winning photographer Carrie Mae Weems; the energetic "Drive"; and — new for A.I.M, — a work choreographed by someone other than Abraham, Andrea Miller's trio for women, "State." Sat., Oct. 6. 7:30 p.m. E.J. Thomas Hall, 198 Hill St., Akron, Ohio. dancecleveland.org


Follow featured contributor Steve Sucato on Twitter @ssucato.