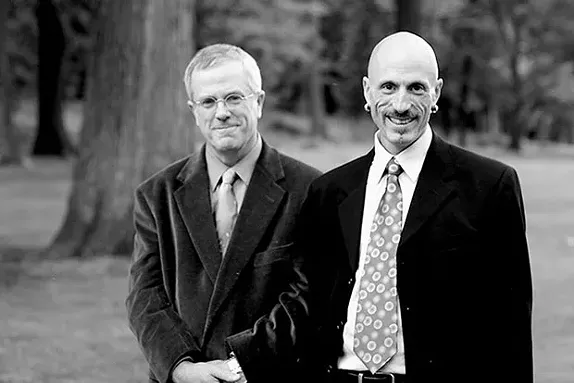 In 2005, Pennsylvania abolished common-law marriages. Critics to common-law marriages point out that they're antiquated and made more sense in a rural society where courthouses and officials who could legally marry people were harder to access. Today, couples can walk into courthouses and get married with relative ease.
But until recently, this wasn't the case for same-sex couples; they weren't legally allowed to get married in Pennsylvania until 2014, and nationwide until 2015.
"We had made a decision that we were not going to get it in another state, we were going to fight for it to be legal here," says Michael Hunter about his partnership with his spouse, Stephen Carter. The couple had been together since 1996. They bought a house together in Philadelphia, wrote each other into their wills and even proposed to each other with rings. They eventually moved to Economy Borough, in Beaver County.
Unfortunately, Carter was killed in a motorcycle crash in Schenley Park in 2013, before several critical state and federal court rulings cleared the path for legalized same-sex marriages.
This left Hunter in limbo. He and Carter lived as a married couple, but weren't legally bound by a marriage license. So when it came time to settle Carter's estate, Hunter was left without many spousal benefits, like the waiver of the estate tax.
Hunter decided to prove that his relationship was, in fact, a legal marriage through Pennsylvania's common-law-marriage provision, because he and Carter had been together almost a decade before the law was abolished. The battle that ensued proved to be another example of the struggles same-sex couples endure just to access equal rights.
Hunter's request was initially denied by a Beaver County judge in 2016. But this past April 17, the Pennsylvania Superior Court ruled in Hunter's favor, granting him his constitutional right to marriage. LGBT-rights advocates say Hunter's case proves the law is on their side. But legal experts expect battles in court, and are unsure how exactly Hunter's case will affect more complex cases. For the immediate future, however, the marriage of Hunter and Carter opens another door in the ongoing battle for LGBT rights.
In the spring of 2016, Hunter started working through Carter's estate. He says he knew most everything his late partner wanted.
"When he died, I didn't have to ask anybody how to handle his funeral and his remains," says Hunter. "There were not any real questions from me about our relationship. We considered ourselves to be spouses. Internally, in our family, we were spouses; to my siblings and his sisters and brothers, we were spouses."
But when Hunter starting getting into managing the estate, like paying taxes and managing assets, Hunter's lawyer, Sam Hens-Greco, believed he could prove Hunter and Carter qualified for a retroactive common-law marriage, thus providing Hunter with spousal benefits.
Hens-Greco filed the case in the Beaver County Court of Common Pleas. But in April 2016, Judge John D. McBride ruled against Hunter, writing in an opinion that Hunter and Carter only "intended" to get married and "never did carry through their statement of intent."
According to court documents, McBride didn't seem to be looking for a legal marriage, which was impossible to have in Pennsylvania during the tenure of Hunter and Carter's relationship. However, the judge did want evidence of, at least, a ceremonial one. For example, McBride wrote that Hunter and Carter never "exchanged vows." But Hens-Greco, citing five other similar cases from the Philadelphia area where Common Pleas judges ruled in favor of same-sex couples, argued the absence of a ceremony shouldn't matter since the couple had done everything else that married couples do.