State Rep. Jake Wheatley has served in the Pennsylvania House of Representatives for 13 years. And since House representatives run for re-election every two years, Wheatley's had a number of websites set up for his campaigns: jakeforstate.com, jakewheatley.com, etc. But in this election cycle, those websites were turned against him.
Beginning a few months ago, visitors to the sites, which also include jake4state.com and jakewheatleyjr.com, were redirected to the campaign website of Wheatley's primary opponent Jessica Wolfe. Her campaign had purchased the domain names after Wheatley let them expire.
It was a move out of presidential candidate Donald Trump's playbook. (He too purchased the expired domain name of one of his opponents.) And beyond the innocuous redirecting of voters from Wheatley's campaign website to her own, Wolfe also redirected voters to 2012 media coverage of a domestic dispute between Wheatley and his then-fiancée.
"I'm focused on the real stuff," Wheatley says now, a few months after he was alerted to the websites. "What really matters is what's important to these residents. People want a budget. They want economic opportunities, jobs. They want a quality education for their children. And they just want their government to do the job they were sent [to Harrisburg] for."
The websites are just one piece of what has turned into an uncommonly controversial election for the 19th Legislative District. Wheatley hasn't seen serious competition since he won the seat from long-time representative William Robinson in 2002, but in this election cycle, four challengers stepped forward.
One month before the election, the others have gone silent, but Wolfe has maintained her presence, challenging Wheatley's petitions, his attendance at House votes and his visibility in the district. Wolfe's bottom line: Wheatley hasn't done enough for his constituents.
But Wolfe has some baggage that's standing in the way of her criticism being heard. As the wife of Kenneth Wolfe, a former Wheatley aide, some have questioned her motives.
"The idea of this being anybody's idea but my own is laughable," says Wolfe. "My husband did work for Jake, and it did inspire me to run for this position in a way because I have firsthand knowledge of what was going on in that office. It's not a vendetta or a revenge thing; it's that I know how things are currently being done, and I know what I need to do differently."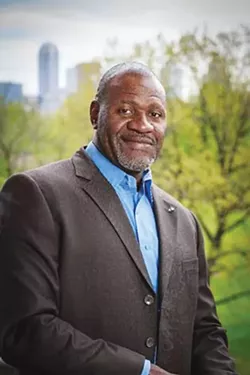 The district is made up of some of the city's neediest neighborhoods: the Hill District, North Side, South Side, Allentown, Hazelwood, Downtown, The Bluff, Knoxville, Beltzhoover, Arlington, Arlington Heights, and Oakland.
The election will hinge on whether Wheatley has been successful at communicating the work he's put in on behalf of his constituents, or whether voters agree with Wolfe's criticism that the representative has been ignoring his people.
"The job of whoever holds that seat is to represent a poor, minority population. And Jake's done a good job of that for some years," says political consultant Don Freidman. "Now the problem is, Jake isn't exactly Mr. Personality. He's not a really effusive personality who can go out and work all of these neighborhoods and make everyone like him. He's much more reticent. He sort of just focuses on the work."
On March 17, Wheatley took Pennsylvania Gov. Tom Wolf on a tour of his district. Their last stop was at Work Hard Pittsburgh, a business incubator in Allentown that's one of the latest examples of the neighborhood's revitalization.
In addition to helping secure a grant for the Allentown business district, other examples Wheatley points to as successes during his tenure include securing funding for the New Hazlett Theater, the Pittsburgh Downtown Partnership, and the South Side Works development.
"I've had a hand in shaping things all across this district," says Wheatley. "I tell people, it couldn't have happened just because of Jake Wheatley. It's working with other people, and using the leverage of my seat to benefit the people I represent. And that's what I'm most proud of. It doesn't matter if people give me credit for it because that's not why I got into this job. I can walk down the street and point to things I personally made happen."
But these successes aren't as apparent to his opponent Wolfe. As far as platforms go, she says hers and Wheatley's don't greatly differ. But throughout her experience meeting with District 19 business owners and door-knocking, she says many constituents complain about a lack of transparency and visibility in Wheatley's office.
"I work in this community, I live in this community and I never see him. I have people say they never see him," Wolfe says. "You're not in the community. I think true public servants want to be with people, want to know what their struggles are."
Political consultant Freidman says criticizing an incumbent for a lack of visibility is a common tactic.
"The average voter has little or no concept of who their state representative is," Friedman says. "If you're taking on an incumbent, you ask the question: 'Well, what's the incumbent done for you lately? How often have you seen him?' And people go, 'I'm not even sure who he is.' And it sort of discounts his importance or presence."
But for Freidman, the job of a state representative isn't about being present at every community meeting.
"Jake has risen up in the ranks," says Freidman. "He is now the Democratic chairman of the finance committee. That's what you want in an elected representative. You want them to have tenure and to be active in Harrisburg. A state rep's job isn't in Pittsburgh — it's in Harrisburg. That's where the work is done."
However, according to Wolfe, Wheatley isn't visible in Harrisburg either. She cites her opponent's record of missed votes, as recorded by the website www.pennsylvaniavotes.org, as a testament to his absence. According to the site, from January 2009 to the present, Wheatley has missed the sixth-most votes of any Pennsylvania House legislator.
When asked about his record, Wheatley says the site Wolfe references doesn't tell the whole story because it only counts whether he is present at a certain time of day, not whether he actually voted. And he also says being present for votes isn't an accurate testament of his service to his constituents.
"If you look at the actual official record of absences and non-absences, I think you'll find I'm rarely absent," Wheatley says. "But because I've taken over more of a leadership role, some of that pulls away from the floor.