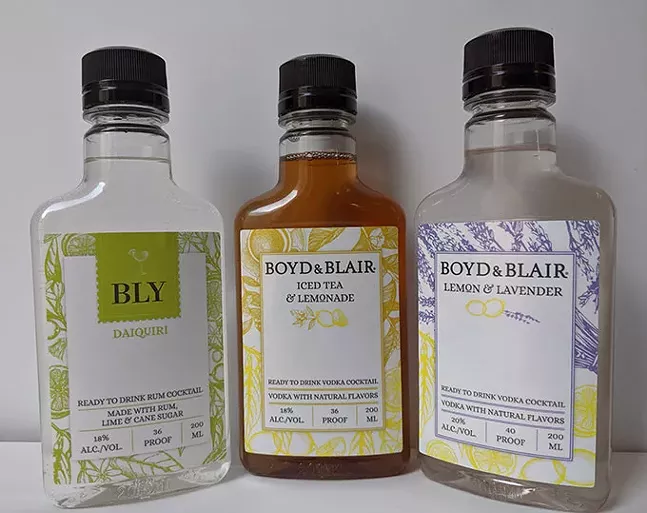 A new line of drinks from the Glenshaw-based Pennsylvania Pure Distilleries aims to simplify your cocktail game — three pre-mixed drinks that can be enjoyed over ice.
The cocktails come in party-sized one-liter bottles or personal-sized flasks and feature the distillery's award-winning potato vodka and BLY silver rum. Each cocktail is between 18 and 20 percent ABV. It might seem high, but it's a standard number for a mixed drink (a Cosmopolitan, for instance, is about 20 to 30 percent ABV).
The three flavors so far are lemon and lavender (with "dried lavender florets" infused into a house-made syrup and mixed with vodka); iced tea and lemonade (Earl Grey, house-made lemonade, and vodka); and daquiri (lime, cane sugar, and BLY rum).
Out of the three (all consumed straight, without ice) the iced tea and lemonade is by far the easiest to drink. The tea isn't super-sweet, failing to mask the strong hit of vodka on the back end of every sip. Even so, it's a nice, refreshing take on the classic combo.
Lemon and lavender follows in rank, with floral tones at first but eventually balancing out from a punch of citrus. Similar to the tea cocktail, the vodka isn't particularly subtle nor overpowering, but you know you're drinking a cocktail.
The daiquiri was tasty, though those averse to sour flavors should stay away. (It made me start sweating; a coworker beside me loved it.) A reasonable comparison would be to eat a handful of Warheads. With some tonic water, it would have been perfect.
That same sentence could be said for all three cocktails. Add some tonic water, soda, or ice, and the cocktails will smooth out for easy drinking. Boyd & Blair recommends shaking or pouring over ice and serving as is — with a lime wedge in case of the daquiri — but the potential is there for each to serve as a building block for other cocktails.
All three flavors are available for purchase at various PA Fine Wine & Good Spirits stores, as well as local businesses DiAnoia's Eatery and Monaco Kimpton Hotels. You can also order them online through Boyd & Blair, though they can only be shipped within Pennsylvania. If you like cocktail recipes that come with shortcuts, these might be for you.