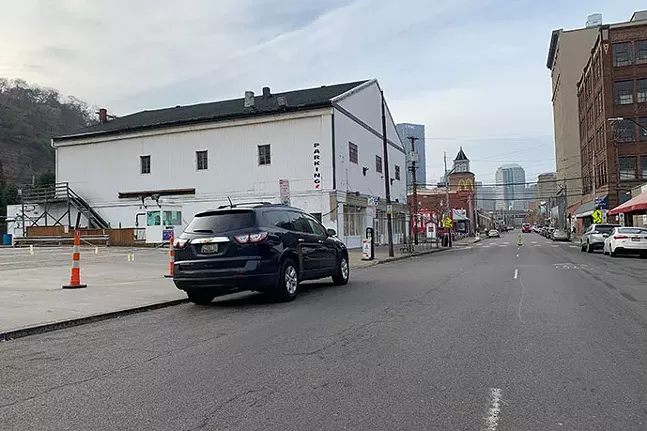 Christian Simmons is dedicated to preserving and promoting Pennsylvania spirits. The founder of
Pennsylvania Libations spirit store
has spent the last three years working to form connections between local distillers and their fans. And this winter, he's moving on to wine and beer. In December, Simmons is launching the first phase of Pennsylvania Libations' expansion called 1700 Penn.
When finished, 1700 Penn — the 6,000-square-foot building across from Wholey's Fish Market, named after its address
–
will be transformed into two parts: a 2,000-square-foot Pennsylvania Libations Wine Store and a 2,000-square-foot Helltown Brewing taproom. Mirroring the spirit store, every product at 1700 Penn will be
Pennsylvania-made
.
The partnership with Helltown, the Mount Pleasant-based brewery, just "made sense" to Simmons, who comes from a
brewery
background.
"They make great beer [and] have very high production. And, they're close to home," said Simmons. "Helltown can do pretty much whatever they want, but this opportunity in the Strip District provides an opportunity that not many places could."
The Pennsylvania Libations Wine Shop will be organized by style and feature a "Pittsburgh Selection" of bottles rather than the typical chairman's. Simmons hopes to host selections from local sommeliers, to link Pittsburghers to restaurants already featuring PA wine on their menus. Similar to the spirit shop, tastes of wines from a 32-tap preservation system and cider from a growler fill station will be free for shoppers.
Almost everything for sale in both Pennsylvania Libations stores will be available for purchase in the Helltown taproom; their full-service bar is planned to feature a 150 spirits, 200 wines, and a long list of Helltown beer. It's only logical to Simmons: "If you can't buy a bottle, buy it in a cocktail," he says. "Keep supporting local."
Alcohol may be the center of Simmons' two shops, but the Latrobe-native believes his businesses can be an opportunity for education. He'd rather call his bartenders "educators" and all staff members are expected to know the ins and outs of every spirit, wine, and beer sold at either store or in the taproom. It's what Simmons calls the "Walt Disney effect" where every employee should be able to work any position.
"When someone comes in and they get a cocktail or a beer at Helltown's taproom, they'll be able to ask questions about what they're drinking – learn about the distillery, about the winery – and that's the whole factor: educating people so they take something home with them," explained Simmons.
Woven in with the final build-out is the integration of 2ndKitchen, a Chicago-based company that allows businesses to "serve food without the hassle of a kitchen." Simmons plans to work with local restaurants and bring multiple kitchens to the location, all through a delivery service app. His end goal is to hire two full-time employees, solely responsible for food pickup and delivery.
But before 1700 Penn is finished (in February or March of 2020), it will launch as a pop-up beer garden starting Dec. 1 of this year. Simmons and his team are taking over the building's adjacent parking lot to create an outdoor, tailgate-style
"beerfest,"
with only Helltown beer and wine available for takeaway and on site consumption. It's unclear if the pop-up beer-garden will be a permanent part of 1700 Penn.