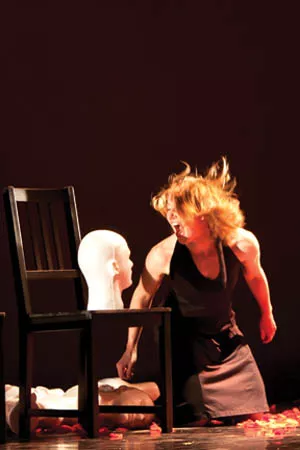 "Intense" is the best word to describe Andre Koslowski's choreography. His works conjure a panoply of emotional states not unlike those of a fellow German choreographer, the late Pina Bausch.
Koslowski formerly danced with Pittsburgh Dance Alloy, and became Pennsylvania Dance Theatre's artistic director in 2003. His more European contemporary-dance aesthetic has been successfully adopted by the 32-year-old, State College-based company, which has toured nationally and internationally.
In his latest dance-theater work, Por La Blanda Arena (through the soft sand), Koslowski again contemplates troubled emotional landscapes. The dark, sorrowful but sometimes humorous piece was shown as a work-in-progress at the Kelly-Strayhorn Theatre's 2011 newMoves festival. The full 60-minute production, which premiered in State College this July, will be performed at the Kelly-Strayhorn on Sept. 9 and 10.
Its title and main inspiration come from Félix Luna and Ariel Ramirez's song "Alfonsina and the Sea," written in response to the suicide-by-drowning of Latin American poet Alfonsina Storni. A version of the song, sung by Mercedes Sosa, is included in Por La Blanda Arena's soundtrack, along with several other South American folk songs sung by various artists.
A cast of five will perform the work; among the dancers will be Koslowski, fellow former Alloy dancer Jennifer Keller and former Attack Theatre company member Jil Stifel.
The bulk of the work's content comes from personal stories and images both mundane and life-changing. The material was generated from questions Koslowski put to the dancers during the creative process that were then translated into dance movement.
"We don't edit ourselves," says Koslowski. "We put it all on the table, and from there it becomes clear what has a place in the piece and what doesn't."
In one particularly emotional scene, as seen in a promotional video for the work, Koslowski angrily shouts to the other performers, "This is Andre's house!" Koslowski says the scene explores what it is like when a person starts to unravel and go insane.
Adding to the theatrics will be an array of props, from a human skull and multiple Styrofoam heads to thousands of rose petals and projected images of water and the sea.
Pennsylvania Dance Theatre performs POR LA BLANDA ARENA 8 p.m. Fri., Sept. 9, and 8 p.m. Sat., Sept. 10. Kelly-Strayhorn Theatre, 5941 Penn Ave., East Liberty. $10-25. 412-363-3000 or www.kelly-strayhorn.org