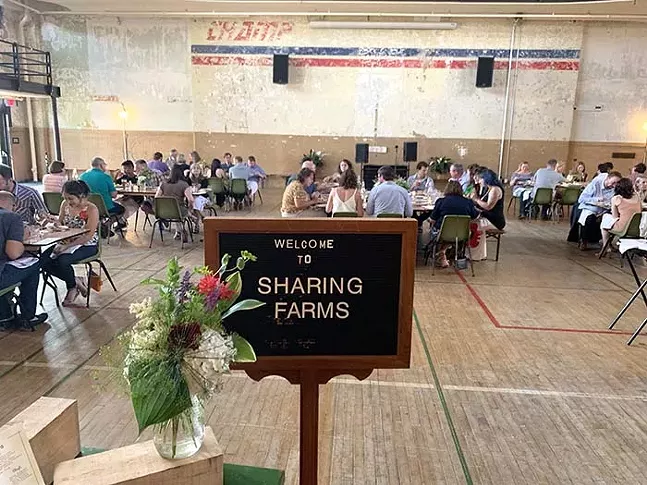 In June of 1999,
Penn's Corner Farm Alliance
made its first delivery. This first sale to Casbah — who after 20 years, still receives deliveries from Penn's Corner — marked a monumental step for the farm-to-table and local produce movement in Pittsburgh. By banding together, farmers made it possible for restaurants and consumers to access quality, PA-grown produce year-round.
Now, 20 years later, the cooperative links together over 25 local farms to businesses and households across the city, with pick-up points for its community-supported agriculture (CSA) bundles as far North as Erie.
They'll celebrate the anniversary on Wed., July 31 with a farm-to-table dinner at the Ace Hotel.
In 2003, Penn's Corner started CSA programming, which now makes up half of its revenue (wholesale is responsible for the other half). Because of the diversity of Penn's Corner farms, products range from an ethically-sourced butcher box to an assortment of flowers. CSA shares are customizable and vary in size, with add-ons including cheese and eggs. The alliance also operates an online farm stand.
The cooperative came from small beginnings, starting with just six farmers. Jeralyn Beach, Penn's Corner general manager, noted that it was a bumpy start for the founding farmers; sales were tracked by pen and paper and delivery was done in-house. This is what made the partnership with Casbah so important. Executive chef Bill Fuller guided the farmers through the food industry.
Today, the cooperative supplies over 60 restaurants — at varying degrees — with local produce, meats, grains, dairy, and more.
In 20 years, Penn's Corner Farm Alliance has become a force of local produce. As the cooperative moves into the next decade, Beach plans to keep growing. She's hoping to add more convenience and says Penn's Corner has already been testing doorstep delivery. Penn's Corner is also moving towards large-scale wholesale like hospitals and schools. Though, Beach mentions, while there is enough product from current Penn's Corner farmers to supply bigger kitchens, it's a matter of working around institutional challenges.
To celebrate two decades of connecting local farmers to local businesses, Penn's Corner and Whitfield, a long time client of the cooperative, are collaborating on a farm-to-table dinner.
The dinner is part of executive chef Bethany Zozula's Sharing Farms Dinner series, a collection of farm-focused meals. Zozula, along with chefs from Spak Brothers, Alta Via, Soba, and or, The Whale, is preparing a four-course feast filled with produce from Penn's Corner farms. Tickets are available at
acehotel.com/sharingfarms
.