As to stronger limits on fracking, PennEnvironment and other advocacy organizations say that although a one-mile setback is not ideal, it's a starting point.
"It offers a reasonable degree of protection," Riccardi says. "It's still not perfect. Obviously, PennEnvironment would love to see an infinite setback. A mile is what we would call the baseline of safe."
Moms Clean Air Force's Tomcik says that at least for emergency safety, a one-mile setback "may prevent disruptive evacuations" in the event of an explosion or other emergency situation.
In the case of well fires in both Greene and Mercer counties in 2014 and 2015, local news outlets reported evacuation perimeters set at a half-mile and one mile, respectively. One Chevron worker died in the Greene County blaze.
"Myself and other colleagues from other health and environmental organizations support the one-mile minimum setback knowing that it is not fully protective of children's health. Unfortunately, until the health of children is prioritized over the profits of polluters, Pennsylvania parents have to operate within the current political climate," says Tomcik.
A spokesperson for the Marcellus Shale Coalition, the group representing the state's oil and gas industry, calls the report the "latest attempt ... to spread fear and misinformation about safe and tightly-regulated shale development."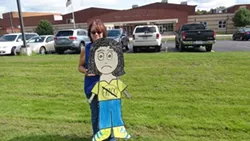 For parents who hope that state law will catch up with their concerns, the process is long and complicated.
Since 2007, the department has granted nearly 20,000 fracking permits. Last week, the DEP granted a permit for a Rex Energy site about a half-mile from Dassa McKinney Elementary School, in Concord Township, Butler County.
"DEP does not have the legal authority to implement setbacks more stringent than those established for buildings in Act 13," DEP press secretary Neil Shader told City Paper.
Act 13's current setback from structures "within which persons live or customarily work" — such as schools and nursing homes — is 500 feet. That is measured from the well bore, or actual hole in the ground. Activity around a well can extend to several acres, not counting extensive truck traffic.
Under Gov. Tom Wolf, the Department of Environmental Protection has been working to tighten permitting, including protecting public recreation areas and strengthening regulations on open-air waste impoundments. The Wolf administration held 12 public hearings and received more than 30,000 comments regarding the proposed permitting changes.
The new permitting stipulations are expected to come into effect next year, and address in part "public resources" like playgrounds and schools. Under the proposed rules, if the perimeter of a drilling area is to be located less than 200 feet from a public resource, the driller must notify a school district, and DEP would then be responsible for setting safety conditions on the project.
"Unfortunately, [the new rule is] really not a setback," says Jacobs-Smith. "It doesn't stop [drilling]. It just triggers this extra layer of review."
Jacobs-Smith's organization recently appealed other DEP drilling permits granted in close proximity to schools with the state's Environmental Hearing Board, which hears appeals of DEP decisions.
"We're saying, 'Look, DEP, you have the authority and an obligation to protect the community,'" Jacobs-Smith says. "You should be looking at the local community in which this drilling is going to be taking place, and the fact that there's a school a half-mile away. That should matter."