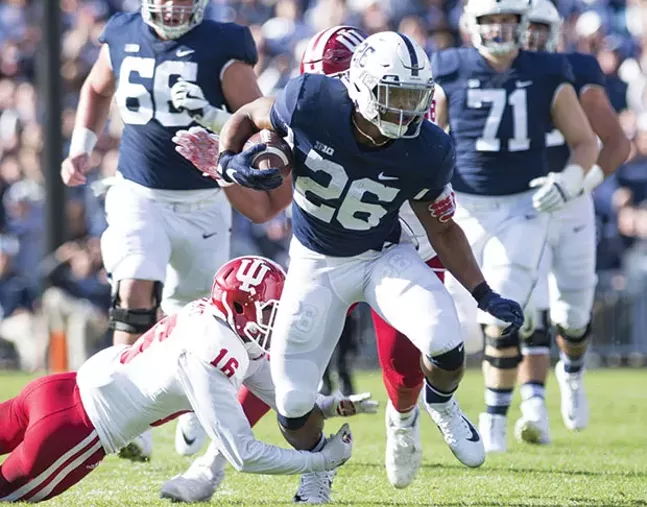 Penn State's Saquon Barkley is quickly emerging as the frontrunner for the 2017 Heisman Trophy — a trophy that hasn't made its way to State College since John Cappelletti struck the famous pose during the Nixon administration.
Pitt got a firsthand glimpse of the standout running back when the Panthers lost to Penn State earlier this season for the first time since 1999 (they've played only three times since then, but still). The explosive running back has NFL scouts drooling over his potential. But if history is any indication, the buyer better beware.
Of the top 50 running backs in NFL history, only one was a Nittany Lion. Former Steeler Franco Harris (ranked 14th) is the most recent PSU running back to make a major impact in the NFL. That's an astonishing fact for a perennially top-ranked program that emphasizes the run. Compton Junior College has as many rushers in the top 50 (Joe Perry) as Penn State does. East Carolina has twice as many, with Earnest Byner and Chris Johnson. Pitt has three: Tony Dorsett (ninth), Curtis Martin (fourth) and LeSean McCoy (38th and climbing). So, if an NFL team is looking to draft Saquon Barkley, don't draft him in the first round. Also, Barkley had better hope that he is not signed by the Philadelphia Eagles.
The Eagles have drafted or signed two Penn State backs who are on PSU's top-20 rushing list. Tony Hunt, the Nittany Lions' third all-time leading rusher, played for the Philly Birds after being taken in the third round in 2007. Hunt finished his career with 25 yards rushing. Eric McCoo, 13th on Penn State's list, earned slightly better numbers for the Eagles. McCoo ran for 54 yards in his professional career. Both of those players actually ran for more yards at Penn State than did Franco, PSU's 18th leading rusher.
Barkley is currently seventh on Penn State's rushing list and rising. Like the curse of Seinfeld, Penn State backs just aren't successful in the next stage of their careers. Penn State has produced far more Georges (Jason Alexander) and Kramers (Michael Richards) than Elaines (Julia Louis-Dreyfus, who has won 10 Emmy Awards since leaving Seinfeld). Of Penn State's top 10 rushers, six of them have been drafted in the first round of the NFL draft. Curt Warner is the closest to being an Elaine. Warner churned out a respectable NFL career, finishing with 6,844 yards with the Seahawks and Rams. Sounds like a lot, but Antowain Smith, Rodney Hampton and Charlie Garner all are ahead of him in yards rushing. Larry Johnson would be the second biggest success story, because he had two really good years for the Kansas City Chiefs. L.J. accumulated 6,223 yards but was pushed out of the NFL because he was, well, an abusive jerk. It seems like Johnson spent more time at the courthouse than in the film room. He also fought constantly with coaches and management.
Three of the biggest busts in NFL history are also Penn State running backs. Curtis Enis (who was probably never made fun of for his name) was selected fifth overall in the 1998 draft, ahead of Randy Moss and Alan Faneca. Enis reached an NFL end zone four times in his career and amassed slightly under 1,500 yards rushing. He ignobly finished his once-promising career with Cleveland. Ki-Jana Carter was chosen No. 1 overall by the Cincinnati Bengals, which was the equivalent of two curses working together to form a nuclear bust. Sure, Cincinnati could've chosen Steve McNair, Warren Sapp or even Kerry Collins that year, but the Bengals like to bungle. Carter rushed for 1,114 yards in his lackluster career, hampered by some serious injuries. Both Ki-Jana Carter and Curtis Enis are Ohio natives, so that may have something to do with it also.
Finally, D.J. Dozier, whom Barkley will pass next on the PSU list, ran for just 691 yards after being drafted 14th in the first round in 1987. He parlayed an unaccomplished NFL career into a pitiful MLB career. Dozier played with the New York Mets, where he batted .191 and drove in two runs. But give him lots of credit for making it to the pros in two sports. He is the poor man's Bo Jackson.
Although many of them were great at Beaver Stadium, Nittany Lions backs can't excel in the NFL. The university's all-time leading rusher is … you guessed it, Evan Royster. Royster was better than any of the aforementioned backs during his time at Penn State. Royster went to the pros and rushed for even fewer yards than Dozier: 416 NFL yards with the politically incorrect Washington football team. He latched onto the Atlanta Falcons practice squad two years ago and is now out of the league. There are so many cautionary tales for Saquon Barkley to heed. Barkley, talented as he may be, is hoping not only to win the Heisman, but go to the NFL and succeed. We will soon find out if he is an Elaine or a Kramer.