As the music industry gets ready for its biggest night, the Grammy Awards, there's one young Penn Hills native who's had a hand in two nominated records — but most Pittsburghers wouldn't know him by name. Tommy Brown is a songwriter and producer on the rise; outside of the music industry, he might be a relative unknown, but to those who know pop music, he's quickly developing a reputation as someone to work with.
You'd think having a nomination would be a pretty big deal to a pop-music producer, but Brown, whose projects have received the nod before, plays down the Grammy talk.
"I'm excited, but I told myself I'm not going to the Grammys until I'm nominated for Song of the Year," he says.
"I feel the same way," says his writing partner and girlfriend, Victoria Monet. "As a songwriter and producer, one of the only Grammys that you actually are able to go onstage for, and get an actual Grammy, is for that category. Otherwise, you'll get a certificate, and that's cool — don't get me wrong, that's crazy — but once you get to one step, you're already ready for the next thing."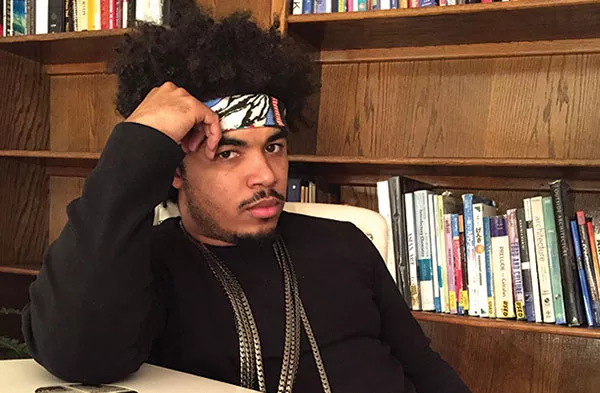 Brown, 28, grew up in Penn Hills, attending a few public and private schools; it was in school that he first started training as a producer. "I actually lied about making beats," he recalls with a laugh. "They had a digital-recording class in high school. So then they asked me to make beats and I had to actually learn how to do it."
But that wasn't Brown's introduction to music. His father had worked as a manager for Mel-Man, the Pittsburgh-born rapper who went on to become well known for his work with Dr. Dre, and as CEO of Big Cat Records. "I kind of was seeing music a little bit" growing up, Brown explains, "and I think I was just intrigued."
After high school, Brown moved to Atlanta, one of the centers of industry in the hip-hop world, to work on his connections.
"I'm a person who believes there's no plan B," Brown says. "When I went down there, I wanted to be in music. I got a job to get an apartment, and I just took it seriously from that point on."
It wasn't a quick and easy entry into the music world; Brown spent many a night on his feet, handing out samples of his work to anyone who would take one, hoping to get a bite.
"Every night, I'd take the little bit of money I had and I would burn 50 CDs, with a tag over top of it, so people couldn't steal the beats. And I would go and hand them out at open mics, to up-and-coming artists. It kind of spread; I'm handing out 50 CDs a night. Eventually, I was at work and the artist Gorilla Zoe called me, then Yung Joc called. It was one after another at that point. I started working with a lot of the major rappers."
"I kind of learned marketing on accident," he adds.
He worked briefly with Atlanta industry notable Ray Hamilton, then signed with Rodney "Darkchild" Jerkins, whose past production credits are a pop-music who's who, from Mary J. Blige to Michael Jackson. That signified both the start of his career in Los Angeles — where he lives and works to this day — and the beginning of his partnership with Monet, who's from Sacramento, Calif.