While Mayor Bill Peduto continues to receive high praise for his overall performance during the first two years of his term, there is one area where the mayor earned less than stellar marks: affordable housing.
Experts say the city is in the midst of an affordable-housing crisis. According to a study by the nonprofit Housing Alliance of Pennsylvania, Pittsburgh needs 21,580 affordable housing units to address the shortage.
By contrast, according to an amendment to the city's zoning code proposed by Pittsburgh City Councilors Daniel Lavelle and Ricky Burgess, "an estimated 8,000-12,000 new housing units are proposed to be built in the city of Pittsburgh, none of which will be affordable for low-income families." And because Peduto has not moved to build affordable units, activists say, low-income families are being displaced.
"I am definitely upset about the forced displacement of black people specifically," says Julia Johnson, a local activist. "That is a huge issue in my community, East Liberty, and in communities throughout the city. The gentrification that is happening is accelerating at a very rapid pace and it is displacing people from their homes and further impoverishing them by forcing them to the outskirts of the city.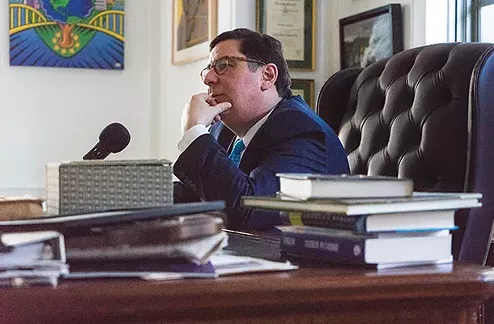 "There needs to be an immediate hold on the luxury houses that are being built in this city until we have started to create housing that is affordable for the majority of working-class families."
Johnson isn't the only person voicing concerns on the mayor's handling of affordable housing. Peduto was criticized recently for a social-media post citing a report that said that East Liberty hasn't been gentrified.
For his part, the mayor tells City Paper that he's taking steps to ensure that the affordable-housing shortage is addressed. And he says his comments about gentrification in East Liberty weren't off-base because, he asserts, the number of African Americans who left East Liberty in previous decades is greater than the number of those leaving now.
Peduto plans to meet with East Liberty stakeholders in the next few weeks to come up with a new community plan for the neighborhood. He says he believes East Liberty can be a model of mixed-income for the rest of the country.
"Even back in the '90s, the community did not want simply additional affordable housing. It wanted mixed housing," says Peduto. "We had gone through the '60s and the '70s, and even part of the '50s, building up these large warehouses of poverty in East Liberty and we didn't put any diversity in it with mixed-income, and what we ended up seeing was the businesses leaving, those who had the opportunity to join the middle class left, and violent crime coming into the neighborhood.
"And if all we do now is just build affordable and low-income housing, we shouldn't be surprised to see the same outcome."
Peduto says that increasing affordable-housing options is going to require financial incentives for developers. He's also taken steps to launch a program that would use funding from the U.S. Department of Housing and Urban Development to increase homeownership for low-income residents.
"There's a reason [other cities] have become gentrified. And it's because we've been trying to address this issue with the same tools we had in the 1970s and they don't apply," says Peduto. "The good news is, for the sake of straight metrics, Pittsburgh is still one of the most affordable cities on both renting and owning. But that's not going to be the case in the next five years. So we have to have a new plan in place before then. We can look at those other cities, see what they did wrong and do something different."
And Peduto stresses that building market-rate housing is necessary. That's why he says requiring developers to include a certain percentage of affordable housing in new developments, a measure proposed last year by City Councilor Lavelle, wouldn't work.
"It could work in certain areas, but it would also deter development in other areas. The development we're seeing in the Strip District right now would not happen," says Peduto. "[Market-rate housing provides] a tax base not only on the property but also on the wages of the people who are living in those units, and for 40 years we haven't seen that. Those people have decided to move and they moved to the suburbs. Now by bringing them back we have a tax base that will keep our schools open, put cops on the street, pave our streets, and take care of our parks."
Some activists say the affordable-housing crisis is something Peduto inherited. Pittsburgh United Executive Director Barney Oursler says he and members of his organization have been encouraged by Peduto's dedication to the "big-picture" issue of affordable housing while also addressing immediate concerns.
"When it comes to the immediate issues like Penn Plaza, the mayor responded immediately," says Oursler, citing a deal that gave residents facing eviction from an East Liberty high-rise more time to secure new housing. "He didn't create a task force; he said we need to fix this right now."
And others are encouraged by Peduto's willingness to acknowledge the city's problems with affordable housing instead of sweeping them under the rug.
"Our city still has a huge and growing problem with affordable housing, but it's good to see him acknowledging that and proposing policies that can start to address it, not just pretending everything's good for everyone," says Gabe McMorland, an organizer with the Thomas Merton Center. "I feel like there's a general trend in Pittsburgh to always only market the positive, so I'm always impressed when I see him willing to admit that there are problems that we need to work on."
Still, McMorland says Peduto has had an opportunity to prove his dedication to increasing affordable housing, namely in the Pittsburgh Penguins' Lower Hill District development, on the former Civic Arena site. Some Hill District activists say the agreement for the development doesn't include the level of affordable housing they requested.
"I would like to see more pushback on the Penguins," says McMorland. "I think it's great that on a city-wide scale Peduto has acknowledged that affordable housing is a problem. I think he's proposed really interesting ideas and I'm really impressed by that.
"On the downside, here's a really clear conflict. The residents have said what they want to see built there, and that's being totally ignored by a very large moneyed interest, and I would've liked to see the mayor be more of the champion siding with the Hill District."
But when it comes to the Lower Hill District, development activists in the Pittsburgh community are split on whether Peduto has done his duty to increase affordable-housing units. Oursler, of Pittsburgh United, admits that members of his board are split on the issue as well.
"I have not seen the mayor out supporting luxury housing," says Oursler. "I've heard the mayor repeatedly say, 'I want affordable housing to be a priority.' There's some dispute over the level of it, but he negotiated the Penguins into putting affordable housing into the development in the Lower Hill. We're not done with that struggle necessarily, but the reality is that the mayor is going in the right direction."