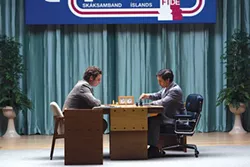 Edward Zwick's new bio-pic recounts the first decades in the life of Bobby Fischer — from Brooklyn child prodigy to global chess superstar in the early 1970s. His coming-of-age, already tinged with narcissism, anger and mental-health issues that would plague him for a lifetime, segues into the lead up to a series of significant chess matches with the reigning Russian champs. The Soviet Union has Boris Spassky (Liev Schrieber), so the U.S. backs Fischer (Tobey Maguire).
It all winds up at the much-hyped 1972 World Chess Championship between Spassky and Fischer, which to the public is less a battle for chess supremacy than another hot skirmish in the Cold War. This event featured crazy behavior from both contestants as well as the fabled "Game 6," considered by some as the greatest chess game ever played. That may be — and general interest around the event was real — but alas, chess-playing just never pops off the screen (even when covered, as it was then, by ABC's Wide World of Sports). But the film keeps actual play to a minimum, and non-chess players can follow along easily enough through spectator reactions.
Maguire brings his nervous tics and crazy eyes and this, along with his always-slightly-startled baby face, serves him well as the troubled Fischer. But in this straightforward re-telling, the who-what-why of Fischer remains elusive, his maddening and often offensive behavior dismissed as the standard trappings of a genius. After the 1972 match, Fischer's life truly turned bizarre, but this is only noted in a few on-screen sentences and a bit of archival footage.