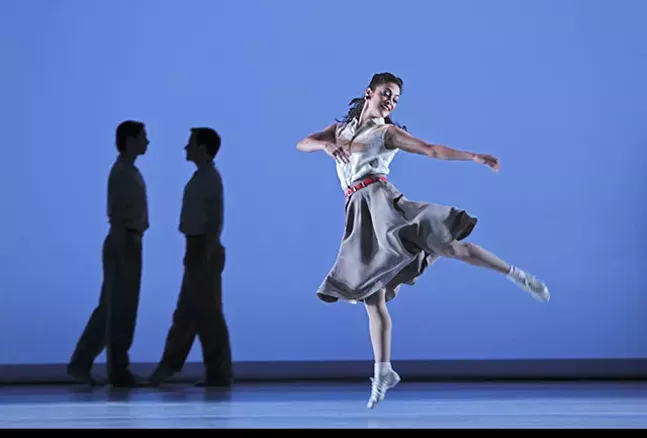 Just before the death of Paul Taylor, leader of the Paul Taylor Dance Company, Michael Novak was surprised to learn he was picked as the successor, even though he had been with the company since 2010.
"I had no idea this was coming, no one did," says Novak. "Paul didn't ask me, he told me this was what was going to happen. When he singles you for anything, it is an incredible honor."
Why him? Novak says Taylor told him he trusted him and knew he would do a good job as artistic director. "When he said that, it sealed it for me."
A native of Rolling Meadows, Ill., Novak began dancing at age 10. Around 14, he developed a severe stutter that changed his life, but dance helped.
"Because I couldn't talk, dance became a way for me to communicate and get out all the feelings I had inside," Novak said in an interview on YouTube. "All of a sudden dance went from a hobby to an emotional support system. It became a part of who I was."
Novak went on to train through a full scholarship at The University of the Arts and the Pennsylvania Academy of Ballet. Feeling burnt out, Novak says he left dance for a time to work for a window design company and then went to Columbia University, where he rediscovered his passion for the artform and graduated Magna Cum Laude with a Bachelor of Arts in Dance.
It took Novak two tries to get into the company he now directs and will continue to perform for as a company dancer.
Having had only a few conversations with Taylor concerning running the company before his death, Novak has had to rely on his past experiences and the example Taylor set as a choreographer and director. Novak's vision for the company is to expand the Paul Taylor American Modern Dance initiative begun in 2015. Going forward, the company's repertory will include a mix of the historic masterworks of American modern dance and creations by contemporary choreographers to augment Taylor's vast canon.
For the company's return to Pittsburgh on Feb. 23 at the Byham Theater, its program will honor Taylor with a showcase of his masterworks, including the Pittsburgh debuts of "Company B" (1991) danced to music from the Andrews Sisters and "Promethean Fire" (2002), a work that "examines a kaleidoscope of emotional colors in the human condition." Also on the program are the bounding and energetic, "Aureole" (1962) and Taylor's oldest surviving work, "3 Epitaphs" (1956). The piece is set to early New Orleans jazz music with whimsical head and body covering costumes by Robert Rauschenberg.