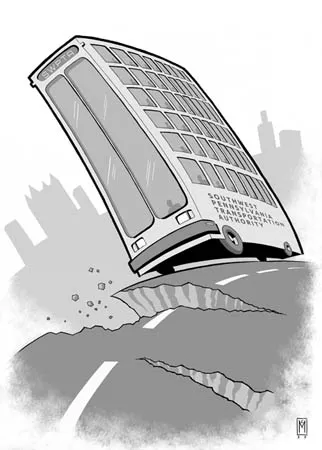 Rich Fitzgerald envisions mass transit in Allegheny County. He just doesn't picture Port Authority of Allegheny County delivering it.
The county-executive candidate has proposed dissolving the transit agency altogether and creating a new, regional system.
But transit in Allegheny County hasn't had the best reputation, and some worry that merging with the Port Authority would be more trouble than it's worth. In March, the financially beleaguered agency laid off 200 workers and slashed service by 15 percent. Additionally, the agency has been trying to rein in legacy costs; this year, the agency is paying $34.3 million in health care for retirees alone.
"Working with them is one thing, but marrying them is another," says Jim Lokhaiser, a Butler County commissioner. "I wouldn't want to be involved. The alimony is too high."
Fitzgerald's idea isn't new. Lawmakers say regional transit systems have been discussed for years at the Southwestern Pennsylvania Commission, a regional planning board. And even as the state grapples with how it funds transportation, the governor's Transportation Funding Advisory Committee recently released a report that identified $2.5 billion in funding suggestions, including studying the consolidation of smaller transit systems.
It's also not clear what kind of system an incoming county executive will have to work with. Port Authority CEO Steve Bland announced on Sept. 23 that without action from the state, and concessions from the Amalgamated Transit Union Local 85 union, the agency could face a $64 million operating deficit next year. Such a deficit, he warned, could lead to layoffs, the curtailment of night and weekend buses, and elimination of weekend light-rail service and up to 40 routes.
"If anyone had any doubts in March that we were cutting into bone," Bland said, "the next round would be pure amputation."
Fitzgerald's plan, at this point, is only a concept: Dissolve PAT and the transit agencies in the counties contiguous to Allegheny and call on the state legislature, which formed Port Authority, to create a new regional system. He envisions something similar to the Southeastern Pennsylvania Transit Authority, which covers Bucks, Chester, Delaware, Montgomery and Philadelphia counties.
"One of the advantages is we could learn from mistakes over the years and improve on them," says the Squirrel Hill Democrat. "Some have to do with work rules and legacy costs. I think there's a way in which we can learn to make it better."
Fitzgerald proposes changing the benefits for incoming authority employees, and negotiating with the union on its previous agreements. But, he cautions, "I don't know how you can tell an employee who [has] retired and gone through the system that we're not going to pay your pension. ... I don't think we can renege on that promise we made."
State and regional lawmakers say that PAT's legacy costs would be the biggest stumbling block to achieve regional support for Fitzgerald's plan. Yet such buy-in is crucial.
"It makes good sense to share expertise," says Steve Craig, a Lawrence County commissioner. "It will happen eventually. But if it's jammed down the throats [of agencies and local officials] … there's going to be some pushback."
According to Dennis Buterbaugh, a spokesman for the Pennsylvania Department of Transportation, the members of a local transit authority have the ability to dissolve or merge an authority. But, he says, "There is considerable federal money invested in equipment and more, so the federal government would have to be a party to such move."
A spokesman for the federal Department of Transportation could not be reached. But local lawmakers, though in favor of a regional system, say they would be hesitant to work with Port Authority as it stands. The legacy costs are too much for them to absorb, they say, and the cost of operating such a system, with the majority of it in a metropolitan area, may be more then they can afford.
Commissioners like Bracken Burns, in Washington County, strongly favor a regional transit system -- but not until Port Authority deals with its financial issues. "I don't think the good folks from Washington County are going to want to buy your legacy costs," he says. "We don't want to pick up the liabilities from the years past."
Fitzgerald says that issues, like legacy costs, would be worked out prior to dissolution, and that the authority's reputation wouldn't apply to the situation because "we're creating a new entity in which everyone can create or cooperate. I think we'd draw on expertise" from other regional systems.
To some observers, combining an entity like the Port Authority with other systems may not make much sense. The Port Authority covers 95 percent of the region's ridership; nine other operators cover the remaining five percent in the SPC region, ranging from the Beaver County Transit Authority to IndiGO in Indiana County
In the governor's TFAC report, the committee recommended studying the consolidation of smaller systems and estimated it could generate $18 million to $25 million in revenue or savings.
Smaller systems' services "are fundamentally different than what Port Authority has to offer," says David Miller, a professor at the Graduate School of Public and International Affairs at the University of Pittsburgh and an SPC commissioner for Allegheny County. "They're not in a position where they're going to be able to help the Port Authority out, and having the Port Authority more available [in the region] isn't necessarily going to make them better operators."
For a regional transit plan to work, "it would take a great deal of cooperation and coordination," says John Paul, executive director of the Butler Transit Authority. "It would really depend on the plan and everyone would have to agree that it'd be a good thing for the county." Not to mention, he says, that other transit operators are facing their own financial hardships.
"Because we're such a smaller agency, we could never afford the wages and salaries and benefits that are provided in the city," says Paul. He also points out that there is demand for his agency to offer commuter service to Pittsburgh, "but there's no operating money."
The Butler system, for example, is already digging into its cash reserves to fund its $1.5 million budget.
"If something isn't done, we're on that downward trek also. At some point, then, we'd have to cut service," says Paul.
Which signals to some that combining systems to make a new one may not work until a state funding solution is worked out. That's because "you haven't really fixed the system," says Chris Sandvig, of the Pittsburgh Community Reinvestment Group. And if Port Authority is dissolved, he adds, "What happens to the assets?"
Given the financial realities transit systems face, Port Authority's Bland says he doesn't think a regional plan would make much difference. "Everyone's in the same boat."
Lawmakers, however, believe it could be inevitable. "No matter what we say about it, it eventually will happen. The efficiencies will drive it," says state Rep. Rick Geist (R-Altoona), chair of the state House transportation committee. "It will be the [transit operators'] decision, but it will be a good decision."