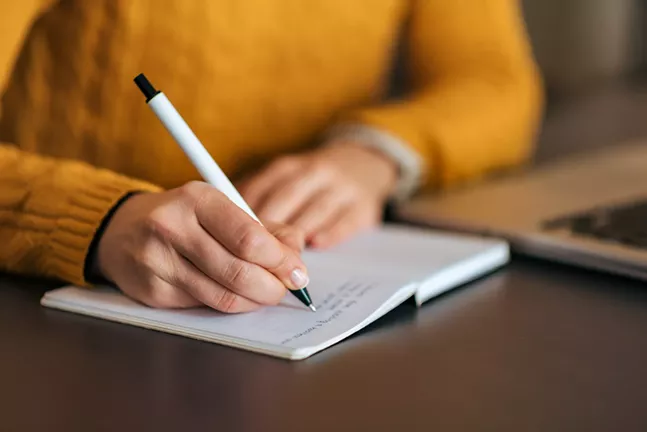 It's no secret that women become less publicly visible after a certain age. In Hollywood, female actors see their roles decline much more rapidly than men as they get older. When men have gray hair, they're called a silver fox, but no such term exists for women. The Patricia Dobler Poetry Award at Carlow University tries to rectify gender disparity in the literary world with an annual poetry prize for women over 40 who have never published a book.
The prize first began in 2008 as a way to honor the work and legacy of the late Patricia Dobler, a poet and professor at Carlow. Entries are open to anyone in the U.S., and prizes include $1,000 fare to Pittsburgh, and a reading at Carlow with the guest judge — this year's is poet Denise Duhamel.
"In the past, it has helped women jumpstart things again, especially because it's hard as a woman still to get published," says Jan Beatty, director of the Carlow writing workshop, Madwomen in the Attic, and Dobler Award judge. "After a certain age, even though 40 is young, there is an invisibility that happens."
Beatty says the contest grew out of Madwomen in the Attic, which began in 1979 as a way for women to work on and share their writing, even if they hadn't previously pursued it. The
workshops
are for both undergrad students and community members, with ages ranging from 20s to 90s, and includes "women who have never written before, women who are coming back to writing, women who have books...everybody in the same room" according to Beatty. Dobler directed the workshops for many years until her death in 2004.
"It became clear that Madwomen, and women in general, needed a place to write and a place where they could speak freely, where they could be heard, and the prize was an outgrowth of that," says Beatty. "We've learned over time that if you give women a platform and a way to get through the maze of this male publishing world, then great things can happen."
Entry for the award is open until Dec. 2, 2019. More rules and information on entering can be found
here.