Dude, I think those are girls.
No way, dude. Did you see that tackle?
No, I mean it. I think those are girls.
Dude. Those are girls.
Dude.
Actually, they're women: members of the Pittsburgh Passion women's full-contact football team, to be precise. But you'll excuse the politically incorrect language of several groups of adolescent boys who happened to walk past the team's winter-month indoor practices. As first-time viewers of the newest franchise in the Independent Women's Football League (IWFL), it's no surprise the boys were bowled over by the velocity of the passes, the ferocity of the tackles and the speed of the receivers.
As defensive tackle Jaimee Gaster put it, "This isn't the lingerie bowl. And it's not powder-puff. This is the real deal."
Dude.
On a typical Saturday night, women all over Pittsburgh are out with friends, getting ready for dates, watching movies with their children, working or tackling any of the million everyday tasks facing us. These women, however, have been coming from Arnold and Monroeville, Beaver and Gibsonia, Fleetwood and Elizabeth, the North Hills and the South Side to the Greentree Sportsplex, where the team has been practicing from 8:30 to 11 p.m.
By 8:15 on a customarily cold, dreary February night, nearly all of the players are here, uniforms and gear in various degrees of readiness. The hallway outside the indoor practice field is full of sounds. The clack-clack of unbuckled shoulder pads, players straining to loosen tight muscles and tendons, trainers taping and counseling, and the clatter of plastic cleats on the hardwood of the hallway floor -- all mingle with the usual chatter you'd find surrounding just about any locker room.
Well, maybe not any locker room. A rookie delivers a bag of Girl Scout cookies to offensive-line veteran Eden Pleva, who has tried to retire each year, but dons the uniform after just a little cajoling from her linemates every time. Eying the cookies, she laughs, "Rookies." But still she shares the Samoas with another rookie, Necla Ragins. She has also shared a ride, carpooling with Ragins and her two boys from the New Kensington area.
It is not uncommon to see children at Passion practices, and while Ragins is a rookie, her boys seem like veterans of football practice. By now they're acclimated to killing several hours three nights a week, alternating between the lounge overlooking the field and the edges of the field itself. Already down on the field, another daughter tries to find an out-of-the-way spot in the corner, as coach Priscilla Varelas ("Pee Wee" to her friends) roots through a toolbox in search of the right screwdriver for replacing a helmet's errant chin-strap snap. "Yeah, I do a little bit of everything around here," she says.
There are no lulls in Passion practice. Balls and bodies fly by constantly as players shift from drill to drill: eight-on-eights, special-teams plays, goal-line stands, route-running practices, fumble drills, blitz pick-ups, and so on. There's not much chance for idle chit-chat, or to address some of the questions hanging over the Passion as the team prepares for its April 26 home opener.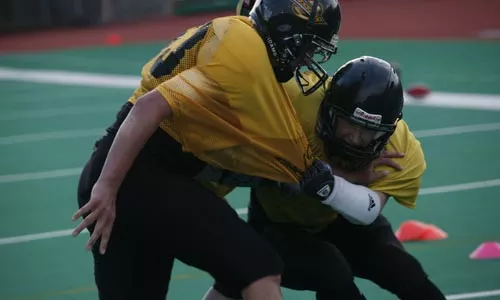 How will they fare in a new, more competitive league after having a perfect season in a different league last year? How can they make further inroads into the sports-obsessed, but male-dominated, Pittsburgh culture? Where's the money going to come from?
But the first question they have to answer -- the one that always comes up -- is posed by a woman in her 60s who comes through the lounge while practice is in full swing. After watching the action for a moment, she wonders aloud, "But why on earth would a woman want to play football?"

Why would a woman want to be at Cupples Stadium, in a driving rain, for the season's first outdoor practice at the team's South Side home? Why would anyone?
Imagine lining up across from the center, trying to focus on the ball and ignore the rain, the wind, the chill of early March. You try to remember your gap assignment as two months of coaching instruction buzzes through your head. Behind you, linebacker Tia Montgomery is hollering "Louie! Louie!" while quarterback Lisa Horton barks out signals across from you.
Now the other linebacker cheats up to your left hip as though blitzing, so Horton checks down, "Red 94! Red 94!" Almost in a call and response, Montgomery makes a defensive audible, shouting, "Queens Right! Queens Right!"
You struggle to remember your part in the "Queens Right" scheme. You remind yourself to keep your head up and remain poised, ready to move with authority. At the snap of the ball, you fire out and hit a double team. Somebody shouts, "Run! Run! Run!" You stay low to flow to the ball, moving down the line. A hair beyond your field of vision, the running back is dropped after a short gain and the coach's whistle blows. It took only seconds and you hustle back to the huddle, gasping for air.
And then you do it all over again.
No wonder that when Veronica Burress joined the team in 2007, her 14-year-old daughter was less than completely enthusiastic. "It's not really the thing that your mom does, play football," the defensive tackle says with an easy smile.
But many members of the Passion grew up in Pittsburgh, and the area's mania for football afflicts women as well. "I always watched football and could feel the impact of the hits," Burress says. "I would always say, 'I wanna hit somebody like that.'"
There are risks, of course. A handful of football-related deaths occur each year. (Nationwide, there were four in 2007, according to the National Center for Catastrophic Sports Injury Research.) Players put up with constant aches and pains, spending their free time training. They practice late and wake up sore. They study and do a bit of fund-raising to boot. Often, playing requires them to buck the wishes of their employers and families. And they do it without getting paid.
But Burress was enthralled by the idea of playing real, full-contact football. And the league's rules conform closely to those of the NFL, except for using a slightly smaller ball to accommodate a woman's smaller hand.
Teams can dress only 45 players for games, even though Pittsburgh carries more. In practical terms, that means some players will sit after practicing all week. Burress was one of those last season: She began turning up at practices with no guarantee of a spot on the roster. Even so, she says, her daughter got caught up in the thrill.
"I took her to a game, even though I knew I wouldn't get to play that night. She was really excited by it. She's excited to see me play this season."
For Burress herself, though, the anticipation is matched by the tension of knowing that on any given play, "It only takes one player to make a mistake."
In fact, the toughest part of donning the Passion's black-and-gold uniform is mastering the playbook -- an assortment of schemes whose complexity, say players and coaches, matches that of Division I college football. Many of Burress' teammates were outstanding athletes in other sports, but watching the Steelers and playing in the backyard doesn't prepare you for playing football at this level or in a system this complex.
For Burress, a soft-spoken loner, learning the system has meant gathering whatever she can from coaches like Jen Gold.
An outstanding player, Gold was forced to retire from the Passion midway through the 2006 season after suffering the last of several concussions. Gold joins three other women coaches on the Passion staff: Melissa Yeck (linebackers), Varelas (offensive line), and Teresa Conn, who owns the team and shares head-coaching duties with Jeff Ogden.
During practice, Burress is Gold's constant companion, seeking tips, clarification, always looking for an edge, wanting to be certain of her assignments. "The lingo, the language, is the most important thing to understand," says Burress, who admits to being nervous during the few plays she was in on last season. "At first, I was hearing it and it wasn't clicking. That's why I always talk to the coaches, just constantly asking questions."
Burress will dress for the season opener on April 19, an away game in Harrisburg against the Central Pennsylvania Vipers. But if she wants to keep off the bench, she'll have to continue proving herself to her coaches. And to her teammates.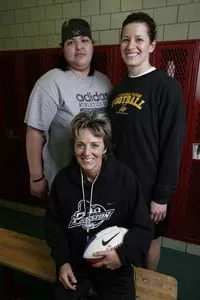 "I'm a solitary person," says Burress, who has helped raise a niece and nephew along with her daughter. "Being with all these girls, 50 or 60 women every night ..." she trails off. "It's just the team, the people, being part of this team. You'll have these friendships for the rest of your life."

Standing just over 5 feet tall and no more than 95 pounds soaking wet, team owner Teresa Conn ("T" to her friends) bears no resemblance to the grizzled football men who nurtured the NFL during its nascent period. About all she has in common with them, in fact, is vision and drive.
Back in 2003, Conn was living in Erie, working as a teacher and coach. But when the Passion launched under the National Women's Football Association (NWFA), she began commuting to Pittsburgh for every practice.
"You can learn so much about a person, about their character on the field of play," says Conn of the power of sports. And for Conn, the Passion provided a constant means of testing herself.
There were the tests she faced playing as a safety, of course, fighting through and recovering from injuries. One injury-plagued stretch, she recalls, began when she shattered an ankle. "It was a bone-through-skin break and I was desperately rehabbing it in time to practice in January that year," Conn says. "I was going to physical therapy and doing exercises at home. They didn't think I'd get back on the field in time for that season, but I did. Just when I got back on my feet, I broke the other ankle. So I was actually rehabbing both ankles." Somehow, she made it back on the playing field ... and promptly broke her shoulder in a game.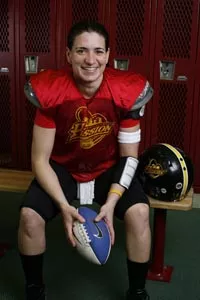 Mulling over that sequence of events, Conn looks both rueful and a little proud. Before it was all done, she says, "I had spent about 16 straight months rehabbing."
Between the playing and the rehabbing and the commuting, something had to give. So two years after Conn started playing, she did what any reasonable person would do: She moved to Pittsburgh and she sold her house for seed money to buy the franchise.
"Everybody, everybody told me I was crazy," Conn says. But it felt more like a calling than a career decision: Conn was convinced that God had led her to this place.
Three years later, that leap of faith seems to have paid off. Playing in Cupples Stadium on the city's South Side last year, the Passion drew an average crowd of 3,000 fans. (The final playoff game drew 4,000.) That was tops among the NWFA's three dozen teams. And in July 2007, the Passion won the league's championship game, in Nashville.
Having achieved that goal as a player/owner, Conn set herself another test. She traded her helmet for a coach's whistle, and her day job for a full-time commitment to running the team.
Even out of uniform, Conn is a study in constant motion. She darts around the practice field, consulting with coaches and her trainer, dealing with equipment requests and counseling players. But some of her best moves have come off the field.
The Passion has attracted some big sponsors -- Armstrong Cable, First Commonwealth, UPMC Sports Medicine and UPMC Healthplan -- and the visible support of Pittsburgh football legend Franco Harris, whose backing of the team silences at least some of the macho posturing about whether women can, or should, play the game. And while Conn says she encounters lunkhead-variety sexism from time to time, she and her players gain acceptance with every snap. The game ball from the 2007 championship now resides at the Heinz History Center's Sports Museum, and a full-length documentary on the team has been produced by California-based filmmaker (and Passion media director) Jen Yee.
More impressive still is that the Passion has reached a deal on broadcast rights. In March, Fox Sports Network Pittsburgh announced plans to televise all four regular-season home games on tape-delay, starting with the April 26 home opener. (The game will air on April 30.) Armstrong Cable will likewise air all home games through its on-demand service.
And again Conn had to test herself with another challenge. Immediately after being hailed as the champion of the 35-team NWFA, Conn moved to the rival IWFL.
The leagues started at the same time, but the IWFL has 41 teams ranging from Montreal to Southern California. Conn says the regional challenges for the Passion will be greater in the IWFL. Twice they will face off against the Washington, D.C., Divas, one of the best women's teams around. The Divas left the NWFA following their 2006 championship -- and if you want to be the best, you have to beat the best.
"People want to see competitive football," says Conn. "We could have stayed in the NWFA ... but for us, with the talent in our region, this is a greater challenge. And I believe that's what people want to see."
But with every hurdle cleared, another one crops up in its place. After losing the Passion, the NWFA announced a new Beaver-area team for the 2009 season, the Pittsburgh Force. It is unlikely that the market can bear two women's teams, and possible the Force will jockey for some of the same sponsors Conn has worked so diligently to cultivate over the last four seasons. "I'm not a salesman. I'm a teacher. That's the hardest part for me," she says.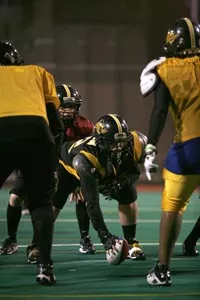 Still, she has set a new attendance goal of 5,000 per game for this year, and an even bigger goal beyond that: She'd like to be the first women's football team to be able to pay its players.

If you saw Lisa Horton feeding her pre-practice caffeine jones at Starbucks, with her good looks and trendy boots, you wouldn't peg her as the quarterback of a football team. But the associate executive director of the YMCA's new USX facility is, at it turns out, the signal-caller for the Pittsburgh Passion.
Players like Horton are very much products of the 21st century. They are following in the footsteps of such trailblazers as Babe Didrikson, Althea Gibson and Billie Jean King. And they are the beneficiaries of programs like Title IX, a federal law that required colleges and university to provide equal opportunity for women's sports on campus. But the way has never been easy, as the story of Horton, who will be a sixth-year veteran this season, demonstrates.
Horton had been an exceptional high school athlete, who was offered athletic scholarships with Division I colleges, including Ohio State. Then she broke her leg and the scholarship offers disappeared. She regrouped and attended Baldwin-Wallace College, a private Division III school down the road from her parents' Ohio home. Division III schools are prohibited from offering athletic scholarships, so she excelled in volleyball and softball on her own dime. After two years, she put together a tape to send to Division I schools and received an immediate scholarship offer from Cleveland State, where she finished her undergraduate degree. Later, she coached volleyball while getting her masters at Slippery Rock, and parlayed that into a position as a trainer at Duquesne, before taking a job with the Y.
When Horton heard about the Passion, which was a fledgling team at the time, her bazooka-like arm made her a natural for quarterback. But despite her years of playing and coaching other sports, she was lost when it came to running an offense from a traditional pro set. She wasn't alone: Organized football was new to all the players.
There was, in fact, only one place for Horton to learn the position: on a men's team.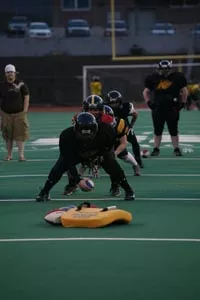 During Horton's first year with the Passion, she also took snaps for the Pittsburgh Colts, a men's minor-league football team. One of the Colts coaches had encouraged her to improve her skills by coming to their practices.
"I was shaking going up to my first [Colts] practice, thinking, 'What am I doing here?'" Horton recalls. But the players came to accept her, taking her under their wings like a little sister and giving her the reps she needed to nail down her timing and accuracy.
Even so, says Horton, "The first season, well, it's a blur. It was more than halfway through the season when we started to work as a team. Not that I look at stats, but somebody pointed out that I passed for, I don't know, about 200 yards" the entire season.
In those early years, she relied on her speed, elusiveness and ability to improvise. Her teammates tried to adapt to her high-gear style and inclination to create unexpectedly. "Sometimes, you just do things: I'll flip a ball or see something," Horton says. "There is really no method to it."
There were lean years at the beginning, the memory of which Horton has tried to banish. In 2003, the Passion's inaugural year, the team went 2-6. The third season, the Passion posted a respectable 5-3 record, but Horton says it was "not a good experience.
"We lost games and there were so many opportunities to win," she recalls. "I put a lot of that on myself. I realize I didn't speak up. You know, you want the coach to run the game or put that in their hands to respect them. But there are certain situations where I probably could have, should have done things differently. There were close games that we should have won by 10-plus points. But I learned. I would never do that now. I wouldn't be quiet."
Through each of those years, good and bad, Horton learned a new system: Pro Set, West Coast, Run and Shoot, Wing T, Spread Offense ... you name it, she's learned it. This year the team will run the same system it did the year before. For the first time, she will not be required to add yet another system to her already-encyclopedic understanding of football offenses.
Of course, there are new wrinkles, as no offensive coordinator can ever resist trying to improve the system. But offensive coordinator Adam Santoro is giving Horton some flexibility too: She has leeway to change the play at the line of scrimmage, using her improvisational talents. This year, she says, she won't hesitate to do so.
It doesn't hurt that when everybody else streams out of practice after a long night, Horton remains, tossing passes to any wide-out willing to stay. Or that off the field, she lights up when parsing strategies, comparing conditioning programs and waxing rhapsodic about what her own playbook might look like.
"I'm a history buff when it comes to the game," she says, pointing out that she wears jersey number 14, the same number of NFL Hall of Fame quarterback Otto Graham. The two have another bond as well, she says: "He was a quarterback who also played the French horn. I was reading that and you know, I played the French horn in high school and a year in college. The French horn!" In fact, it is such a fascination that team owner Conn got Horton a framed photo of Graham.
Horton is only 30, with a lot of football in front of her. She's learned how to manage the game as well anybody, and she's adjusted to her role as the face of the franchise. For now, she's got her eye on another championship, trying to create good things for her team on and off the field.
When she considers the future, when her playing days are over, it's clear football will remain central. "I know I'll end up coaching again -- football, which is my true love. You know it when it happens."
And oh yeah, she says she'll start competing in triathalons, too.
"That's what's great about the team," she says. "It develops good people into better people."
And with luck, a good team -- and a good sport -- will develop into a better one.
In one sense, the Passion hearken back to a different era: Like male football players before the advent of free agency, they are staunchly local. They'll play in Pittsburgh as long as they can, until age or injury forces them to retire, when their departure will be acknowledged by only a small circle of players and fans.
But they all believe that they can elevate women's football to something beyond niche entertainment. They want to be taken seriously as a sport, and as athletes. They need to believe in the future because that, as much as anything else, is why they keep going.
"This is going to blow up," says Veronica Burress. "We're doing this for the girls in the future."