For a town led by "good old boys," Pittsburgh seems to have created a surprisingly youthful crop of politicians for the May 19 Democratic primary. In the races profiled on the following pages, you'll find numerous candidates who aren't even in their mid-40s yet. That makes them practically adolescents, in Pittsburgh-politician years.
(Click the following links for our coverage of the following city council races: District 2, District 4, District 6. Click here for our coverage of the race in Pittsburgh School Board District 1.)
In the mayoral race, meanwhile, an incumbent who isn't quite 30 is being challenged by two candidates in their early 40s. Since taking office in 2006, Mayor Luke Ravenstahl has become a familiar name (perhaps too familiar, for those who've seen it emblazoned on garbage cans). But his rivals are, by Pittsburgh standards, mere fledglings.
Carmen Robinson is a lawyer and former Pittsburgh police officer who had never run for office before. Pittsburgh City Councilor Patrick Dowd is a former one-term school-board member not even halfway through his first term on council. But really, this race is about the incumbent. And while the race has some new voices, most of it has focused on three very old topics.
Ethics
Somewhere out in Carrick, a woman's ears are burning. No one knows who she is, but Dowd mentions her all the time. As he regularly tells audiences, Dowd met her while door-knocking, and she told him, "I just want a city government I can be proud of."
Allegations of unethical behavior have long been Ravenstahl's Achilles' heel. The Pittsburgh Post-Gazette has compiled a long list of situations in which campaign contributors have received lucrative no-bid contracts -- on everything from firehouse ventilation systems to garbage cans.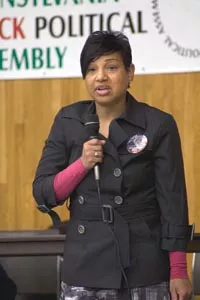 "Our mayor lacks life skills," Carmen Robinson offered at an April 23 candidate forum. "It doesn't matter ... whether he is indicted or convicted," she added, because "he has sullied the reputation of the city."
"You can't just simply say it is a coincidence that contracts are given and days after contributions are made," Dowd agreed.
Ravenstahl doesn't argue that it's a coincidence, exactly -- just that it's not a quid pro quo. He decries his rivals for attacking him instead of touting their own proposals. "The voters deserve better than that," he told them April 23. But he also admits that early on, he wasn't ready for the job, which as city-council president he assumed when former mayor Bob O'Connor died.
These days, Ravenstahl rarely makes rookie mistakes like, say, jetting off to New York City in the dead of night. But he makes it hard to forget those earlier missteps. During an April 28 debate on violence, for example, he boasted that "one of the things I'm most proud ... is the domestic-violence policy" which spells out disciplinary rules for city police officers accused of the crime.
That policy, though, was prompted by Ravenstahl's own actions: In 2007, he promoted three officers who'd been accused of the crime. "The mayor will ... take credit for a policy that was passed," Dowd shot back, "but let's not forget [that] it came as this mayor decided to promote people who had a record."
In fact, Ravenstahl may be the best friend reform ever had, if only because his blunders have helped make the case for it. He is, in fact, poised to back a reform bill proposed by city Councilor Bill Peduto, long a champion of reform.
Council has already passed the measure, which Rvenstahl is expected to sign. The bill establishes first-ever limits on city political campaigns, with contributors limited to four-digit sums. It also creates a fully searchable database of city contracts and tax subsidies, so voters could see who was giving -- and who was getting. Peduto says the measure will be "the most significant reform since the city established its home rule charter," in 1974.
Even so, Peduto isn't endorsing any candidate in the race. Election-year calculations, he suspects, have a lot to do with the success his bill has enjoyed.
"This is just the beginning," Peduto says. "There will be plenty of other legislation for the mayor to sign or veto."
Violence
Ravenstahl is fond of noting that the city's 2008 crime rate is at a "42-year historic low." But that's from lumping the most serious crimes, like homicide, with lesser offenses. Last year the city logged more than 70 homicides, up from slightly more than 50 the year before, and among the highest rates in recent years. The deaths have been concentrated in the Homewood and the Hill District.
The question is what to do about it. Ravenstahl has brought in a consultant, David M. Kennedy, to help devise an anti-gang initiative, but the effort is still under construction. And the candidates are split over what to do in the meantime.
One rare area of agreement between Dowd and Ravenstahl is gun control. Ravenstahl espouses a ban on assault rifles, much like the one in place nationwide between 1994 and 2004. Dowd, meanwhile, wants to "stop the flow of illegal guns and drugs," and supported a city ordinance requiring gun-owners to report lost or stolen firearms. The theory is that such reporting will discourage "straw purchases" of firearms, in which criminals get guns by having them purchased by people without records. Ravenstahl allowed the bill to become law without his signature, publicly worrying that it would be challenged by gun-rights groups.
The city has indeed been sued by the National Rifle Association, a development Robinson blames on her rivals. She regards gun-control measures as "distractions," and while noting she is "not a card-carrying member of the NRA," sometimes touts its line that "guns don't kill people, people do."
Ravenstahl also favors deployment of security cameras and opening the city's curfew center at a cost of a half-million dollars. A similar initiative was undertaken by Mayor Tom Murphy, and for similar reasons. The curfew center, Ravenstahl said at an April 28 forum, will "take that young person in [and] do a thorough and comprehensive evaluation, find out why they are on the street at 1 a.m."
Ravenstahl says the police bureau has asked for the center, but as Robinson has noted, during the Murphy administration the center was rarely used. And the federal Office of Juvenile Justice and Delinquency Prevention flatly asserts that "[j]uvenile violence peaks in the afterschool hours on school days" -- and between 7 and 9 p.m. on non-school days.
Finance
In a recent TV ad, Ravenstahl claimed credit for managing the city's finances -- and for cutting the city's parking tax, even though the cuts were required by the state under a fiscal bailout for the city before he ever took office. During a KDKA debate, Ravenstahl said, "If that's somewhat misleading, I apologize." But Ravenstahl's critics say the parking-tax cuts aren't all he is falsely taking credit for: To get its bailout, the city had to agree to accept the supervision of two financial oversight boards, who must approve city budgets.
Still, "the mayor can take credit" for the city's current fiscal picture, says city controller Michael Lamb. "If you look at city finances as far as year-to-year cash flow goes, we've done very well."
But, he adds, "How are we doing as we look to the future? Not so good."
The problem is pensions. The city has less than a third of the money it needs to cover nearly $900 million in payments promised to city workers once they retire. Lamb credits Ravenstahl with proposing something: The mayor has suggested selling off city-owned garages and putting the proceeds into the fund. But it's not enough, Lamb says. "No one is addressing [pensions] in a meaningful way."
Robinson says the city has squandered money on big-dollar tax subsidies to developers. Downtown retailers and others, she says, took the tax breaks while they could, "and when it was time for them to start paying back, they simply picked up and left." Robinson favors more neighborhood-focused development.
For his part, Dowd touts what he calls "performance-oriented government" -- in which contracts are awarded in a more transparent process. Dowd has cited Ravenstahl's $1,000 trash cans -- purchased without a competitive bidding process -- as a prime example of waste in government.
Lamb credits Dowd with pushing for more fiscal accountability, but when it comes to pensions, he says, none of the candidates is really addressing the scope of the problem. Saving $1,000 on a trash can is nice, but it's a long way from resolving a pension shortfall of more than $600 million.
But there may be nothing any city politician can do.
"There are a whole lot of legacy costs bearing down on the city," says Chris Briem, an economist with the University of Pittsburgh who has studied the issue. "And it seems unlikely the state is going to provide any kind of easy solution." In fact, he says, there may be only one solution: municipal bankruptcy.
"Why is bankruptcy good for Chrysler," Briem asks, "but not for the city of Pittsburgh?"
Does any of it matter?
The conventional wisdom is that Ravenstahl is unbeatable this year. He has a massive fundraising advantage, having started the year with nearly $1 million in the bank. He also has endorsements from the Democratic Party and other heavy-hitters. Even the Fraternal Order of Police -- who backed Ravenstahl's Republican opponent in 2007 -- is supporting him.
Carmen Robinson, by contrast, has been endorsed by the political arm of the National Organization for Women's Pennsylvania chapter. Dowd, meanwhile, has been endorsed by the Steel City Stonewall Democrats -- which advocates for issues of concern to gay, lesbian, bisexual and transgender voters. He's also got the support of Braddock mayor John Fetterman, whose cachet extends beyond his own municipal boundaries (see "The Contenders."). Other than that, though, the "endorsements" page on Dowd's Web site simply features regular citizens explaining why they're voting for him.
But you can't say they aren't trying. Dowd especially has been a fixture in church basements, speaking before crowds that number in the dozens. And win or lose, Dowd and Robinson are having an impact.
A year ago, after all, Ravenstahl wasn't backing Peduto's campaign-finance reform proposals: He vetoed one instead, even though it was less sweeping than the reforms Ravenstahl now supports.
Peduto says he knows why: "The politicians who opposed [the earlier effort] are in competitive campaigns now," he says. "Timing is the most critical ingredient" in passing this bill, he says.
So, sure. Dowd and Robinson may get trounced on May 19. But that Carrick housewife might have something to be proud of even so.