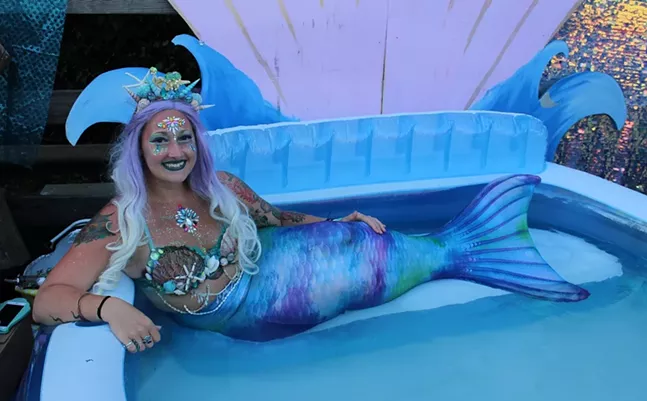 Anyone who went to the
Spirit Summer Recess
event last Saturday may have encountered a magical creature — the Pittsburgh Mermaid. Lounging in a kiddie pool, she handed out special shots to guests willing to pull up their pant legs and join her in the water. Many stopped to take photos for which she happily obliged, flapping her blue and green costume tail.
An invention of Sarah Wasilewski — who goes by the nickname Woshe — the Pittsburgh Mermaid has appeared at events throughout the summer. Though fairly new to the scene, she has an
Instagram
and cute promotional mermaid stickers. She even has a song written about her called "Mermaid of Pittsburgh" by local ska band, The Burnrides.
But it all started with a trip to the annual Coney Island Mermaid Parade in New York City last year.
"My two friends and I went dressed up as mermaids," Woshe says as she points to her seashell-adorned crown and bikini top. "That's where part of this costume started."
Woshe says she has always loved mermaids and the ocean, as proven by her many nautical-themed tattoos. After leaving a longtime job as an income maintenance caseworker for the Commonwealth of Pennsylvania, she started working at Spirit and Ace Hotel doing a variety of service jobs. It was at Ace where she donned the tail and mermaid regalia as part of a jockstrap lube wrestling competition featuring local drag performers.
It was the perfect gig, considering she was on crutches at the time recovering from an injury.
"In a mermaid tail, you can't really walk anyway," says Woshe.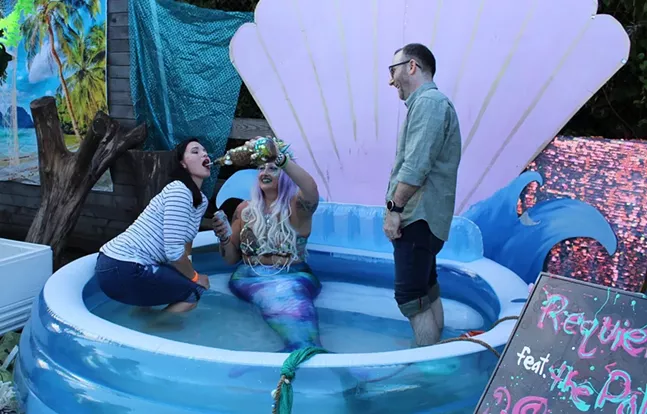 She performed at the Pittsburgh Winery Vine Rewind, and as part of the music, burlesque, and comedy troupe, Icky Vicky's Brokenheart Sideshow, at the Wilkins Block Party (where, unlike at Spirit, she sat in a tiny pool with fabric and glitter).
Woshe says "mermaiding" is a real thing, citing a woman who swims with LED lights on her costume. However, she feels that what she does is more casual and mostly appears at events hosted by friends, while most professional mermaids are adept swimmer and divers, which she, admittedly, is not.
As if to prove her point, she recalls an unfortunate swim in a local river last summer, where she contracted a bacterial infection.
"I call myself the Pittsburgh Mermaid but then I go and swim in the river and get sick," says Woshe.
Even so, she sees Pittsburgh Mermaid as a type of performance art. While she doesn't get paid, she often makes tips off of onlookers wanting to take photographs or selfies.
As the summer winds down and events move inside, she's also not sure how the act would translate in the colder months but is open to keep going.
"Maybe a winter mermaid," says Woshe. "That would be cool."