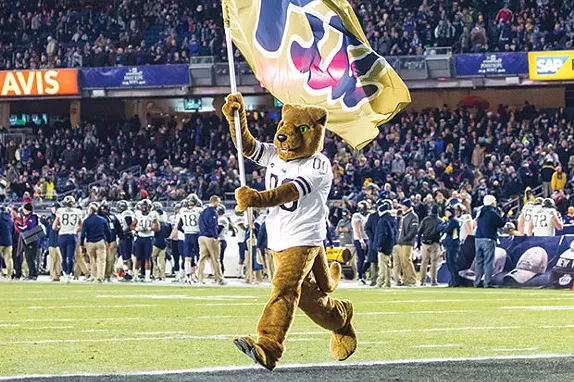 As hung-over college-football fans recover from the orgy of annual holiday bowl games, many might be wondering why there are so many of these under-attended, over-hyped gridiron exhibitions. After all, isn't any game outside of the four-team playoff essentially meaningless? Well, don't direct that question to any of the Pitt fans who made their way to the Bronx for the seventh annual Pinstripe Bowl at Yankee Stadium.
Pitt's opponent was Northwestern University, and while Wildcats fans made themselves at home in the upscale confines of the stadium's "MVP Club," some 2,000 Panthers faithful partied across the street from the House That Ruth Built in a Yankee tavern known as Billy's Sports Bar There, chants of "Let's go, Pitt" and strained vocals from the chorus of Neil Diamond's "Sweet Caroline" — Pitt's unofficial fourth-quarter fight song — filled the air. The beer flowed, people danced, cheerleaders paraded around the place on the shoulders of fellow students, and all before 11 a.m.
"Today, this is a Pitt bar," said Chris Owens of Pittsburgh. "To see all these Panthers fans in New York City, this is awesome."
It's the second year in a row that Pitt fans have flocked to a bowl destination, albeit one within driving distance of the Steel City; such behavior belies their reputation for being a fan base that doesn't travel well. So, what has changed?
"It's pretty clear it's [second-year Pitt head coach] Pat Narduzzi," said Owens. "We're excited about the brighter future he brings. He's inspired the fan base."
In fact, the University of Pittsburgh needed a second allotment of Pinstripe Bowl tickets and ended up selling 8,000, according to Pitt Associate Athletic Director E.J. Borghetti.
"New York attracts people," said Dave Drake, whose daughter plays in the Pitt band. "And the ticket price was affordable."
Before the Pinstripe Bowl came into existence in 2010, the idea of holding a bowl game in New York City was unheard of. Who would want to come to a city on the East Coast in the dead of winter to watch a game at an outdoor venue? But the attendance, announced as 37,918, was at the very least, both promising and respectable. And having Manhattan as a backdrop is both enticing to the players, as well as the fans who ended up visiting destinations ranging from comedy clubs to the 9/11 Memorial.
Alex and Caroline Plocki met at Pitt 10 years ago, fell in love, got married and moved to New Orleans. They were in New York for the holidays and when they heard Pitt would be playing at Yankee Stadium, they decided to get tickets for the Pinstripe Bowl.
"Coming here is important to us," said Caroline. "We've been fans since the beginning, and we knew this would be a good time."
Another motivating factor for Pitt fans might have been the opportunity to watch star running back James Conner play one last time. Conner, who overcame a season-ending knee injury last year and Hodgkins's lymphoma to return this season, is forgoing his final year of eligibility to enter the NFL draft. Unlike other star college players, Conner was determined to play despite the risk of an injury that might jeopardize his draft status.
But the heroic ending for Conner that Panthers fans were hoping for was not to be. After rushing for 32 yards on eight carries, Conner was forced to leave the game in the first half with a head injury.
"He'll be known forever, not only for football, by people in Pittsburgh, people in the United States, maybe the world," said Narduzzi. "He's been an inspiration to, I think, everybody."
Pitt wound up losing 31-24 loss to Northwestern. After admitting that it was "not the way you want your season to go out," Narduzzi had nothing but praise for the way Panthers fans supported the team in New York.
"It was a great turnout by our fans," said Narduzzi. "Our fans showed that they'll travel. It was a Pitt crowd, for sure. I'm proud of the way they turned out for this game, and I'm just disappointed we didn't win the game for them."
"We heard them from the time we were warming up," said Pitt senior wide receiver Dontez Ford. "It was great. I wasn't surprised."
Despite the loss, the Pinstripe Bowl appearance and the overall New York experience was a nice way for the Pitt football team to end its season. But there will come a time when these second-tier bowl appearances will no longer be enough to satisfy Pitt's growing fan base. The question is whether the Panthers can replace talented, departing players like Conner and quarterback Nate Peterman, and take the next step toward elite status.