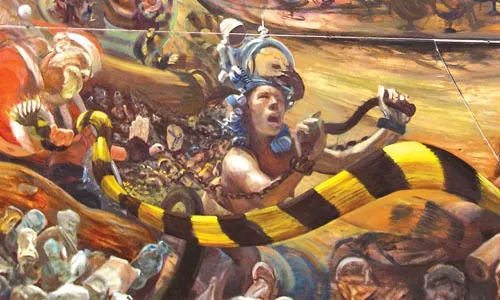 In February 2001, a couple of days before Three Rivers Stadium was demolished, Ian Green sat at the Point and painted a watercolor of the big concrete landmark. His paint froze on the paper.
The vanished and paved-over stadium has reappeared in one of two large-scale oil paintings Green is showing as part of the Lost and Found group show, at Garfield Artworks.
The larger of the two depicts a dystopian spectacle of ancient Roman proportions. In a barren landscape whose only salient feature is the looming stadium bracketed by a raised highway, chariots resembling huge slices of pizza race in a circle. Each conveyance is driven by a man dressed as Santa Claus, wielding a black-and-gold knit scarf to whip a naked, chained slave who strains to pull it.
The drivers struggle to avoid colliding; behind them, inside large transparent bubbles, sit the passengers: dim silhouettes reclining on lounge chairs, conversing and smoking cigars. High on the stadium itself, beneath ominous clouds, familiar if slightly altered logos suggest who's behind these games: "MacSanto's PizzArena."
"It kinda reminded me a little bit of Brueghel, some of that Flemish apocalyptic stuff," says Green, a soft-spoken 35-year-old.
Three Rivers is history in part because it lacked the profitable luxury seating built into newer stadia, like Heinz Field. That's the seating, as Green observes, that sets the rich apart from the people who paid for it all.
His painting, on panels of untempered Masonite assembled into an 11' by 8' whole, is dominated by colors Green calls "thalo blue," "ozone green" and "meat color -- ham mixed with hot dog." And it has a science-fiction cast: The slaves are women whose children, encased in spacesuits, cling to their mothers' heads, while little humanoid robots piggyback on the children. The chariots slosh through heaps of empty crumpled plastic water bottles where the river used to be.
Why Santa Claus -- including the most prominent chariot driver, who's modeled after Andrew Mellon? "He's just a figure that people trust," says Green. "If he's gonna whip somebody, he could turn it into a good time. Everybody would accept his role."
The painting, completed just before the November election, has three titles, one of which is "Mon-Santorum-Valley Expressway."
Green, a Pittsburgh native, attended Carrick High School and CAPA. After graduate study in fine art at Indiana University, he moved to Homestead, where he could indulge his passion for both industrial detritus and local history.
He's lived and painted there since 1999, with neighbors including the former U.S. Steel Homestead Works site. That site experienced big changes. "Overnight there were hordes of people running into this space like it was the best thing since sliced bread."
The sprawling Waterfront, a consumer playground, includes the site of the infamous and deadly 1892 Homestead strike, with its clashes between mill workers and armed Pinkerton security guards. This year, Green salvaged junk wood from the site and painted "Dave and Strikebusters: 1892-2006 Homestead." The 6' by 4' piece juxtaposes youthful contemporary revelers in a Dave & Busters-style arcade with ghostly scenes from the past -- notably the enraged gauntlet of workers and their families that separated the Pinkertons from their getaway train.
The historical action occurs in the painting's center -- to the backs of arcade-goers focused on video shooting galleries. Yet Green sees an arc between the Homestead community of 1892 and today's fun-seekers: While they're now consumer-culture "plug-ins" rather than slaves to heavy industry, "the psychological needs of these people are more brutal than ever. They'll drink beer and blast people's heads off."
Green also drums for numerous local music projects, most prominently Zany Umbrella Circus. On a recent Saturday morning, looking at his "Expressway" epic, he mused, "I've gotta find a place to put this thing now."
Lost and Found Closing reception 7 p.m. Thu., Dec. 21. Garfield Artworks, 4931 Penn Ave., 412-361-2262