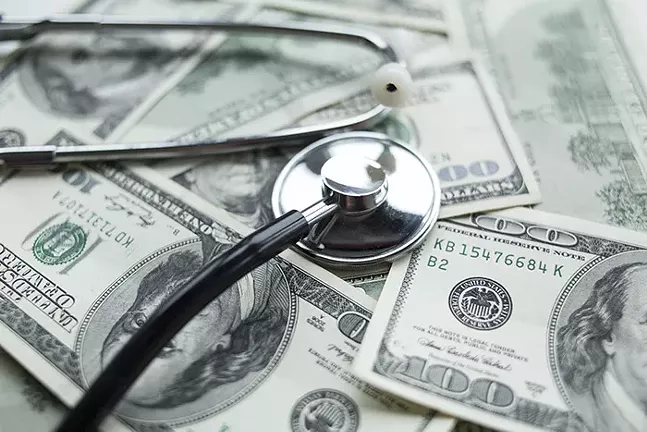 Health care is a major concern for candidates and constituents in the 2020 election, especially in a battleground state like Pennsylvania.
A recent study from
Public Policy Polling
finds health care is a key issue for 69 percent of voters in Arizona, Florida, Pennsylvania, Michigan, Wisconsin, and Texas — all of which are considered to be
2020 battleground states
.
And new data shows thousands of Pennsylvanians are actually losing health insurance, likely upping the stakes of health-care policy for the upcoming presidential election.
According to a September report from the
U.S. Census Bureau
, the number of Pennsylvanians without health insurance rose by nearly 7,000 between 2017 and 2018. That means 699,000 Pennsylvanians were uninsured in 2018, compared 692,000 in 2017.
Nationwide, about 535,000 people lost health insurance coverage. Pennsylvania fared better than many states in terms of losing coverage (Texas had 186,000 fewer people on health insurance in 2018 compared to 2017. Some states added thousands of insured residents). Overall, Pennsylvania ranks as the state with the 12th-lowest uninsured rate.
However, data published by the bureau
suggests
that this is the first time the number of Pennsylvanians without insurance has increased since 2013. Between 2013 and 2016, the percentage of uninsured individuals dropped from 9.7 percent to 5.6, and decreased again in 2017 to 5.5 percent, where it remains now.
Nationwide, the percentage without health insurance fell from 14.5 percent to 8.7 percent between 2013 and 2017, but rose to 8.9 percent in 2018. The drop could be attributed to rising premiums. ACA marketplace premiums in Pennsylvania
increased
significantly between 2017 and 2018, with the average lowest-cost bronze premium option jumping from $286 monthly to $365. The lowest-cost silver premium also increased more than $100, from $371 in 2017 to $494 in 2018.
In response, Pennsylvania has made headway in stabilizing premiums across the state, with an average decrease of 2.3 percent in 2019. On both the national and state levels, U.S. Sen. Bob Casey (D-Scranton) and Gov. Tom Wolf (D-York) have made efforts to protect low-cost health insurance for Pennsylvanians.
Casey fully
supports protecting the ACA
, especially under a GOP-controlled Senate set on
repealing it
. If the ACA were to be fully repealed, 858,000 people in Pennsylvania and 19.9 million across the U.S. could be left without access to health insurance.
Under @realDonaldTrump "The proportion of Americans without health insurance grew significantly last year for the first time this decade, according to new federal figures that show the number of people lacking coverage rose to 27.5 million."
https://t.co/HjSDLgTjob

— Senator Bob Casey (@SenBobCasey) September 10, 2019
One of Trump's biggest campaign promises was to fully repeal the ACA, and replace it with an alternative. In
2017
, the Republican-controlled Senate, under the leadership of Sen. Mitch McConnell (R-Kentucky) spent weeks trying to repeal the law, with no success.
McConnell
claimed
he would protect terms for pre-existing conditions earlier this year, but has done little to combat the Trump administration's current efforts to eliminate them. Using the decision from Texas v. United States as its basis, the most recent
lawsuit filed by the Trump administration
against the ACA is seeking to strike down all parts of the law, including protections for those with pre-existing conditions.
A 2018 analysis from the
Henry J. Kaiser Family Foundation
found that the consistent attacks on the ACA would lead to nationwide premium rates increase by 6-16 percent.
On July 2, Wolf
signed legislation
that would shift Pennsylvania from the ACA marketplace to a state-based exchange. The law is meant to be in full effect by 2021 and could decrease premiums by five to 10 percent.
Pennsylvania is moving to a state-based health insurance marketplace.

Watch this video to learn why. pic.twitter.com/PdEoBABjY8

— Governor Tom Wolf (@GovernorTomWolf) September 4, 2019
Shifting away from healthcare.gov would also mean that Pennsylvania would no longer be confined by the confinements placed on advertising and enrollment by Trump. Rather than passing the 3.5 percent user fee paid by insurers to the federal government under the ACA, the user fee would subsidize costs for Pennsylvanians and making individuals aware of their insurance options.