We know what you're thinking: "City Paper, you're so stodgy, always wearing formal black and never letting your hair down." But since many of our writers, editors, photographers and designers tend to wear superhero T-shirts and their best thrift-store jeans to work, we know you're talking about our distribution boxes. And for the fourth year in a row, we're adding a little artistic dazzle to our street-box arsenal with our ArtBox project, sponsored by the Hill House Association's Kaufmann Center.
In the next few pages you'll meet the 10 finalists we selected, and they'll tell you about their experiences creating their designs. The boxes are out now across the city, and we're asking readers to choose the winner, who will receive a $500 prize.
Go to the ArtBox page to find an interactive map with the location of each box and to vote for your favorite. Online voting runs through Nov. 25. The winner will be announced in the Dec. 2 issue.
Dan Burfield

McDonald/Age: 41
I absolutely love the color scheme Atari used in almost all of the pinball machines they designed. The design style is '80s modern with all of these parallel lines. This reminds me of growing up in the '80s, and I remember some friends had an incredible basement game room which had all white walls with these continuing four bands of color that spanned the walls, ending in graphics of people jogging. I'd give anything to see that again. I hope it transports someone back to when they were young and the mysteries of electronics, video games and pinball machines were magical.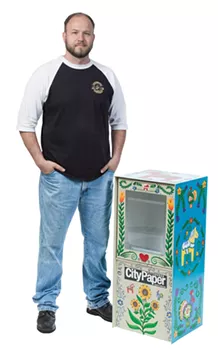 Bob Cornell
Lawrenceville/Age: 40
I have always enjoyed the stories about my Grandma growing up in Sweden when she was little before coming to America. And so my inspiration came from a collection of Dala horses she had at her home. These are wood-carved horses, painted in bright colors in decorative patterns, and given to children to play with in Sweden. I also wanted to show Dala roosters with floral patterns around them to represent Swedish art. I want this to attract people to become interested in Scandinavian art and its cultural heritage.
Brittany Eifler
Bellevue/Age: 32
When I was trying to think of what to draw, I was watching the Life Documentary Series and couldn't help but be distracted. I put up a Facebook post about how it kept distracting me with its awesomeness, and a friend commented that maybe I should draw something from the series. At that moment, I was on the fish episode and had just watched an octopus punch a fish in the face. I felt like my friend was right. Hopefully, when people look at my ArtBox, they think "Adventure Time vs. Giant Octopus in Pittsburgh."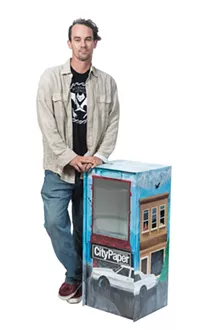 Shamus Fatzinger
Edgewood/Age: 42
I moved to Pittsburgh a year ago. I immediately fell in love with all of the different neighborhoods and the unique sense of community in each. My design is based on a photograph I took in Wilkinsburg. I hope when people see this box, they get the sense of community that I feel is prevalent throughout the city.


Tiquan Flowers
West Mifflin/Age: 21
The design I used for my ArtBox was inspired by my love for street art, including graffiti and pop art, which uses a lot of vibrant colors. I'm inspired by the [British] street artist Bansky and also Pittsburgh's own Andy Warhol. I chose to use diamonds and roses because they are both things that usually make people happy. I hope that my ArtBox can brighten someone's day, and also allow people to look at street art differently, other than as forms of vandalism.


Becki Hollen and Chris Bencivenga
Lawrenceville/Ages: 30, 31
Our design is an elaboration on an idea that we had for a print earlier this year. It's meant to evoke a sense of adventure and playfulness both from the design and the materials used. (The ghosts really glow in the dark!) We hope that it brings a smile to the face of anyone who sees it, and they enjoy the spirit of the scene that is unfolding before them.
Sarah Huth
Butler/Age: 26
I grew up in the South Hills, and one of my absolute favorite places to be as a child was my grandmother's house. I remember always eating dippy eggs for breakfast on Saturday mornings; breaking the wishbones she kept on the windowsill; looking at all of the collected treasures in the curio; and connecting with the photos of my family members. I wanted my box to embody all of those things, and to reflect the idea of family and childhood memory to anyone who grew up in Pittsburgh and perhaps had a similar experience.
Lisa Platt
Highland Park/Age: 59
I am a Pittsburgh native and self-taught artist who creates mosaics with handmade ceramic tiles, stained glass and found objects. My hometown was the inspiration for this ArtBox design. From Downtown Pittsburgh through our diverse neighborhoods and beautiful city parks, we are surrounded with stunning architecture, natural resources and a vast variety of culture. The approach of my artwork intends to share my playful spirit urging people to smile and feel a bit of happiness and joy.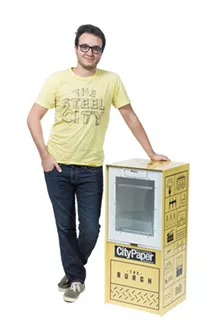 John Trivelli
Friendship/Age: 27
I wanted to pay homage to Pittsburgh by creating a collection of pop-culture graphics. I hope people spend time with my design and discover its nuances with big Yinzer grins on their faces.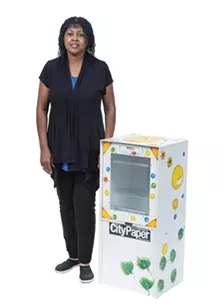 Betty Jo Whaley-Stephens
Robinson Township/Age: 57
I wanted to do something whimsical; something outside my normal approach. I actually borrowed elements from one of my past drawings. The hodgepodge of images are symbolic — the peacock feathers represent renewal, and I hope the viewer sees it with new eyes. The koi is courage — with the hope of grabbing a City Paper, a cup of java and facing the day. The circles symbolize the viewer [being included] with the piece. Despite all the symbolic seriousness, I would hope that people view it just for the whimsical factor. I hope they also view it with unbridled imagination, [open] interpretation, and to be amused.