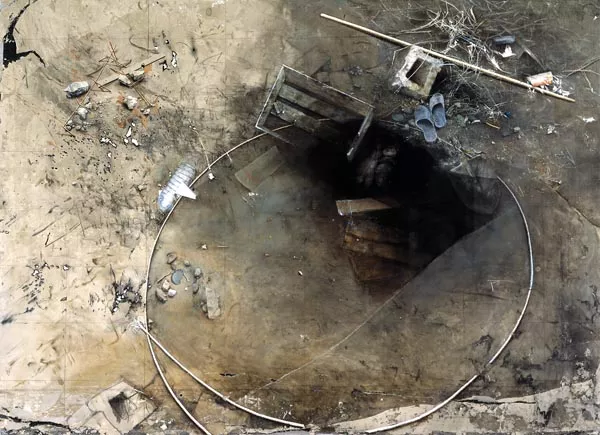 Nearly 3,800 days have passed since the war in Afghanistan officially began on Oct. 7, 2001, making it the longest war in U.S. history. Since its inception, thousands have died and billions of dollars been lost amidst the mounting wreckage. Out of Rubble, an exhibition at SPACE Gallery, addresses this reality and the toll taken by a decade of war.
Artist and Carnegie Mellon art professor Susanne Slavick conceived Out of Rubble as part of an ongoing project entitled Ten Years Counting, which criticizes lingering military operations in the Middle East and Central Asia. The exhibition features photographs, paintings and multimedia artworks that "record, remember, reflect, re-purpose and restore [the] rubble" left in the wake of war.
Beyond the inseparable tragedy, death and ruination that accompany modern warfare, another binding motif is explicit in Out of Rubble: the need to re-do almost everything. In fact, the prefix re is perhaps an appropriate motif for the entire exhibition. Originating from the Old French meaning "back to the original place, again," this notion of returning everything to a state of perceived normality, alongside the perpetual reoccurrence of destruction, permeates Slavick's curatorial vision. 
Out of Rubble features a number of large-scale photographs, most notably two dramatic C-prints by Jennifer Karady that restage traumatic experiences faced by veterans from Iraq and Afghanistan. In her series "Soldiers' Stories from Iraq and Afghanistan," viewers are confronted with the chaotic intersection of past and present. Similar to the theatrically staged images of Gregory Crewdson, Karady works with a cast of individual veterans and their families to recreate specific moments from the war that have followed vets into civilian life. One image shows former staff sergeant Steve Pyle struggling amidst the ruins of a collapsed building while his wife and kids hold a picnic 20 yards behind him. 
In a form of cognitive behavioral therapy, Karady records interviews with the family to capture a "partial but honest glimpse of the confusion of deployment and combat." Although closure is never truly achieved, the act of channeling and recording their memories through this dramatization provides a positive outlet for their anxiety. 
Elaine Spatz-Rabinowitz visualizes the ubiquitous effects of war in her mixed-media piece "Iraqi Ditch 2005." This deceivingly realistic painting is composed on cast Hydrocal and features a trompe-l'oeil surface that rivals the best baroque muralists. In an Anselm Kiefer-like composition, Spatz-Rabinowitz juxtaposes Afghani slippers with dolls from Auschwitz amid the dusted-over surface of an abandoned public space. Absent a specific locale, the painting's ambiguity helps maintain its universality: It's a sight composed from the myriad pages of historical tragedy.
Elin O'Hara Slavick also mines history in her project "Hiroshima: After Aftermath," which features a 16-foot contact print entitled "Koko Bridge Reconstructed." Using multiple prints, she reproduced a scale-size frottage of this Japanese footbridge that miraculously endured the devastating blast of 1945. Using the bridge as metaphor, O'Hara Slavick suggests the shared history of atomic energy and photography while commenting on the fragmentation of post-war Hiroshima. Other C-prints in the same series were exposed to high levels of residual radioactivity in Hiroshima and identify the lingering effects of modern warfare on affected areas.
Efforts to physically re-build and re-store are often the most visible aspects of post-war endeavor. Enrique Castrejon's wall installation "Wasteland: Najaf" reassembles the fragments of architectural schematics and urban rubbish to create an explosive and disjointed composition. Using the impermanent materials of domestic life, his drawing hangs perilously by the strength of cellophane tape and thumb tacks, suggesting the inevitable return of war's destruction. 
Artists in Out of Rubble were drawn from a book co-written by Susanne Slavick and Holly Edwards that confronts the ability of artwork to "represent the full complexity of any lived reality." Referencing the aestheticization of tragedy — as noted by Walter Benjamin and Theodor Adorno — Slavick questions the ethical justification for artwork that beautifies tragedy. In Out of Rubble, Osman Khan's "The Destruction of the house of Abu al-Aish" illustrates this concept precisely by criticizing the media's tendency toward sensationalism. Kahn's precariously placed animation simulates a barrage of debris raining down on the viewer over and over again. His animation re-contextualizes the actual event to create an oversimplified loop that the viewer endlessly relives.
The mounting wreckage in Iraq and Afghanistan has consumed nearly our entire experience of the 21st century. When will it end? Will there be anything left to start over? Slavick introduces Out of Rubble with a poem by Wislawa Szymborska entitled "The end and the beginning." My review ends where hers began: After all, "someone must push the rubble [aside] ... get mired ... glaze a window [and] re-hang a door" until we have buried, beneath the illusion of normality, all evidence of humanity's blind apathy. 
OUT OF RUBBLE continues through Jan. 29. SPACE Gallery, 812 Liberty Ave., Downtown. 412-325-7723 or www.spacepittsburgh.org