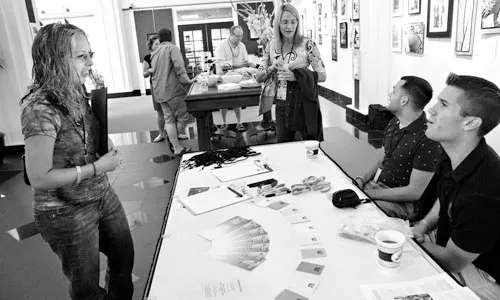 Matthew Chess thinks it's easier than ever to be an out gay person.
Chess, a Hickory High School senior from Mercer County's Hermitage School District, says he has a gay relative who didn't come out until his late 20s.
"I came out when I was 16," Chess reports. "It's getting easier because it's out there now" -- a landscape in which states are approving gay marriage, the president has said he favors ending several discriminatory rules, and top honors can go to a straight film actor portraying San Francisco's first gay elected official.
"The whole country at large has really come out of the closet and has made their presence known," says Chess. "Right now, if my phone were to ring, you'd hear the monumental words of Harvey Milk, urging people to come out."
And yet as each advance brings a new opportunity, it seems to present a new obstacle as well. As a high school junior this past year, Chess says he failed to win approval from either the school board or administration to start a Gay-Straight Alliance club, although there are more than 3,600 of them across the nation, in all 50 states.
It was officially submitted to the board as the Hickory High Delta Group – a more generic name, like a "Tolerance Club" or "Diversity Club," that sometimes has a better chance of succeeding, Chess realizes.
Hermitage Superintendent Karen Ionta says the problem with this and another unrelated but similarly rejected club was that the board simply didn't have enough information about it -- neither constitution nor officers, for one. "I don't like people to think we're not accepting," Ionta says.
The students have a different interpretation of events.
"What they're hoping is we'll graduate without getting it passed and there will be nobody to follow up on our actions," says Kristen Sokac, 17, a straight Hickory student also trying to start the club. (Hermitage's superintendent did not return a call for comment by press time.)
Chess and several dozen other gay kids and their parents, as well as straight allies like Sokac, gathered July 17-19 Downtown for the first statewide gay youth conference held by the Pittsburgh chapter of GLSEN -- the Gay, Lesbian and Straight Education Network. The group aims to make schools friendlier and safer for LGBT (lesbian, gay, bisexual and transgender) students.
Lee Marcuzzi has received recent calls from parents of kids as young as 11, saying they had come out, but she found some schools resistant to GLSEN involvement. As the group's program coordinator and trainer, Marcuzzi guides both budding and experienced teachers and social workers on LGBT student rights and needs. She knows what they will face, although she didn't come out herself until age 45.
As a closeted high school senior, in 1966, Marcuzzi attempted to write a term paper on homosexuality. She said she found nothing on the subject in her school library, while books at the Carnegie Library termed it both a disease and a perversion.
"I went to the prom and was a cheerleader and got married," she recalled. "If kids today can avoid all that chameleon-like not-being-who-you-are, wouldn't that be great?"
GLSEN'S 2007 national survey of K-12 students showed that there was still a long way to go. It found that 91 percent of LGBT kids heard anti-gay remarks in school. Meanwhile, 80 percent were harassed (more than half physically, often with a weapon) and 33 percent had skipped school at least once in the previous month out of fear for their safety. GLSEN's previous survey, from 2005, concluded that more than a third of the LGBT students had actually attempted suicide in the previous year, compared to 8 percent of their straight peers.
"It's a dangerous world for kids who are gay or perceived to be gay," Marcuzzi said. "We try to give kids ammunition and we try to teach teachers to be advocates for the kids."
The presence of Gay-Straight Alliance clubs, the GLSEN surveys found, reduced the frequency of anti-gay remarks in schools by nearly half and increased the number of faculty and staff willing to take student-reported harassment to school administrators.
Tom Wyse, a recently retired speech-and-language specialist in Pittsburgh Public Schools and chair of GLSEN for the past four years, instructed parents and kids at the conference how to advocate for themselves in school. Citing numerous laws and court cases, he told the group that public schools can't legally object to Gay-Straight Alliances if other non-academic clubs already exist.
Nor can school districts allow parents, community members or even teachers to stop clubs from forming. While few Pennsylvania teachers may be aware of the state's Code of Conduct for Educators, it includes a clause prohibiting them from discriminating on the basis of sexual orientation.
"Now I realize we're going to have to push a little harder and a little harder until we get what we want," Chess said after Wyse's presentation. Even before he starts his senior year, he added, "That's when I'll probably start to be a lot more forward. Now I realize I'm going to have to be a lot more pushy."
The GLSEN gathering also focused on a world in which parents are being forced to come out, in effect, just as early as their gay children. Their role has also become easier, and yet more complicated, in a society that is verging on wide acceptance of gay marriage but would still deny their kids' same-sex partnered relationships a slew of rights.
Dormont resident Cheryl Plummer, whose gay son helped to organize the conference, said one of her first reactions to his coming out was "OK, but you are not off the hook for grandchildren." Another mother whose transgender 9th-grade girl plans to transition to male starting this fall became emotional at the thought of all that her family faced -- at an age when other parents are merely deciding whether their kid should be allowed to drive.
"You built this whole dream around this little girl," the mother said. "I don't know how to have a son. But I know how to be a mom."
Kid-on-kid harassment continues in schools, of course -- for all kids. But in a world where "that's so gay" is a universal epithet for the un-cool, gay kids are still a particular target. One parent reported that her lesbian daughter first announced she would be bisexual "because nobody says, 'Ooh, that haircut is so bisexual.'"
"There's a lot of jocks and just people who think they are mightier than life," said Terrance Austin, an out 16-year-old Sto Rox High School student from McKees Rocks. "They do it to be funny -- they don't understand how it affects others. They embarrass you and apologize for it later, but at a certain time ... sorry won't do any good. They do more damage than a little bit to a person's self-esteem.
"I presume it's much easier [to be out] than it was years ago," Austin concluded, "but it's still a battle. There still are people out there who have to deal with family before they deal with society. No law in the world can make your family like you."