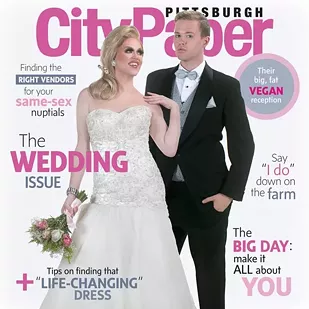 1. The Wedding Issue. (Feb. 11) This was City Paper's first wedding issue, and the cover featured local drag performer Lola LeCroix (a.k.a. Kevin Nelson) as both the bride and the groom. Lola was an incredibly gracious model, and photographer John Colombo did a great job capturing her spirit. It was one of the most fun photo shoots I've been on, even though our florist was a no-show, which meant John and I had to run out to Whole Foods mid-shoot to purchase a last-minute bouquet. It was so much fun watching the cover get shared on social media all week, and seeing how many people were surprised to find out both models were the same person. We really wanted to do something a little different than the other wedding guides around town, and I'm really happy with how well it turned out — both illustrating our overall theme of making your weddings "all about you," as well as referencing the stories we included on same-sex marriages.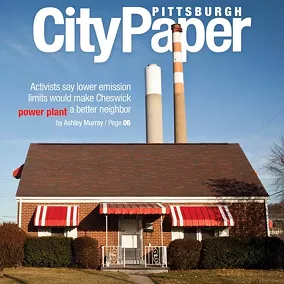 2.
Cheswick Power Plant.
(March 18) This cover illustrated a story on activists' claims that lower emission limits would make the Cheswick power plant a better neighbor. Photographs of buildings don't typically generate high pick-up rates for our paper, but as soon as I saw this photo by CP staff photographer Heather Mull, I knew I'd be pushing for it to be on the cover anyway. It's one of my favorite photos that Heather's ever taken, and I think it's a terrific piece of photojournalism: The power plant's smokestacks giving the illusion of a chimney on a neighboring house showed just how close the plant was to the community.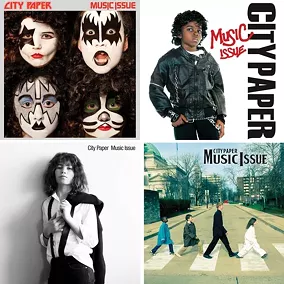 3.
Music Issue.
(April 22) As soon as music editor Margaret Welsh told me that the main story in this year's Music Issue was going to be about local kid musicians, I pitched the idea of recreating iconic album covers using children. Editor Charlie Deitch signed off immediately, and the three of us sat in a conference room and came up a list of four albums, making sure to include diversity in musical styles, artists and visuals. We signed up four photographers: Heather Mull, John Colombo, Renee Rosensteel and Sarah Wilson, and found local kids to pose as KISS, Michael Jackson, The Beatles and Patti Smith. Our original plan was to put the best photo on the cover, and print the other three photos inside the issue with the story, but all four album covers turned out so well that we couldn't agree on a favorite. So we cried and begged and successfully talked our publisher into a CP first: four different covers. "Collect all four!" The best part? KISS's Gene Simmons retweeting our cover image and asking how he could get a copy.
4.
The New American Flag.
(July 1) This issue came out a week after the Supreme Court announced its decision to legalize same-sex marriage nationwide, and as the country was finally recognizing that it's no longer OK to fly the Confederate flag. Local artist David Pohl is amazing to work with and needed no direction. I told him that we were looking for an illustration that spoke of these social issues, and this cover art was entirely his own creation. It's completely brilliant and I think it deserves to be displayed in a gallery. I'm always honored to be able to collaborate with such talented artists in our city. It's by far the best part of my job.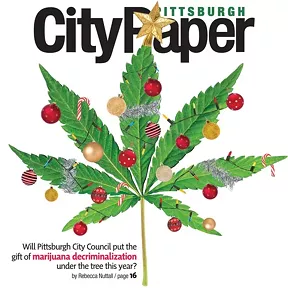 5.
Weed Christmas Tree.
(Dec. 9) Sometimes we don't always have a great idea for a cover photo or illustration, and I'm stuck trying to brainstorm ideas at the last minute. I knew we were going to be covering an upcoming hearing on the city decriminalizing marijuana, and seeing as it was right before Christmas, I tried to brainstorm ideas on how we could present the potential ruling as a Christmas present to the city. We played around with the idea of making pot-leaf-shaped Christmas cookies, gift wrap decorated with pot leaves, pot-leaf-shaped snowflakes ... Then, after looking up marijuana images on a stock-art site for inspiration, it hit me that the leaf itself kind of looked like a tree and thus, this cover was born. It was silly and made me laugh, and I think it was a perfect way for an alternative arts-and-entertainment newsweekly to illustrate a serious news story. I always like when we can push the boundaries and do a cover that other media around town wouldn't be able to publish, and I hope it made folks do a double-take and brought some joy to people stressed out for the holidays.