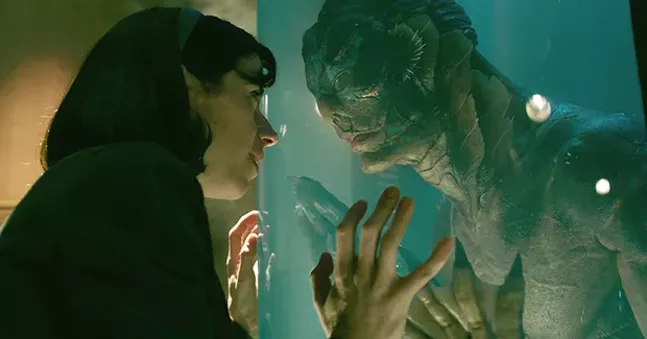 When Guillermo del Toro sat down with Doug Jones to explain his vision for his latest film,
The Shape of Water
, no one would have blamed the veteran creature actor if he was taken by surprise.
"I think it's because of what Guillermo del Toro kept stressing with me in the very beginning. 'Dougie, you're going to be the romantic leading man of this movie,'" says Jones, shifting into his best del Toro imitation. "And so when he tells you that and you're wearing a fish suit while you're doing it, of course, people are going to talk about that, right?"
Sure enough, despite a list of Best Picture nominees filled with remarkable movies like
Darkest Hour
,
Dunkirk
and
The Post
,
The Shape of Water
seems to be generating the most Oscar buzz, not to mention garnering the most Academy Award nominations.
This del Toro fantasy film may well have ended up coming off like a flat, updated version of
The Creature From The Black Lagoon
had it not been for the talented cast.
Shape
follows a similar story line. A mysterious fish monster, played by Jones, is captured in South America and brought to a government lab, in Baltimore, during the height of the Cold War, to be studied by the U.S. military, as well as Soviet spies.
What makes this creature different is its intelligence and ability to communicate, conversing in sign language with a mute cleaning woman played by Sally Hawkins, who has been nominated as Best Actress. While
The Shape of Water
leads the field with 13 nominations, ironically, none are for Jones. This, despite how with an elaborate and confining costume, he somehow manages to play the fish man with just the right emotional depth to make the love story at the heart of the film believable.
Speaking on the phone from Los Angeles in his friendly, upbeat, Midwestern manner, the 57-year-old Indianapolis native says he's received more notoriety for his
Shape of Water
performance than from all his roles of the previous 30 years of his career combined.
"I was able to find the beauty in my monster-ness," says Jones. "And I think that's the message that's resonating with people. That love is possible for all of us; that our flaws just may be where our beauty lies. A lot of us deal with some insecurities every day, and in this movie, you have a literal monster that's played by me.
"You also have your other lead characters who are the voiceless and the invisible. But love prevails, and love is possible for all of us, no matter how much of a monster we feel like. And as a monster myself in the movie, I did not have to transform into a handsome prince in order to find love, or to find self-acceptance."
Indeed, there are scenes in which the fish man and the mute woman make love. It could easily have ended up looking ridiculous but the fully costumed Jones and leading lady Hawkins somehow make it work, even though Jones said he had a certain level of trepidation shooting the scenes.
"Anytime I'm working with an actress that has to take the robe off, I'm very concerned for her, always. It's a very vulnerable place to be in," says Jones. "Sometimes, we would be in an embrace, and I asked her, 'Sally, after he yells "cut," if you just want to stay right here, that's fine.' And she said 'Yes, I would like that.' So, we would just hold our embrace between things, so she wouldn't have to expose herself to even get the robe back on. And what was nice about that is that it helped our characters to stay connected and stay in the moment during those very intimate scenes."
This romantic leading man stuff is far from what Jones had envisioned for himself when he first began dreaming about a Hollywood acting career. He was a self-described "tall, skinny, goofy kid" growing up in Indiana. (He would grow to be 6'4" and 145 pounds.) And his classmates made fun of him.
"I had a long, skinny neck. I was called 'ostrich' by the other kids in school," says Jones. "So, I developed a sense of humor, being inspired by Dick Van Dyke and
Gilligan's Island
and
Gomer Pyle
. When I saw goofy people on TV making me laugh and making a living at it, that inspired me like 'maybe, I can be there one day too.'"
With his size and demeanor, Jones figured he could be the sidekick to the stars of television sitcoms like the ones he grew up with. But when he arrived in Hollywood in 1985, his first agent saw that he had listed mime and contortionist in the special-skills section of his resume. That led to his being sent out to audition for creatures and things involving heavy makeup.
In his first commercial for Southwest Airlines, he was cast as a dancing mummy, putting him on his path to eventual monster-movie stardom, including roles in six del Toro films. He played Abe Sapien in
Hellboy
and
Hellboy II: The Golden Army,
as well as the Faun and the Pale Man in 2006's
Pan's Labyrinth
.
But
The Shape of Water
has proven to be the role of a lifetime, and one in which he surely suffered for his art.
"Anytime that you are encasing yourself in something rubbery, gooey, it comes with all the discomforts that you think it would," says Jones. "You can't see as well as you want to. You can't hear as well as you want to. Me, with my webbed-fingered, gloved hands with claws on them, I couldn't use my hands for much. I could barely feed myself. They could take one glove off at lunchtime so I could get to my front flap on the suit to use the facilities. But I did not have a back flap. My beautiful butt sculpted for me in that suit came at a cost. Without a back flap, I couldn't go number-two. So, I did have to trick my body into not functioning normally on a daily basis. That's a young man's game, and we were filming this when I was 56 years old, so not ideal for someone my age."
But in the end, Jones says all of the sweat and suffering that went into playing the creature at the center of the
The Shape of Water
was well worth it, even without an Oscar nomination.
"I think this might be the movie that I'll be remembered for most in the end, and I'm happy with that," says Jones. "Thirty years of work and I've done huge blockbuster movies like the Hellboy franchise and the Fantastic Four franchise, and movies like
Pan's Labyrinth
. I'm known for quite a few notable movie titles, but
The Shape of Water
is the one that has an artistic and a heartfelt connection to the audience, and I think it's going to have a shelf life that'll outlast me a good long time."
Editor's Note: Local freelance writer and longtime on-air host Paul Guggenheimer
met
Doug Jones when the two were cast members together in the 2013 independent science-fiction film
Dust of War,
which was filmed in and around Pierre, S.D.