A short film is like a love affair: If you can take just one good memory away from it, then it's better to have had it than not. And of course, the more of them you have -- well, you get the idea.
So it's always a pleasure to relax and enjoy the short films, live action and animated, that compete for Oscars. Of course, they all try to say something, but so much has already been said that it takes a special talent to say it better. To those who can, I say, "Pants off!"
It must be a slow year if Joachim Back's "The New Tenants," a one-joke black comedy about stupid straight people, made the cut. There's nothing like a cuckolded husband (Vincent D'Onofrio) and a homicidal heroin dealer (Kevin Corrigan) to teach a mismatched gay couple to appreciate how little they have going for them. Sardonic Frank fixates on the fact that someone dies every second in a "vile, shitting, farting display" of bodily fluids. Sullen Peter begs him not to chain-smoke at the dinner table. When trouble knocks, people die, and then it's time to dance.
Juanita Wilson's "The Door" follows a post-Chernobyl family in flight and then in mourning as their daughter succumbs quickly to the fate that awaits them all. Its look is as dark as its sensation, and it's more an exercise in atmosphere than anything else.
Gregg Helvey's "Kavi" takes place in a village in India, where a merciless slaver makes a slumdog-penniless child and his parents work all day forging mud bricks. Kavi can only watch the rich kids play cricket, and he dreams of getting an education. When two government workers show up, he's liberated, at least from servitude. We don't learn much more from this grim drama than we did from the compelling first reel of last year's forgettable feel-good Best Picture about poverty, but it's certainly a lesson that bears repeating.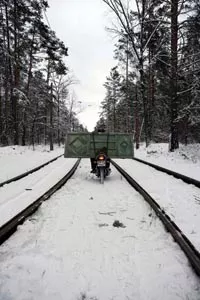 "Miracle Fish," from Australia, is Luke Doolan's eerie and effective contemplation on a disquieting phenomenon of childhood. Joe is 8 years old today, but as some tactless older boys point out, his mom is "too poor" to afford a proper gift. All he gets is a piece of candy in the shape of a fish that curls up in the palm of the hand. Lonely and blue, he naps in the nurse's office and awakens to an empty school, which he likes much better than the populated one. He glances at a book titled "Taken," and we realize he's in danger, but not from aliens: You could say the threat comes from his teen-age self, a future that becomes even more likely for Joe after Doolan's brutal denouement.
On the flip side, but just as good, is "Instead of Abracadabra," Patrik Eklund's whimsical tale of Thomas, an inept 25-year-old magician who lives with his parents in a humdrum Swedish suburb, and who causes injury with his swords and props. His dad gives him one last chance to perform good magic at his 60th birthday party, where Thomas also hopes to impress the pretty nurse who lives next door. It's a tender character study, nicely played, and its punch line (literally, sort of) is a hoot.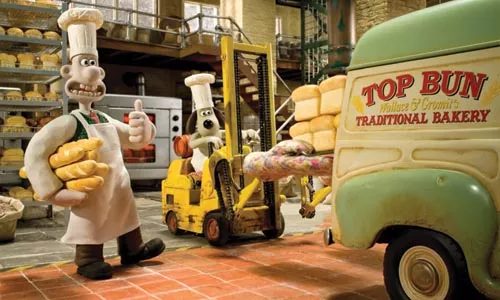 The animation headliner, and the longest film in the show, is "A Matter of Loaf and Death," the multi-Oscared Nick Park's new Wallace and Gromit caper. This time around, the inventive Brit and his dogged canine own a bakery -- in a town where someone is murdering bakers. When Wallace falls for the horsy Bake-O-Lite girl, a legend in the industry, a perturbed Gromit grows suspicious (he must have seen their earlier films). There's not much left in these characters, so you can really only enjoy Park's deft stop-motion animation and amusing visual puns, as well as the idea -- but, mercifully, not the sight -- of Wallace getting laid.
The rather slight and stale "Granny O'Grimm's Sleeping Beauty" finds a young child terrified when her craggy grandmother, blue hair piled high, tells an embittered version of the fairy tale in which the "elderly fairy" doesn't get invited to a little girl's christening. So she kicks some beautiful ass and curses the tyke, then bids her granddaughter to sleep well.
Fabrice Joubert's quirky "French Roast" takes place in a Gallic café, where a patron finds himself short of cash and sitting next to an old lady -- or so he thinks -- with a purse full of it. It's a one-set slice of life with dark fringes and, of course, teeny tiny little cups of coffee.
Javier Recio Garcia's fast-paced "The Lady and the Reaper" is briefly a bittersweet tale of an old woman mourning the loss of her beloved. But when she takes ill, her body becomes a battleground between her doctors and the Grim Reaper. Set to sprightly music, it's wordless, except for a mumbling idioglossia, and two versions of the melancholy tune that Kubrick used to score nuclear annihilation in Dr. Strangelove.
Finally, from a trio of playful French animators, there's the delightful "Logorama," a comic action thriller set in a world where everything and everyone is a brand-name product: Mr. Clean is a raging queen, the Big Boy moons the MGM lion, and the Pringles man grabs the ass of his waitress, a comely Esso girl. Even the planets have sponsors in this spoof of consumer culture and product placement, which builds to a finale that skewers everyone who drives an oil-thirsty SUV to Whole Foods to stop global warming by buying organic vegetables. Live-action and animated films are shown in separate programs. In English, and Hindi, Russian, Swedish and French, with subtitles.
Starts Fri., Feb. 19. Regent Square