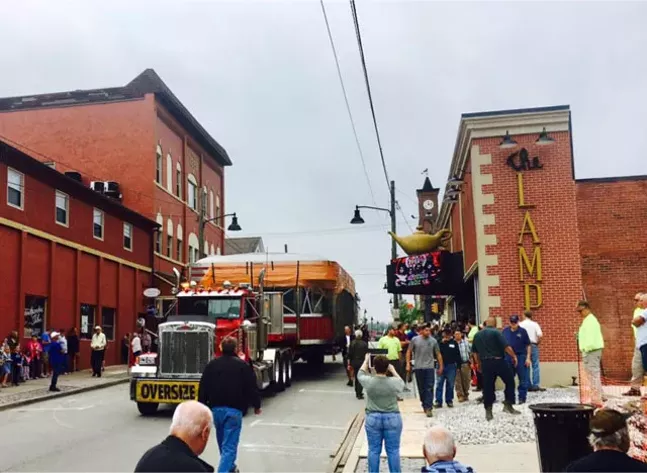 When Michael Pochan and John Qualley discovered the original, and vacant, 1951 stainless steel Ritter's Diner in Station Square, it was not a question of how they would transport the diner across the city. It was a question of when.
Pochan and Qualley were the driving forces behind the diner's recent relocation to Irwin, a borough 20 miles outside city limits. It was the duo's desire to bring "something cool" to a vacant lot by the Lamp Theatre in Irwin, which opened in 2015 as part of a larger revitalization project, that spearheaded the project.

The two were looking to add a retro feature to the theater, somewhere to house concessions and small gatherings. When Pochan brought up the idea of a diner, their search began. In January of 2017, Pochan and Qualley caught wind of Ritter's, sitting lifeless in Station Square. They contacted the area's Cleveland-based developer, who gave them the go-ahead to "just come and get it" before it was scrapped for good.

Moving a full-sized diner 20 miles wasn't an easy or cheap task. They urgently called for donations via a GoFundMe campaign, hoping to raise $20,000 (Qualley said the final donations amounted to about $48,000). Three months later, the diner was ready for transport.

Qualley, who thoroughly documented the process, has footage of the diner being dug out from its base, lifted onto a flatbed truck, and hauled out of Station Square. It's a majestic sight, watching the building travel over 50 miles (PennDOT required the truck to be rerouted to avoid highways), eventually parading down Irwin's main drag to a cluster of spectators.

Once the move was made, repurposing began. In one of his videos, Qualley calls the space a "blank slate, " the inside completely bare. Ritter's was completely gutted, every feature built specifically for the diner's new location. Qualley and his team kept bits and pieces of the old diner as they rehabilitated the old space, repurposing them for current use.

Today, the diner gleams from its spot next to the Lamp Theatre. Qualley and his team kept the outer walls their traditional steel and bright red, and inside booths and stools sourced from other diners fill the once-empty space. The ceiling, though not the original formica, is painted to look identical. Qualley and Pochan call the diner "resto-mod," authentically restored with modern tech

Ritter's revival isn't so much about the food, according to Qualley. It's about what the Lamp Theatre, in conjunction with the diner, brings to Irwin. Together, they're making Irwin a destination.
The diner, renamed the Harper Family Diner and Courtyard after the project's lead donors, will host a V.I.P opening Sat., May 11. It connects directly to the Lamp Theatre, and will serve show concessions and have a full-service bar.