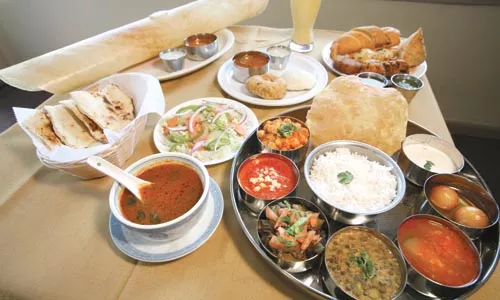 Location:
4519 Centre Ave., Oakland. 412-688-8383
Hours:
Mon.-Sun. 11 a.m.-3 p.m.; 5 p.m.-10 p.m.
Prices:
Soups, salads, appetizers $2-5; entrées $5-10
Fare:
Vegetarian Indian, plus a few vegetarian Chinese, American, Italian and Mexican dishes
Atmosphere:
Vaguely Indian
Liquor:
BYOB
Smoking:
None Permitted
Along with Downtown living, hybrid cars and designer clothing for itty-bitty dogs, vegetarian dining is on the upswing. Not so long ago, vegetarians eating out had to content themselves with plates of unimaginative "vegetable medley," if the menu offered any meat-free options at all. Nowadays, it is de rigueur for any restaurant with even a vague claim to sophistication to offer a few designated veggie, or even vegan, dishes -- and they usually amount to more than sautéed vegetables over brown rice.
Though omnivores ourselves, we appreciate meatless options, and applaud the fact that vegetarian cuisine is being incorporated more often, and more thoughtfully, into mainstream menus. But we've been waiting a long time -- at least in Pittsburgh -- for an entirely vegetarian restaurant that goes beyond the self-conscious, California-inspired, sprouts-and-whole-grains model that dates back a generation. It's long past time for vegetarian dining to break out of the recycled-cardboard, soy-based-ink-printed, health-food box.
Enter Orchids: a "fast, fresh, casual" international vegetarian restaurant in North Oakland, with a welcome new approach. Though Orchids claims to specialize in Indian, Chinese, Italian, Mexican and American food, it's really an Indian restaurant with fewer than a dozen dishes representing the other national "specialties." After glancing at selections including veggie burger, spaghetti with veggie balls and a vegetable burrito, we quickly concluded that the real meat of the menu -- if you'll pardon the phrase -- is in the two pages of Indian selections, dense with dosas, uttapams and curries.
We trust that Orchids can grill up a veggie burger efficiently; for real vegetarian cuisine, not simplistic meat substitutes, we looked to its Indian cooking. Being that there are nearly as many vegetarians in India as there are meat-eaters in America, it's not surprising that Indian cuisine relies not on pale imitations of meat, but on intensely spiced food in a variety of textures and combinations, and an appetizing spectrum of options.
We started with an appetizer platter, a familiar combination of samosa, pakora and various fritters. The samosa had a savory, velvety interior, in which an assertive but not spicy curry flavor was the perfectly foil to the bland, starchy potatoes. The pakora in their chick-pea batter were similarly satisfying, but the vegetable cutlets were served still icy cold in the center, and masala vada were bland and tough, like dried-out hush puppies.
Fortunately, it was all uphill from there. Angelique ordered a paneer masala dosa, the rolled lentil- and rice-flour crepe which is a specialty of Southern India, filled with potato curry and crumbled homemade cheese. What arrived was about two feet long, hanging off the edges of a large oval platter, and less like a tender crepe in texture than like a Florentine cookie: delicately wafer-crisp without being insubstantial. If the sambal (dipping curry) that accompanied it was a little thin, the dosa itself was the best we've had in Pittsburgh.
Jason, too, sampled Orchids' paneer, but in a wholly different form and context: cut into chunks, firm and hearty with a texture much like tofu, and sautéed with onions, tomatoes and green peppers in a rich and creamy curry. This delicious dish, kadai paneer, took both breadth and depth of flavor from its alchemy of spices and seasonings. Yet, like the samosa, it was not spicy in the stereotypical sense.
We did sample one item from the Chinese section of the menu (which, at five dishes, was the largest of the four non-Indian nationalities). The generically named "vegetable fried noodles" was dressed, not drenched, in sauce, much like a lo mein dish. Its flavor featured a distinct tang that brought to mind citrus without an identifiable note of lemon or lime and that flattered a simple, but effective, mélange of carrots, cabbage and peppers.
It's the delicious Indian food, though, that will lure us back to Orchids. If we could make one recommendation to this "international" vegetarian restaurant, it would be simply this: Be what you are, a terrific Indian vegetarian restaurant. That is more than good enough.
JR:

AB: