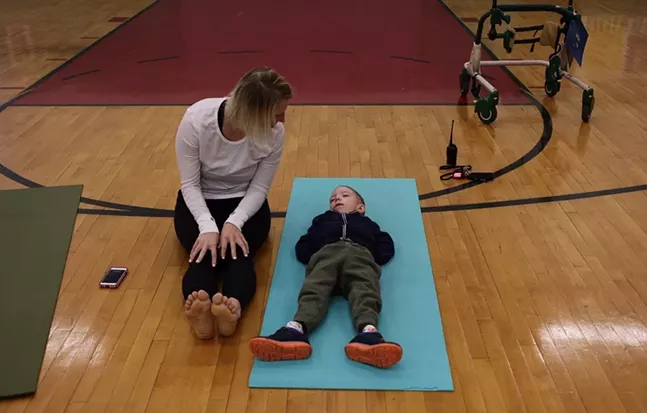 As the
body positivity movement
grows in Pittsburgh, people are looking for more inclusive alternatives to the often toxic culture familiar to the fitness scene. This is one of the reasons why Marissa Vogel turned her attention away from running her vintage lingerie shop Calligramme to focus on her other venture,
Open Up
, a local nonprofit dedicated to empowering those with disabilities through yoga and theater games like improv.
"Through inclusive, engaging, enjoyable activities including yoga and improvisational theater games, participants explore new tools to help navigate social settings," says Vogel, who co-founded Open Up with Tessa Karel in 2014 and now serves as its executive director. "While yoga and improv are two separate disciplines, they both encourage the development of joy, interconnectivity, and deeper self-understanding."
From the beginning, Open Up has worked to bring its programming to public schools throughout Pittsburgh. Now Vogel says One Up is ready to expand its programs in the arts and wellness scene with Connection, an inclusive community yoga class opening Sat., Sept. 7 with music by the Pittsburgh Symphony Orchestra. Connection will mark a new chapter in Open Up's development and close the
Access + Ability
exhibit at the Carnegie Museum of Art, where the class will take place.
Vogel says the decision to expand came in May 2018, when a student in their Yoga for Schools program said there were no places for him to keep doing yoga outside of the classroom.
"He said, 'I love doing yoga here with friends, but there's no place for us in the community. I'd like to be a yoga teacher someday, but no teachers look like me,'" says Vogel.
With that in mind, in January 2019, Open Up launched its Inclusive Community Yoga program as a way to break down the barriers people have to participating in activities like yoga. Over the past eight months, Open Up has held 25 no-cost classes at ADA-accessible spaces, including Pittsburgh Ballet Theater, Lululemon, Autism Connection, and One Point One Yoga Studio. The team also worked with various community institutions, including the Carnegie Library for the Blind and Physically Handicapped.
Vogel says that in order to best serve students and other participants, they tailor the yoga postures, breathing exercises, and mindfulness activities to meet individual ability levels. Sessions also center on bringing "levity and joy" to exercises.
Vogel, who has a Masters in Education of Students with Disabilities from the University of Pittsburgh in addition to her business background and has spent years working in public health, believes there needs to be more of an effort to make Pittsburgh's wellness scenes available to everyone. She claims that when Open Up conducted a focus group and interview data collection, the nonprofit found that people who identify as living with disabilities feel "unwelcome, uncomfortable, and unsafe in wellness spaces and community health events," an outcome Vogel blames on fitness culture's history as one of "elitism, exclusivity, and critical judgement," such as fat shaming.
While she has seen some progress in making physical spaces more ADA compliant for those with limited mobility, she believes attention must be paid to improving programs and events. In order to do that, Vogel says Open Up developed a Yoga Alliance RYT (Registered Yoga Teacher) 200 Teacher Training, a program that not only better enables training yoga teachers how to teach inclusive populations, but teaches people with disabilities how to be yoga teachers and providing a supported platform to center them. The first cohort is set to begin in January 2020.
Vogel believes this approach would offer a better quality of life and help eliminate the stigma for people living with disabilities.
"Through increased visibility and targeted work to lower the divide between people who identify as living with disabilities and those who do not, Open Up believes the problem of segregation between the aforementioned communities can begin to be addressed," says Vogel.